General discussion for Raven, the ninja badass who made his debut in Tekken 5. Movelist, vids and general informaition will be updated as more information gets revealed.
Movelist:
-
Crossed Ninja Stars
(Air OK)
Raven throws a shuriken horizontally across the screen. Each strength makes it travel slightly faster. EX version goes very fast and puts enemy in a juggle state.
-
Wind Cross
Raven dashes forward and slashes. On block, Raven appears directly behind his opponent, but is unsafe. EX version makes Raven slash 3 times, the third slash knocking your opponent upwards. Great for Switch Cancels. The EX version also sends Raven away from the opponent if guarded, making it slightly safer.
-
Alter Ego
strength determines followup.
= Low hit.
= Overhead.
= Low with a high fake out.
Raven does a cool looking teleport into a kick.
/
3
or 3
-
Haze
Raven's teleport. The punch version will move Raven forward, the kick version backwards. Motion also determines how far the teleport will reach.
Notable normals:
,
Skull Smasher. A two hit kicking normal. The second hit is overhead and floor bounces. You can also go into a low hit by doing
after the
. This variation knocks the opponent down.
A two hit command normal.
Raven Super Art and Cross Art:
+ 3
:-
Doppelgänger
(Super Art)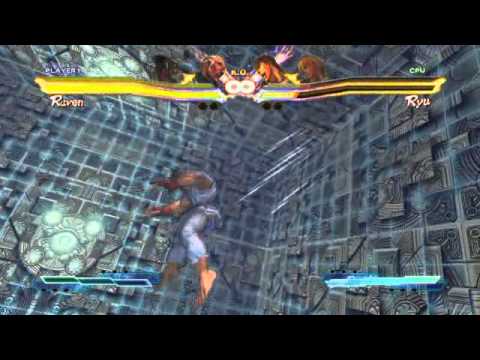 Character basic walkthrough with LPN: