KOF XIII Hyper Guide - Terry Bogard
"KOF XIII Technical Reference" Chapter 4 - pt. 1: Terry Bogard
[URL='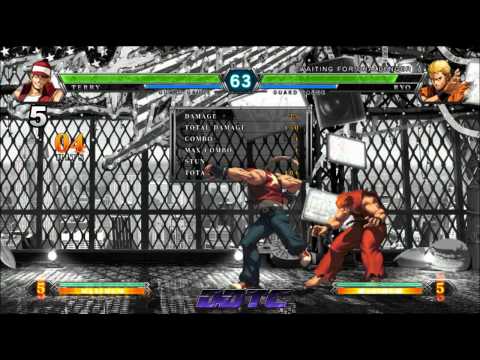 DDTC Combo Video: Terry Bogard - The Lone Wolf']DDTC Combo Video: Terry Bogard - The Lone Wolf[/URL]
Terry "The Lone Wolf" Bogard is a very offensive character with a number of ways to approach an enemy, whether they're blocking or not. With Burn Knuckle and Power wave, he can poke people from afar and continue to apply pressure. His Crackshoot are relatively safe while the D version can put Terry in positive frames depending on if the opponent blocked low or not. Using these moves with his great normals allow you to be very offensive and pressure you're opponent towards a guard crush.
Aside from being a good pressure/guard crushing character, he has the ability to string combos or follow up with practically any normal move. With such versatility, Terry will leave you thinking: "Are you okay?"
Changes from arcade to console
KOF XIII Console Changelog, Part 2: Terry Bogard
Crouching A > Crouching C is a chain combo. Can be canceled.
Normal Buster Wolf's (qcf x2+K) dashing speed is now identical to the EX version. But the Invincibility is the same as before.
Far D's recovery time has been reduced.
Standing CD's hit detection lasts a bit longer.
Trinity Geyser's (qcfx2+AC) hitbox has been changed so that it actually hits 3 times.(Translation credit: The Professor)
ok guys. two things: there's an additional console change to Terry that wasn't in the change list snkp gave us. you can max cancel both versions of power geyser. a naked ex power geyser into neomax does crazy high damage. mess with that. the wiki was also updated with that info.

next up: I made a list of all the characters who can dodge crack shoot by either croutching (not blocking), whiffing cr.b, and those who can't do either.

Crouching (not blocking) : Ash, Saiki, Andy Mai, King, Yuri, Kula, Athena, Chin, Leona

Total: 10

Cr.B: Kyo Benimaru, Robert, Kyo, Takuma, Iori, EX Iori, Mature Vice Elizabeth, Duo Lon, K', Kensou

Total: 13

None: Daimon, Terry, Billy, Ryo, Shen, Kim, Hwa, Raiden, Ralf, Clark

Total: 10

Grand total: 23 characters have a method of making crack shoot whiff. with the two upcoming ex characters, that will be a total of 25 characters I am assuming. what a great move.