Here you will find information that will help you on your execution, defense, combos, pressure, mix-up game, mind games, punishing game and hit confirming. This thread does not talk about match-up stuff, it goes up to right before character specific knowledge, though I do deal with some character specific information here.
, for taking his time to review and correct all the many English mistakes I made throughout this thread. Thanks teacher! xD
Guy is certainly not an easy character to master. Although he looks like he is one of those in-your-face characters, who applies pressure all the time and is all about combos and offense, in a higher level he does not work that way all the time. He has the floppiest jump in the game, he does not have the best footsies of the cast, although his far
and far
are good pokes. His main anti-airs (cr.
, far st.
, and
) are hard to time, and his throw range and walking speed suck (at least until before 2012 version upload- UPDATE: They still suck).
He has no fireballs and no Dragon Punch, since his EX BSK
:2k:, which should be his anti-air + get-out-off-me move is not FADC cancelable (focus attack dash cancel, executed by pressing/ holding
+
>
or
). On top of that, it may not hit all hits depending on where your opponent is and the timing you executed it. Lastly, he has many spaces between his normal moves on block strings, which makes him an easy prey for reversals.
As you can see, with Guy you cannot apply reckless pressure on your opponent all the time, for you will eat a reversal, and it is hard to be on defense too, since you can't just Dragon Punch and FADC all your problems away. So if you want to play Guy, what should you be aiming for? How to approach in a safer way? How to deal damage when there are openings, and before that, how to create those openings?
These are some of the questions we try to answer in this thread. Keep in mind that Guy is not the safest character to apply pressure with in the game, and he is not easy to use execution wise.
So you are going to need lots of practice, as his combos and safe block strings aren't easy to perform, and a lot of patience. Guy is more than anything a
punishing
character, so you should be
pretending
to apply reckless
pressure
, while you are
baiting
moves out of your opponent. And when you actually are applying pressure, you should do it
safely
. Instead of jumping in like crazy at your opponent, you should be waiting for him to do something so you can act based on his action. You have to be sharp on execution, and know what to use to punish what, always getting the best damage out of each situation.
This more calm and silent stance is what makes Guy strong, this is, my friend, the way of Bushin Ryu.
Guy's most basic link is the link from a cr.
or cr.
into a target combo
>
. It does not matter if you executed one cr.
/cr.
, or two or even three. That link is going to be big part of your game, and it is not exactly an easy one to perform.
On block, this is not a safe link. In other words, when you perform a target combo after a
cr.:lp:/cr.
and your opponent is blocking, he can hit you with a reversal move (dragon punch, headbutt, command grab) in the space between the crouching move and the first st.
.
On hit, you cannot be reversaled, of course because it comboes, but it is not hard to miss the timing. So what you have to do here is make your hands never miss the timing for this link. And that's when the plinking part comes into scene. I say you plink the first st.
of the target combo, so you have better chances of not missing the link. We will go back to that later.
For understanding plinks, what they are, how do they work and how to perform them, see VesperArcade tutorial chapter 9. There is nothing I can cover here that they haven't covered yet.
About plinking cr.
This is actually the main plink you should use (alongside with the st.
plink). Instead of just pressing cr.
always worrying about the timing you are pressing it (especially if you like to do two or three cr.
for hit-confirming) since cr.
is not a chain, but a link, and a pretty awkward one if you ask me, you should always plink this link. It should definitely solve the problem once and for all.
Here, your right hand's position plays a vital role in execution. I have seen many people who throw using the middle finger and the index finger (middle finger
and index finger
). Now that is not what you want. You want to position your hand as natural as possible, so I would advise you to position your hand as follows: thumb
; index finger
; middle finger
, ring finger
, little finger
or
depending on your taste. Without this positioning of your hand it is almost impossible to plink cr.
during a real match, since you will have to be turning your hand a lot.
Having that said, one should always plink cr.
. Why? Two simple reasons, one: it is better for linking cr.
s, two: it is also an option select for teching throws
(and a very good one, since you have an extra cr.
input there in case there is a window for hitting the opponent). So let us take a look into how that would look, and some uses of it.
First I try without plink, then with plink
:
Going back a little bit, above I said that you can make the standing
link out of one, two or three crouching moves, so let's go at them separately, since the linking timing slightly changes from one another, and things you can do to follow them also change. In all the following videos, first, I try to execute the link without plinking, but I have no success. Then I go for the plink and I get 100% execution (well, at least I would get f I did not suck sometimes but...):
One cr. move > target combo (
:mp:
>:hp:):
Two cr. moves > target combo
(
:mp:
>:hp:)
(target combo whiffs on some characters unless from max close range):
Three cr. moves > st.
:mp:
(Target combo whiffs on all characters, so here you have to do a st.
:mp:
only):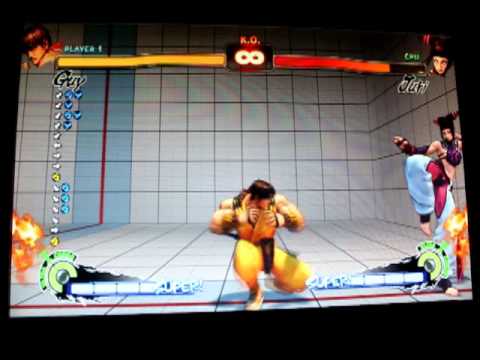 Other links that you are going to be using, and can be better perfomed with plinking st.
:mp:
are cr.
> st.
(on Zangief, Juri, Chun-li, Cammy, Hakan, Dee Jay, Guy, T. Hawk, Sagat, Dudley and Makoto it is possible to perform a target combo
>
), cl. st.
> st.
, and cr.
> st.
. Here is a video on those three examples:
Other plink exemple is to plink st.
after a cl. st.
, and following that with another plinked st.
, on one of the most badasses combos Guy have, but character specific (works on Guy, Sagat, Dee Jay, Adon, Gouken, Zangief, T Hawk, Dhalsim and Blanka). Here it goes:
Remember you cannot plink
, so the bushin chain (
:lp:
>
:mp:
>
:hp:
>
:hk:
) link after any cr. move will have to be done only with your timing. But then again, this is not a hard link at all, though the timing to do it from cr.
is different from cr.
. Just practice it for a while, you'll get along.