I just got into fighting games deeply at the start of the year. I never understood the things like baiting, footsies, mixups, etc. I would just mash buttons and hope I get a hit.

Im at the point now that I understand it all. The concept of fighters and using frame data to my advantage so I can know my options of what to do and not do. But with all this I still have a problem. And the main one is mix ups.

Sometimes I am afraid to go for mix ups. If I do an attack string three times and my opponent always blocks it, the 4th time I get them in that situation, i should change to a high/low/grab in the middle of it. But I have some mental block that I am afraid to go for it cause I might get punished. Im having this problem with any fighter I have. I guess cause sometimes when I go for these things, I have gotten punished for it. So I am mentally thinking of being safe. But I have taken into account that this is not getting me anywhere.

I guess to put it in simple terms, I see what is happen and answers I have for it. And the answers I have is a high chance of working. But im too afraid to act on it. This also happens when I am blocking. Sometimes I can tell when I should block high/low/dish out attack. but afraid to act out on it. I have lost to many people who are not that good at the games I play and don't know the concepts of a fighter. And I lose to them alot cause of this problem.

I feel this is the only thing that is holding me back from being real good at fighting games. So my question would be how can I deal with this problem. how can I get into the habit of acting on situations such as

" he block this string of attacks twice, so this time Im gonna attack then half way go for an easy grab or go for a high/low mix up early."

Just an example of many things. I find my self struggling in every match I go too cause of this telling myself to switch it up, its getting obvious by now, you are getting the reads so act on it. but too afraid too. So any tips or ideas I am willing to try to get over this fear of failure. I am not sure who to talk to about this matter, so I thought I come here for the best source of help.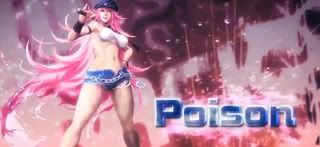 http://i107.photobucket.com/albums/m290/Zepher18/sfvt-poison.jpg
Your signature has been modifed, please read the
rules.