We are back with our third event of the year! The Good The Bad The New Challengers!!! As promised we'll only get bigger with each event!!! This time we are giving a bonus to the winner of AE in the form of a plane ticket to EVO!!! This is not the event to miss if you play AE or any other game in the New England Area! Spread the word people and lets get the biggest turn out yet!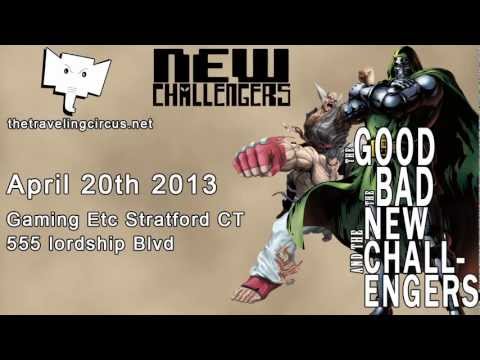 When: Saturday April 20th 2013
Venue Opens: 11 am
Registration: 1:00 pm to 1:45 pm
Starts: 2 pm
Venue Fee: $10 You must pay venue if your just playing casuals (Girls dont pay venue)
Games:
SFxT: 2 out of 3 The whole tournament
SSF4: AE: 2 out of 3 / 3 out of 5 wf/lf/gf
Ultimate Marvel vs Capcom 3: 3 out of 5 the whole tournament
KOF 13 : ran by LazyFreddie 2 out of 3 the whole tournament
Persona 4 Arena: Ran by Jeremy
Mortal Kombat(PS3) Ran by Cpt Xecutioner
System: Xbox 360 (except MK on PS3)
monitor: Asusvh236h
Tournament fee: $10 per game
Stream: www.twitch.tv/newchallengers
Venue: 555 Lordship Blvd Stratford CT
Call the store if your going to be late call or text me BEFORE THE TOURNAMENT STARTS!!!! at 203.446.6528
PLEASE RESPECT THESE POLICIES
Food: Outside food is not allowed in the venue.
Smokers: The venue has a policy of no smoking by the front door. If you are going to smoke, please do so in the grass across the the parking lot.
Like us on Facebook.com/newchallengersCT
Follow us on twitter:
@New_Challengers
See past tournament videos on our youtube.com/bacardijello
We will have setups now separately in the back, so you can play casuals while waiting for your turn in the tournament. Also feel free to bring in your own setup to play the game you want(space permitting)