Hi! We are in the final stages of the SRK forum migration. Soon, we will lock the forums so we can transfer over all the discussion threads. Please expect a downtime of a few days while we implement the migration. Thx for your patience.
Horizon: Zero Dawn (Now Out!)
E3 Trailer: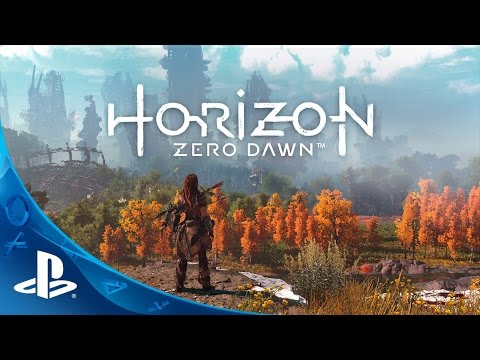 IGN Rewind :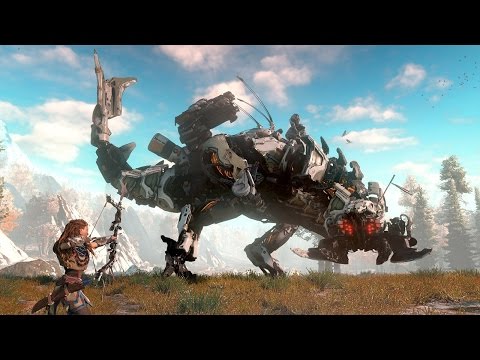 Horizon Zero Dawn is set in a lush, beautiful open world where nature has reclaimed the ruins of a forgotten civilization. It is a world where mankind is not the dominant species, and highly advanced machines sit at the top of the food chain. You play as Aloy, a young outcast from a tribal society, who has learned to hunt the machines. Intent on unraveling the many mysteries that surround her, Aloy embarks on a quest that will lead her to discover her own destiny.
Along the way, Aloy will face off against an entire menagerie of machines – some traveling in herds, others roaming in solitude, all of them presenting a formidable danger. You will need to learn their behaviors, attack patterns and weak points in order to survive. You must use the beautiful environments to your advantage, and employ stealth, agility, and cunning to approach your prey unseen.
Of course, you won't be hunting unarmed in Horizon Zero Dawn. Aloy is capable of combining natural materials with machine parts to turn them into ingenious weapons, ammunition, traps, and tools. By cleverly using the right items at the right moment, you can exploit weak points and bring down even the largest machines. Unfortunately, the most dangerous machines aren't necessarily the biggest…
Continue fawning over this game please.
Post edited by Bious on
░░░░░░░░░░▄▄█▀▀▄░░░░
░░░░░░░░▄█████▄▄█▄░░░░
░░░░░▄▄▄▀██████▄▄██░░░░
░░▄██░░█░█▀░░▄▄▀█░█░░░▄▄▄▄
▄█████░░██░░░▀▀░▀░█▀▀██▀▀▀█▀▄
█████░█░░▀█░▀▀▀▀▄▀░░░███████▀
░▀▀█▄░██▄▄░▀▀▀▀█▀▀▀▀▀░▀▀▀▀
░▄████████▀▀▀▄▀░░░░
██████░▀▀█▄░░░█▄░░░░
░▀▀▀▀█▄▄▀░██████▄░░░░
░░░░░░░░░█████████░░░░
Panda Express is an Asian plot to destroy your bowels. Winners Just Say No.