Nintendo's newest console comes out march 3rd so I figured I'd make a thread for it.
Videos
First look
Switch 2017 Presentation video
2017 Software Video
Nintendo Switch Treehouse videos separated by game.
Play Anytime, Anywhere, with anyone!
Play Together!
Super Bowl Commercial
Nintendo Minute Console Unboxing
Prices
System - $299.99
Joycon L-R Controllers (Comes in Gray, Neon Blue and Neon Red) - $79.99 for L and R or $49.99 each
Joycon Controller Straps - $7.99 (Come in Grey, Neon Blue and Neon Red)
Switch Pro Controller - $69.99
System Information
Hardware Overview Video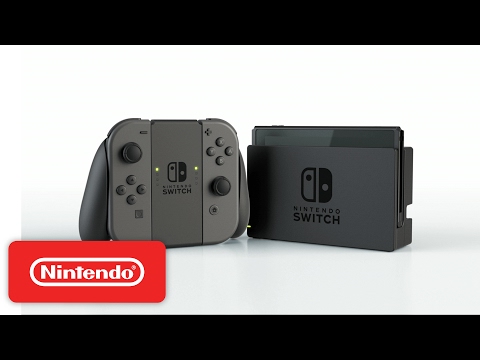 First Time Use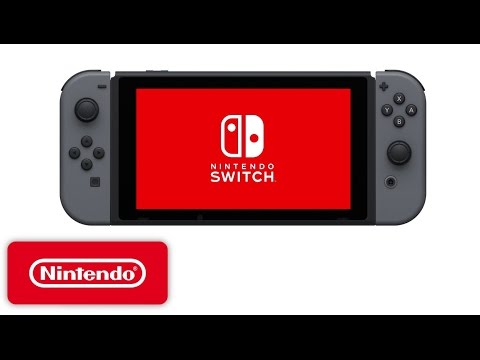 The Console
1280 x 720 Resolution
32gb of internal storage
Supports up to 2TB SDXC Cards
Connect to internet via Wifi and Hotspots
The Switch Dock
1 HDMI Output
1 USB 3.0 Port
2 USB 2.0 Ports
Charges Console
The Joy-Cons
(Not Shown: Joy-Con R has a built in NFC Reader for Amiibos)
The controllers can be used in four ways: attached to the Switch Console via the side rails, removed and used separately by a single player in each hand (similarly to a Wii Remote and Nunchuk controller), attached to a frame called the Joy-Con Grip to provide a gamepad form factor or used as individual controllers for two players. A single Switch console can support up to eight Joy-Con connections.
Nintendo Switch Pro Controller
Online Services will be available at launch but in a limited capacity. Full service will be available in the late summer-early fall. Unfortunately there will be a subscription fee. This link goes over what little has been revealed.
http://www.nintendo.com/switch/online-service/
Friend codes
Friends Codes are back for the switch. Down below are your fellow SRK's friends codes.
King9999: SW-2722-8799-3295
Kinniku Buster: SW-0094-9702-6716
Sonic Human: SW-6110-4628-4232
Tien Gouki: SW-2112-5397-4040
Launch Titles
1-2-Switch!
I am Setsuna
Fast RMX
Just Dance 2017
Legend of Zelda: Breath of the Wild
Shovel Knight
Skylanders: Imaginators
Snipper Clips
Super Bomberman R
Upcoming Titles/Announced Titles
1001 Spikes
Arcade Archives
Arms! (Q2 2017)
Away: Journey of the Unexpected
Battle Chef Brigade
The Binding of Isaac: Afterbirth+ (March 2017)
Blaster Master Zero
Blazblue (Working Title)
Cave Story
Celeste
Construtor HD (April 2017)
Cube Life: Island Survival HD (Q2 2017)
Dandara
Derby Stallion (Working Title)
Disgaea 5: Complete (Q2 2017)
Dragon Ball Xenoverse 2
Dragon Quest X
Dragon Quest XI
Dragon Quest Heroes 1+2
Duck Game
Dungeon of Zaar
Elder scrolls V: Skyrim
Enter the Gungeon
The Escapists 2
The Fall Part 2: Unbound
Farming Simulator 18
FIFA 2k18
Fire Emblem (Working Title)
Fire Emblem Warriors (Fall 2017)
Flipping Death
goNNER
Graceful Explosion Machine (April 2017)
Has-Been Heroes (March 2017)
Hollow Knight
Hover: Revolt of Gamers
Human Resource Machine
Hydra Castle Labyrinth
Ittle Dew 2
Jackbox Party Pack 3
Kingdom 2 Crowns
Lego City: Undercover
Lego World
Little Inferno
Mario Kart 8 Deluxe (April 2017)
Minecraft: Switch Edition
Minecraft Story Mode: The Complete Adventure
Monster Boy and the Curse Kingdom
Mr. Shifty (April 2017)
Mutant Mudds
NBA 2k18 (September 2017)
NBA Playgrounds
Neuro Voider
New Frontier Days: Founding Pioneers
The Next Penelope
Nobunga's Ambition: Sphere of Influence
No More Heroes 3 (Working TItle)
Oceanhorn: Monster of Uncharted Seas
Octopath Traveler
Ohayou! Beginner's Japanese
Old Time Hockey
Othello
Overcooked!
Pankapu
Pocket Rumble (March 2017)
Portal Knights
Puyo Puyo Tetris (May 2017)
Project Sonic (Working Title)
Pokemon (Working Title)
Puzzle Box
Racing Apex
Rayman Legends: Definitive Edition
Redout (Q2 2017)
RiME (May 2017)
RIVE
Riverside
Romance of the Three Kingdoms XIII
Rogue Trooper Redux
Runner 3
The Sacred Hero
Seasons of Heaven
Shakedown Hawaii (April 2017)
Shin Megami Tensei (Working Title)
Soldam: Blooming Declaration
Sonic Mania (Q2 2017)
Soratobu Bunbun Baan
Snake Pass
Space Dave!
Spelunker World
Splasher
Splatoon 2 (Q2 2017)
Stardew Valley
State of Mind
Steamworld Project 2017 (Working Title)
Story of Seasons (Working Title)
sU and the Quest for meaning
Suru Ikkibu: Din Nahu
Super Mario Odyssey (Q4 2017)
Syberia 3
Taiko Drum Master (Working Title)
Tales of (Working Title)
Tank It!
Terreria
Thumper
Toe Jam & Earl: Back in the Groove
TowerFall Ascension
Treasurenauts
Troll and I
Tumbleseed: A Rolly Roguelike
Ultra Street Fighter II: The Final Challengers
The Unlikely Legend of Rusty Pup
Ultimate Chicken Horse
VOEZ
War Groove
Wonder Boy: The Dragon's Trap
World of Goo
Xenoblade 2
Yoku's Island Express
Yooka-Laylee (April 2017)
Zombie Vikings
Post edited by Kinniku Buster on
Peace to the Mountain
Amiibo Aficionado

Negro Install

The sky's fallin', baby, drop that ass 'fore it crash.