CouchWarriors presents: Battle Arena Melbourne 9 (#BAM9)
Australia's largest fighting game major Battle Arena Melbourne returns for the 9th time on May 12-14 - this year is BIG BAM!.
BIG BAM will be held at a world class venue in the heart of Melbourne CBD - the Melbourne Convention and Exhibition Centre (MCEC), right next to Crown.
BAM9 is also a Global Premier Event on the 2017 Capcom Pro Tour:
http://couchwarriors.org/wp/capcombampremier/
(Unlike last year, winners of Premier events are not guaranteed entry into the year-ending Capcom Cup, but are awarded a large amount of points towards their place on the CPT Global Leaderboards - 400 points, in fact: as many as getting to the Top 4 at Evolution!)
With a venue three times the size of last year and running 3 days Friday to Sunday, BAM9 will be a gaming conglomeration featuring FGC tournament hype, casuals and exhibitions, merchant and vendor booths, cosplay competition, potential hands on access to upcoming games, and more.
Date: Friday, May 12th – Sunday, May 14th
Location: Melbourne Convention and Exhibition Centre, (Bay# TBA) 1 Convention Centre Pl, South Wharf VIC 3006
Official website:
http://couchwarriors.org/wp/bam9/
Facebook event:
https://www.facebook.com/events/1915054368776469/
Trailer: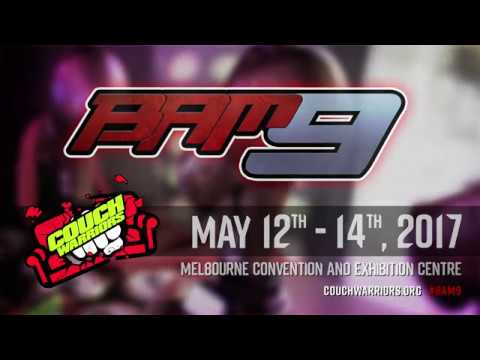 Entry Fees: $10 per tournament (or as listed)
Venue entry: $50 pre-reg - $60 late/ on the day registration
Spectator: $20 Weekend
Registration:
http://www.smash.gg/bam9
(Pre-registration is $50 venue entry, pre-registration will close two weeks before the event and on the day entry will be $60.
Registration for Smash WiiU and Melee is pre-registration only. All other on-the-day registration for games must be done one hour (TBC) before the game's first pool starts.)
If you wish to join the event as a spectator, you are more than welcome! It's only $20 to take in the event.
Main Games:
Super Smash Brothers 4 Wii U
Super Smash Brothers Melee
Street Fighter V
Tekken 7
Guilty Gear Xrd
Mortal Kombat X
Dead or Alive 5 Last Round
King of Fighter XIV
Side Games:
Ultra Street Fighter IV
Super Smash Brothers Braw,
Ultimate Marvel vs Capcom 3
Super Smash Brothers 64
Rivals of Aether
Blazblue Central Fiction
Virtua Fighter 5 Final Showdown
Super Street Fighter II Turbo
Street Fighter V 3v3 Teams (Friday night 32 teams cap)
Street Fighter Alpha 2
Schedule: TBA
Pools: TBA
Features:
- Double bay at MCEC, 300% more floor space for setups, special events and vendors
- Free to play casual setups
- A huge range of international guests for Smash Bros, with Daigo and Infiltration confirmed for SFV!
- Tshirts and Merch
- Friday Night SFV 3v3 Teams back by popular request! (Friday night 32 teams cap)
- BAM9 Afterparty Sunday 7PM at the General Assembly right next to MCEC!
https://www.facebook.com/events/1345221712167209/
- BAM9 Compendium!
https://smash.gg/tournament/battle-arena-melbourne-9/shop/bam9-shop
- Cosplay competition:
http://couchwarriors.org/wp/couchwarriorsbam9cosplay/
- Tekken 7 New Challengers tournament:
http://couchwarriors.org/wp/tekken-7-new-challengers-tournament-bam9/
Announcing Soon:
Special Events