Didn't see a thread for her yet so I thought I would start one
Special Moves
Soul Fist -
+:snka: or :snkb: or :snkc: (Can be performed in air)
Shadow Blade
+ :snka: or :snkb: or :snkc: (Can be performed in air)
Vector Drain -
+ :snka: or :snkb: or :snkc:
Drill Kick- While in the air
+:snkc:
Hyper Combos
Finishing Shower -
+
This may or may not be something special to talk about (I don't see it here...) but it is possible to direct Finishing Shower. Holding up/down directs the missiles in that direction; they still move forward but in a half-parabola, towards the opponent. I haven't tried messing with other directions, though.

Just to be clear, here's an example

Up:

---

>

---

>

M

Neutral

---->

M ---->

---->

Down:

M

---->

---->

I don't know if there's more application to this besides some super zoning but I'll leave that to the better Morrigan players to work out
Valkyrie Turn -
+
Darkness Illusion - :bdp: +
(Lvl 3)
Misc. Stuff
*:snkc: can eat through Advanced Guards. If someone is constantly AG'ing I usually repeat until I'm close enough to get them with a vector drain. Very situational but interesting nonetheless.
*Morrigan's Air dashing makes it really easy to pursue and retreat. I personally like IAD with her :snkc: or trying :IAD: :snkb: (jump cancel) AD :snkc:
*Lvl 3 can be chained with almost all her moves
*Vector Drain Can be comboed into ( can also be Mega Crashed)
*
Morrigan Infinite
discovered by PacStrife
-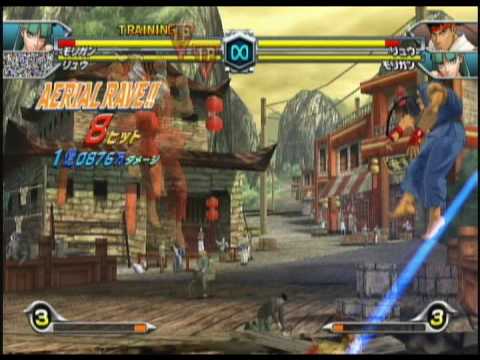 EDIT- OK so just a few notes about the infinite. I found a way to slightly increase the range on the setup. What I'm doing is forwardB -> baroque -> IAD.j.B -> [(land) immediatly j.A -> shell kick] -> repeat inside brackets. Using this method I was able to hit the infinite from about one screen away from the corner. Meaning that if you are playing and you see the corner then you are now in range for the infinite. To be honest the range seemed just a little over one screen, but I couldn't get it to work.

So far these are the things I know you can start the infinite off of:
1) forward B -> baroque
2) cr.C -> fire ball assist (I use Ryu)
3) cr.C -> baroque
4) C-launcher -> Mega crush -> falling shell kick
5) forward B -> fireball -> baroque

And these are the things that you can do before the infinite that help to move the opponent or just do a little extra damage (these are done following any of the above starters):
1) j.B -> falling j.B -> infinite (may be able to get in two reps of the j.B's)
2) IAD.j.B -> infinite
3) j.B -> up cancel into air dashed falling j.B -> infinite

Finally it seems that you can do the infinite with either j.A or j.B. The timing is more strict for the j.B version, but it does more damage. Pretty cool stuff guys!
Feel free to correct anything if something isn't accurate