Hi everyone,
I would like to introduce my services for building custom arcade sticks to your specifications.
WWW.B15SDMDESIGNS.COM
I have set up the above website in order to show some of my works and the sort of services I can provide.
http://www.joystickvault.com/showgallery.php?ppuser=2812&cat=500
You can also see more images on the joystick vault website if you want to see the customs from more angles.
All prices are listed in the "store" section. I have split the types of customs into three categories. Hopefully they should cover your requirements. IF they dont, then drop me an email with your exact specifications giving as much information as possible and I will provide you with a fixed price for the build.
For shipping rates please refer to my website. I know the shipping is pretty expensive to USA & Canada but that is the cheapest I can arrange it for.
If you have any questions feel free to drop me an email to the following address:
b15sdmdesigns@hotmail.co.uk
PLEASE NOTE THAT ALL PRICES MENTIONED ARE IN GBP (GREAT BRITISH POUNDS)
Thankyou
I WILL BE ACCEPTING PAYPAL PAYMENTS PURELY FOR THE SALE OF THE ITEMS BELOW!
Current Pre-built Arcade Sticks/Cases for Sale:
---
HORI VLX (used)
For sale, I have a Hori VLX arcade stick in very good condition. It has been used by myself since purchasing it brand new quite some time ago and rarely gets any use. It mostly sits on my shelf now and hardly gets any playtime due to being busy with work and family.
As you can tell I have replaced the top panel with a custom one which I created myself using a high grade stainless steel panel and extended plexi which covers slightly more area than the stock panel. In order to preserve the stick I decided to remove the original stock panel which will come part of this deal (see photo).
I also tided up the wiring using tech-flex and heat shrink tubing. I realise pink isn't everyone's kind of colour so its easily removed. I also reconfigured the buttons so the layout matches the following as opposed to the stock one. Again, this can be easily switched back by reconnecting the quick disconnects however you like.
X Y RB LB
A B RT LT
Sadly, I no longer have the box as it received water damage while sitting on my garage floor. This deal will come with the stability board, original control panel, instruction manual (lol) and obviously the arcade stick.
Please see below photos of the arcade stick.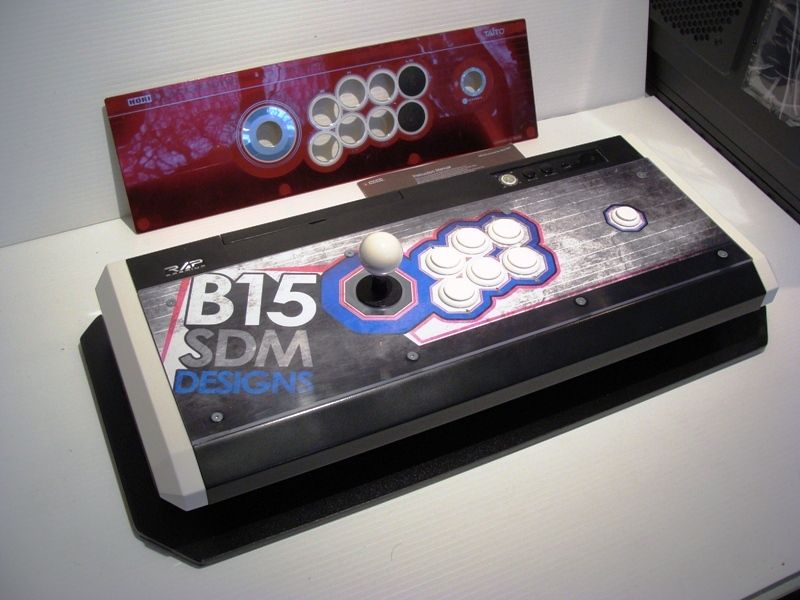 Here is a close up of some very light damage it received after my 3 year old son decided to try and lift it off the table only to then drop it on its side (on the carpet).
Absolutely noooo idea how this happened. Still a mystery.
I realise the artwork which is supplied with the stick is absolutely no good to anyone and am willing to provide a new one to your specification/theme/design for a fee. This can be discussed with serious buyers.
I would like £180 with free shipping to US, Canada and most of Europe. All other locations please enquire.
New Blank Cases Below are lots of blank cases I have sitting in my office. I was experimenting with a new brand paint finish and there are some very VERY minor imperfections that are hardly noticeable. Finishes of cases vary in matt, satin and high gloss. All of these are available in 6 or 8 button Vewlix layout only. £90 each or 2 cases for £150 with free shipping to US, Canada and most of Europe.
http://s104.photobucket.com/user/b16sdm/slideshow/2012 b15sdmdesigns arcade sticks/2013- blank cases
Sorry for the direct photobucket link but this SRK image posting thing is really pissing me off right now...just doesnt want to let me post images directly anymore.