COME ONE COME ALL, WELCOME TO MY EASY JOURNAL/GUIDE FOR CUSTOM STICK BUILDING FOR N00BS!
This guide will cover all the steps, from nothing to working stick, needed to build your very own custom arcade stick
Important notes:
-This guide is written for n00bs, by a n00b
-most steps are written to "you" but specifically relate to exactly what I used/did (meaning some should only be followed if you have the exact same hardware I do)
-I have had absolutely zero wood working, hole drilling, glass cutting, image printing, soldering, electrical work, etc. before I started this project
-This project was taken on by me and 2 other friends because we really wanted our own individual sticks without paying someone else to customize them (we wanted to feel like we accomplished it)
-Please do not critique the way I did things if you know its wrong (because I guarantee some of my techniques are way off); my stick works perfectly and I am happy with the way I did things
-I will cover each set of tasks I did as its own chapter in my guide so you all may navigate easier
-each chapter will have my journal entry, final notes, and a Q&A section that will be populated by YOUR questions!
-finally I want to throw all my thanks to SlagCoin (http://slagcoin.com/joystick.html) for its in depth description of just about everything needed to complete my stick! it has been the best guide I used hands down
---
CHAPTER 1:
Buying Materials
n00b challenge: 4/10
Journal
So day 1, I got together with my fellow builders, and together, we just brainstormed about what we needed to use right for our box shell. We broke down our list in two areas: 1) tools, and 2) materials. For our first trip to the hardware store, and through the help of the friendly employees at the store, we came up with the following lists:
Tools:
-a saw (duh)
http://farm4.static.flickr.com/3403/3560536119_b35d75cd47.jpg?v=0
-an electric drill
-hole drillers of various sizes (not just size in pic)
*note: for the hole sizes of buttons, see SlagCoin (link above)
http://farm4.static.flickr.com/3606/3560574443_bbaf4ba461.jpg?v=0
-drill bits and screwdriver bits
-long wood screws (looked about 2 inches)
-wood glue (I never ended up using this but better to be safe)
-wood stain
-heavy duty sander for drill
-acrylic glass cutter
Materials:
-pre-cut 1"x4"x(we got 6 feet but you can get it shorter) pine wood
*this is for the sides
-pre-cut 1"x3"x(we got 6 feet again) pine wood
*this is for the inside top panel support
all pine wood:
http://farm4.static.flickr.com/3392/3560535077_fe2cb82a12.jpg?v=0
-a slab of 1" thick poplar wood (big enough to cut 2 or more sizable top panel out of)
*this is for the top panel
http://farm4.static.flickr.com/3627/3560547619_fb4b205bc1.jpg?v=0
-2 (or more) sheets of acrylic glass (large enough to cut top panel size sheets)
*this is for image protection on top panel
End Notes:
-bought too much materials! I had enough to build 2 full boxes, and still had wood left over, but I say better safe than sorry, especially if this is your first time with these tools like it was for me
Q&A:
Q: Did you buy your buttons/stick yet?
A: Nope, we did not even plan which we actually were going to use yet.
Q: "how thick is the plexi your using?"
A: Honestly no clue, all of it looked the same thickness at the store so I just bought the cheapest they had… I assume a couple of mm's at least.
---
CHAPTER 2:
Building The Box
n00b challenge: 5.5/10 = trial/error required
Journal
We got back from our hardware trip and did a bit more planning before cutting. Our planning was kept simple: how big to we want our top panel? Being a noob and wanting things easy, I suggested 8.5"x11", the size of a normal piece of paper, to make the image easy, and measuring easy. This plan worked great!
We grabbed a piece of paper and went outside to cut the wood. Amazingly enough, we never once used a ruler/measuring tape besides our own piece of paper and our cut wood. Here is a breakdown of our work:
STEP 1:
line paper up width wise with the 1"x4"x_" pine wood and mark a line at the end of paper with a pencil; cut slowly across this line with your saw… you have now cut 1 left/right side piece
http://farm4.static.flickr.com/3589/3561355084_cb5d75dae4.jpg?v=0
http://farm3.static.flickr.com/2484/3561356404_2f7112c2ff.jpg?v=0
STEP 2:
use the left/right side piece you just cut to measure your 2nd left/right side piece on top of the same pine wood; cut along line; and bam, there is your 2nd left/right side piece!
http://farm3.static.flickr.com/2472/3561359612_a8fd452c40.jpg?v=0
STEP 3:
using the same 1"x4"x_" pine wood; stack both left/right side pieces on top of each other then line them up with paper (length wise) to measure and mark your upper/lower side piece… cut along line and there is your piece
http://farm4.static.flickr.com/3370/3560543613_9c6000f60c.jpg?v=0
STEP 4:
like step 2, use this new piece to measure and mark your final piece of this wood; then cut it (duh)… you now have your shell done! time for the support
http://farm4.static.flickr.com/3320/3560544635_08ffea1eac.jpg?v=0
STEP 5:
take one of your left/right side pieces and measure and mark a piece of the 1"x3"x_" wood to the same length… cut this, and now you have half your support!
STEP 6:
repeat step 5 for your 2nd and last support piece
STEP 7:
line up your pieces and make sure they all fit together!
http://farm4.static.flickr.com/3414/3560545827_0cac1ab7c2.jpg?v=0
http://farm3.static.flickr.com/2464/3560546725_a77e15e541.jpg?v=0
STEP 8:
to cut your top panel, simple take your paper and take your poplar wood; line up the paper on a corner of your poplar wood; and mark the edges… now cut that sucker! bam; top piece done!
http://farm4.static.flickr.com/3595/3561365232_3234aef386.jpg?v=0
STEP 9:
now for the acrylic glass… take your top panel piece and place it on your acrylic glass from the corner and kneel on top of it to keep it sturdy… now use the glass cutter you bought to "scar" the glass along the edges of your top panel… this mean to scrap the glass continuously, starting light, then pressing harder… when you have a good "scar", take your acrylic glass to some table/stair/things with an edge, and place the part your want to break off over the edge… kneel and/or place your hands next to the scar and softly bend the piece you want to break off up and down continuously until it snaps off! repeat for the 2nd scar
http://farm4.static.flickr.com/3319/3561367790_971290e781.jpg?v=0
STEP 10:
Place everything together to make sure it fits; if anything it slightly off, use that good heavy duty sander and sand it down until it fits!
http://farm3.static.flickr.com/2454/3560549575_800047a6ab.jpg?v=0
STEP 11:
drill the top, left, and right, sides (as well as supports) together!
http://farm3.static.flickr.com/2432/3561371480_7a9ba1916d.jpg?v=0
End Notes:
-the pre-cut pine wood makes this a breeze
-safety first!
-be patient and gentle when scarring your acrylic glass… it is tedious
-do not remove the covering on your acrylic glass!!!
-do not srew all 4 sides together yet
Q&A
ask away guys!
---
CHAPTER 3:
Order Buttons
n00b challenge: 2/10
Journal
I bought my stuff from http://www.lizardlick.com/ and I HIGHLY recommend it. I also bought 10 seimitsu buttons (6 face, 3 navigation, and 1 spare one) and an LS-32 seimitsu joystick. Then I waited a few weeks until my pieces came in.
End Notes:
-do research before ordering! SlagCoin has an incredible amount of detail in their part descriptions so check it out
Q&A
ask away guys!
---
CHAPTER 4:
Design Evaluation and Back to the Store
n00b challenge: 4/10
Journal
I got my buttons. but before the final work began, I needed to collect the final materials and tools for the rest of my work. I made a design decision as well after seeing my arcade parts in person. I decided to add a thin layer between my top panel poplar wood and my acrylic glass to simplify the joystick installation. Here was my layering design decision:
http://slagcoin.com/joystick/mounting_layering/layers.png
http://slagcoin.com/joystick/mounting_layering/top_triple_sawed.png
thanks to SlagCoin for the pictures
I also planned my electric needs and accessories. I decided to use small, but not tiny wires, and to wire each chord through a "gate" to allow for easier maintenance in case a stick or button broke later on. To cut to the chase, here is my shopping list:
List:
-thin piece of wood (im assuming anytype will work) no thicker than your acrylic glass, but big enough to cut 2 top panels out of
-soldering iron (we bought a cheap one and it worked but it was hard)
-roll of solder
-electric precision saw for cutting openings in wood (i think thats what its called… we already had one we were borrowing and I dont exactly know its real name)
-hot glue gun with glue sticks
-a 90ft roll of 22gauge (if I remember correctly)
-wire cutter/stripper
-2 x 12-pin wire gates
-a New MadCats Xbox360 Controller (made sure it worked on windows also)
-an exacto knife (or something similar for image cutting)
-sandpaper sheets
-some small scredrivers, flathead and phillips (we had some laying around and didnt buy them)
End Notes:
-none as of now
Q&A
Q: "how thick is the wood for the middle panel? you just said 'thin wood'."
A: No clue on the exact thickness, it was exactly (or almost) the same thickness as my glass.
Q: "you said to buy 2 pieces, are there 2 pieces put together to make up the middle panel?"
A: Sorry if I was unclear above, I said to buy a piece big enough for 2 pieces to leave room for mistakes/experimenting.
---
CHAPTER 5:
Image Creation
n00b challenge: 5/10 = fun but can be tedious and time consuming
Journal
This was a fun part! First off… get Paint.NET, it is an incredible free program that will allow you to make pro images. When you open it up and create a new image, set the size to 8.5"x11" at 96 ppi (pixels per inch). This will ensure that when you have it printed it will fit perfectly on your top panel. I visited deviantART and ran a search for vega pictures. Once I found one I like, I saved it and opened it in Paint.NET. Make sure when you paste it into your 8.5"x11" picture to KEEP CURRENT CANVAS SIZE. Now play with the image: change the hue/colors, add effects, overlap images, add text; but BE SURE TO USE LAYERS! I taught myself Paint.NET as I went along and it was fairly easy with a few google searches. Once I had finished my picture, I took it to a local printing place on a USB drive and had them print it out on a large piece of that thicker paper. I got two copies to be safe.
http://farm3.static.flickr.com/2457/3560570723_8cf4c1a5ea.jpg?v=0
End Notes:
-Paint.NET Paint.NET Paint.NET
-take your time with your image, it is what you will be looking at all the time!
Q&A
Q: Will you send us your pic?
A: unfortunately no, I feel it would be unfair to redistribute the work of someone at deviantART, especially since I can't take full credit for the entire pic since I used someone else's art as a basis.
Q: "Is that paint.net program just like a shitty photoshop?"
A: I am no pro at photoshop (or even Paint.NET for that reason), but I found it very nice with the right amount of complexity… also there are plug-ins for way more complex effects available.
---
CHAPTER 6:
Hole Drilling and Precision Cutting
n00b challenge: 8/10 = precise cuts/drills or it fails
Journal
This day was actually my final day, but I broke it into two chapters since I did so much. This will just cover the hole drilling and precision cutting. Before you start, be sure to have a designated button layout (found on SlagCoin) that you wish to use. I used the 96 dpi version of this layout: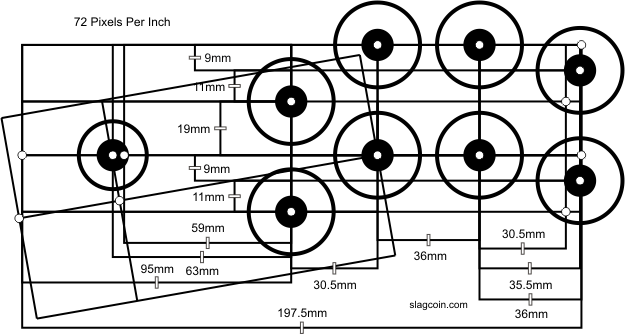 and printed it to scale. Here are the steps I followed for all our drilling and precision cutting:
STEP 1:
place the picture under your acrylic glass and mark the center of your buttons and stick holes on your glass.
http://farm4.static.flickr.com/3417/3561370304_6440a533ed.jpg?v=0
STEP 2:
Use whatever hole drill bit is barely under 30mm (I used the 1 1/8") for the holes. Place your glass over some scrap wood for support and begin to drill our your holes… KEY NOTE!!! Drill extremely fast, but lower the drill extremely slow… you DO NOT WANT THE MAIN PART TO HIT THE GLASS. What you want to do here is "scar" circles in the glass using the outside teeth of those drill bits. Once you have scared all 6 buttons on one side, flip the glass over and drill on the same spot from the back… if you scared deep enough on both sides, the hole should fall out naturally with only the middle and outside teeth of the drill making contact.
STEP 3:
Use a smaller drill bit (im pretty sure i used a 3/4") to drill out your joystick hole the same way as mentioned above. Once this is done your piece should look like this:
http://farm4.static.flickr.com/3323/3561390880_543c16133c.jpg?v=0
STEP 4:
I know it will kill you, but dont try to fit your buttons in yet, because they wont fit! Instead, take regular sandpaper, tear off a long but short piece, wrap it around your finger, and then sand the inside of your holes. Sand them in an in/out motion while going around the hole in a circle. Stop every 30seconds to 1minute and test your button. You are done with your button slides into your hole with force. I had to push some of my buttons pretty hard to get them in, but better snug then loose.
http://farm4.static.flickr.com/3332/3561391434_b4ddf7c3c9.jpg?v=0
http://farm4.static.flickr.com/3309/3561391824_38aa29ebe4.jpg?v=0
STEP 5:
Now for that middle layer. Using the thin wood your bought on your second shopping trip, place the finished acrylic glass on top of it lined up at the corners. Mark off the edges and holes (using centered dots for the holes). Now repeat steps 2 and 3 but on your thin wood exactly as your glass, except this time, you may drill all the way through one side and not worry about "scarring"; thus making this easier.
STEP 6:
Place the middle layer wood under your acrylic glass layer, and using the same technique in step 4, sand the holes in your middle layer through the holes in your glass layer until they are the same size. Your finished middle layer should look as follows:
http://farm4.static.flickr.com/3376/3560575275_51f9d9c6fc.jpg?v=0
STEP 7:
Grab your poplar top panel and place the glass layer on top of it… mark the circles for your buttons an stick as on your glass… once this is done, drill out the joystick hole accurately, and just drill out another hole somewhere in the button area so your precision saw will fit in and let you clear it all out. Now use your precision saw to clear out a nice squarish area where all your buttons will fall, using your marked circles as an estimate.
STEP 8:
Once this is done, remove the mounting plate on your LS-32 stick by unscrewing the 4 screws on top. Flip your top panel upside down and insert the stick into your joystick hole from the bottom. Mark off the area needed to fit the gate and electrical part of your stick (basically, you need everything below the mounting plate to fit into the poplar panel) and then whip out that precision saw and clear it out. Once steps 7 and 8 are done your poplar should look like this:
http://farm4.static.flickr.com/3388/3561392772_e0a5457e73.jpg?v=0
http://farm3.static.flickr.com/2421/3561393170_7a9b11c57b.jpg?v=0
STEP 9:
Before re-attaching your LS-32 mounting plate, use your plate to trace out a nice hole on your thin wood middle layer and cut this out using the precision saw as well. You want your mounting plate to fit through your middle thin wood layer.
STEP 10:
Go ahead and reattach your joystick and drop it down into your poplar wood. Push your buttons into your glass and middle layers and then lower your middle layer down onto your poplar layer to get an idea of of this will look (I printed a simple picture of my art and poked holes in it to get an idea of how it would look)
http://farm4.static.flickr.com/3638/3561393778_d6f2fb089f.jpg?v=0
End Notes:
-PRACTICE GLASS HOLE CUTTING ON SCRAP PIECES, you will shatter your first few pieces if your a noob like me, so practice until you can do it, then use your main piece
-always precision cut too small at first… it is easier to sand/cut off wood then to add wood back on
-if any descriptions are confusing about the layers, refer to the layer design in Chapter 4
-dont screw any hardware into the wood yet! you need to finish the box with paint/stain/etc before this happens
Q&A
Q: "you traced the buttons holes onto the wood using the plexi top as a stencil?"
A: yes, just trace the circles from the glass onto the wood
Q: "how did make dots in the exact center?"
A: my eyes ;-)… chances are if the center is off it is barely noticeable and easily fixed while sanding the holes wider
---
both CHAPTER 7: SOLDERING and CHAPTER 8: FINISHING TOUCHES
are both located in a later post, please scroll down
---
CHAPTER 9:
THE FINISHED BOX
http://farm4.static.flickr.com/3557/3561376182_49394bd2da.jpg?v=0
http://farm4.static.flickr.com/3372/3560563331_cb3b43c291.jpg?v=0
http://farm3.static.flickr.com/2477/3561384074_b092c0faa1.jpg?v=0
---
CHAPTER 10:
Final Thoughts
End Notes:
-over all this was easier than I though it would be, but a lot more time consuming than I thought it would be
-no I will not build you a custom stick lol, but maybe in the future I will
-MORE TO COME
Q&A
Q: "your 1" panel pieces are actually 3/4" right?"
A: yes, I am assuming that there is some measuring standard, so my "1 inch" thick boards (pine and poplar) physically measured to 3/4" despite saying 1"
[RIGHT]latest update:
added chapter 7 and 8 (see post below)[/RIGHT]