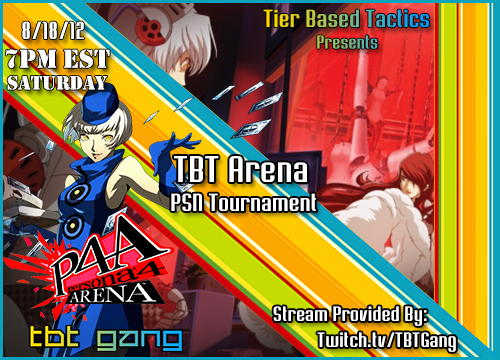 [LEFT]
***All times are in EST (GMT-5)
Registration Page: http://challonge.com/tournaments/signup/n8ojd5aart
Registration ends: 12:00AM
Tournament begins: 7:00PM
Stream time: 6:50PM
Stream Page: http://www.twitch.tv/tbtgang
How To Register: Use your PSN ID as your name with your region in parentheses when signing up. For example: (WC), (EC), (MW), (CAN), (EU), etc. On the day of the tournament join our Chatango chat: http://tbtgang.chatango.com as this will be used for attendance, & reporting matches of rooms we are not in. Example: [report] 2-1 Player2 (Player2 won 2-1)
This is to keep everything organized so we can have this tournament run quick and smooth. Feel free to join the stream chat for general discussions. Matches will be streamed randomly in which the caster(s) will be in. However, winner's, loser's, and grand finals will be streamed in its entirety.
Rules:[/LEFT]
[LIST]
[]One PSN account per participant
[]Singles
[]Double Elimination
[]Default Time & Rounds
[]Matches: Best 2 out of 3 games
[]Winners, Losers, Grand Finals Matches: 3 out of 5 games
[]Character Changing: Only the loser of each game can change their character. The winner has to use same character as the previous match they won.
[]Stage Select: Auto/Random
[/LIST]
[LEFT]Communication: We will use the Chatango chat to communicate. If you can't join the chat please let us know and we'll be sure to communicate with you via PSN text chat. NOTE: When you're up next for matches, leave the PSN chat to prevent possible lag and distractions.
Regarding Lag Issues: Be sure torrents, downloads, etc. aren't running. Make sure you pause the stream when its your time for doing matches. Make sure your connection is stable prior to the tournament. As this is mostly USA based, please be sure that you have a stable connection with USA players.
Proof & Reporting: Please be prepared to have proof in case of any conflicts with the results of your matches. This is a precaution in case we aren't able to be in each room to oversee all matches. Have fun and be a great sport.
Prizes: There will be no prizes rewarded for this tournament as we are hosting this for fun and to bring the community together to have a good time. However, the winner of the tournament will have their PSN (or alias if preferred) in our TBT banner as recognition of their achievement for a certain amount of time.[/LEFT]