Marvel Vs Capcom 3 & Mortal Kombat 9
Also featuring SSBB and Melee, Blaz Blue, SSFIV, and Arcana Hearts
This will be on [COLOR=green]Xbox 360 BUT AcXess Gaming will be getting converters to assist with Ps3 players. Link of the converter will work with any fight stick/pad/ps3 wired controller soon. [/COLOR]
HxC Gaming & AcXess Gaming will be throwing in a total of [COLOR=#008000]$100 to the ultimate fighter go to Super Bit Wars on Facebook to learn about the Details[/COLOR]
When:
August 20th, 2011
Where:
Oklahoma Student Union
900 Asp Ave
Norman, OK 73069
Times:
Registration: 11:00am to 1:00pm (Tournament will start 1:30pm Sharp)
Price:
$10 venue fee
$10 per gamer
NO REFUNDS WILL BE GIVEN OUT AT THIS EVENT – NO EXCEPTIONS
For Instant Event Updates:
405-924-2205
504-231-6099
Equipment:
We will be providing 8 ASUS monitors and 8 360s
Need help with 7 Marvel Vs Capcom 3 and 7 Mortal Kombat 9 Disc and consoles if possible
If you pring xbox and disc venue fee will be half off!
Concessions:
Everyone that pays entry for this event will be getting FREE Drinks and Snacks while supplies last.
Responsibility:
HxC will not be responsible for anyone's equipment but our own. We suggest marking your equipment with your name somehow, whether that be tape and just your name on the tape or a sticker of some sort. However you want to do it, as long as you know its yours. We are willing to label things for you.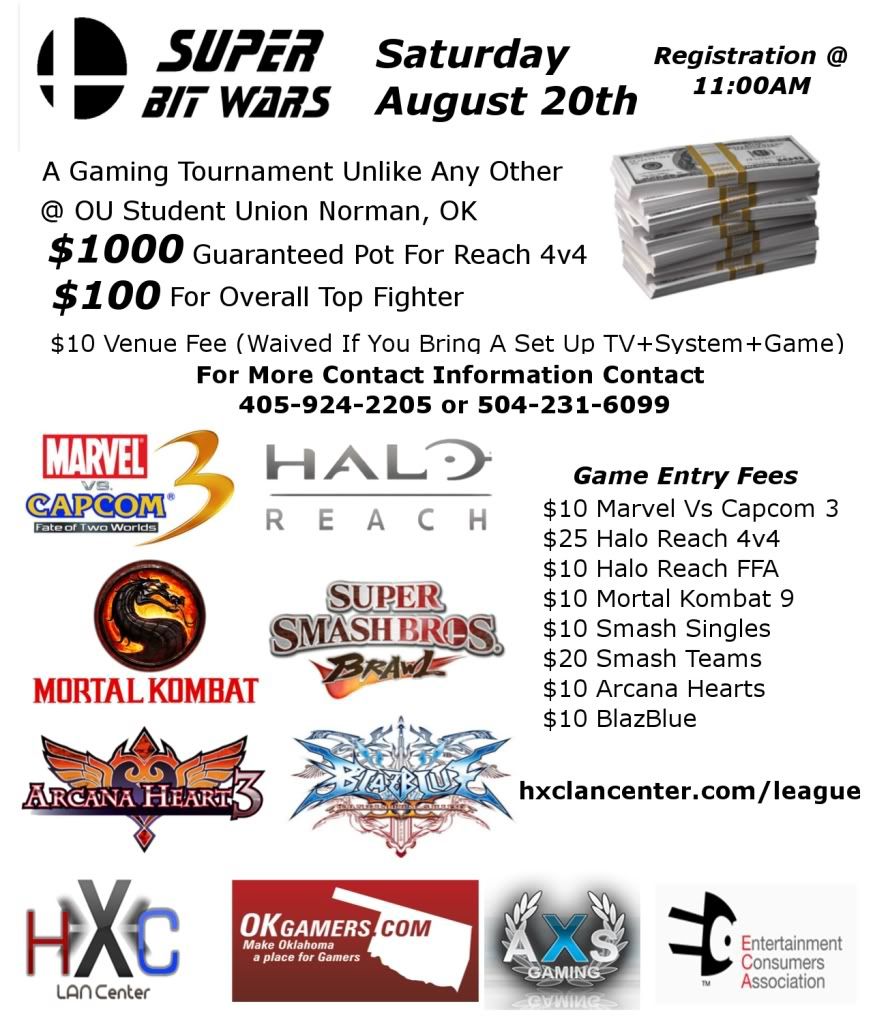 Event on facebook https://www.facebook.com/event.php?eid=243378282339595
Check out our social networks!
[COLOR=#660000]www.myspace.com/hxclancenter[/COLOR]
[COLOR=#660000]www.facebook.com/hxclancenter[/COLOR]
[COLOR=#660000]www.twitter.com/hxclancenter[/COLOR]
[COLOR=#660000]www.youtube.com/user/hxclancenter[/COLOR]