I'll update this post with many things but just getting it out of the way now. Storm's hitting so I don't want to fuck shit up too much.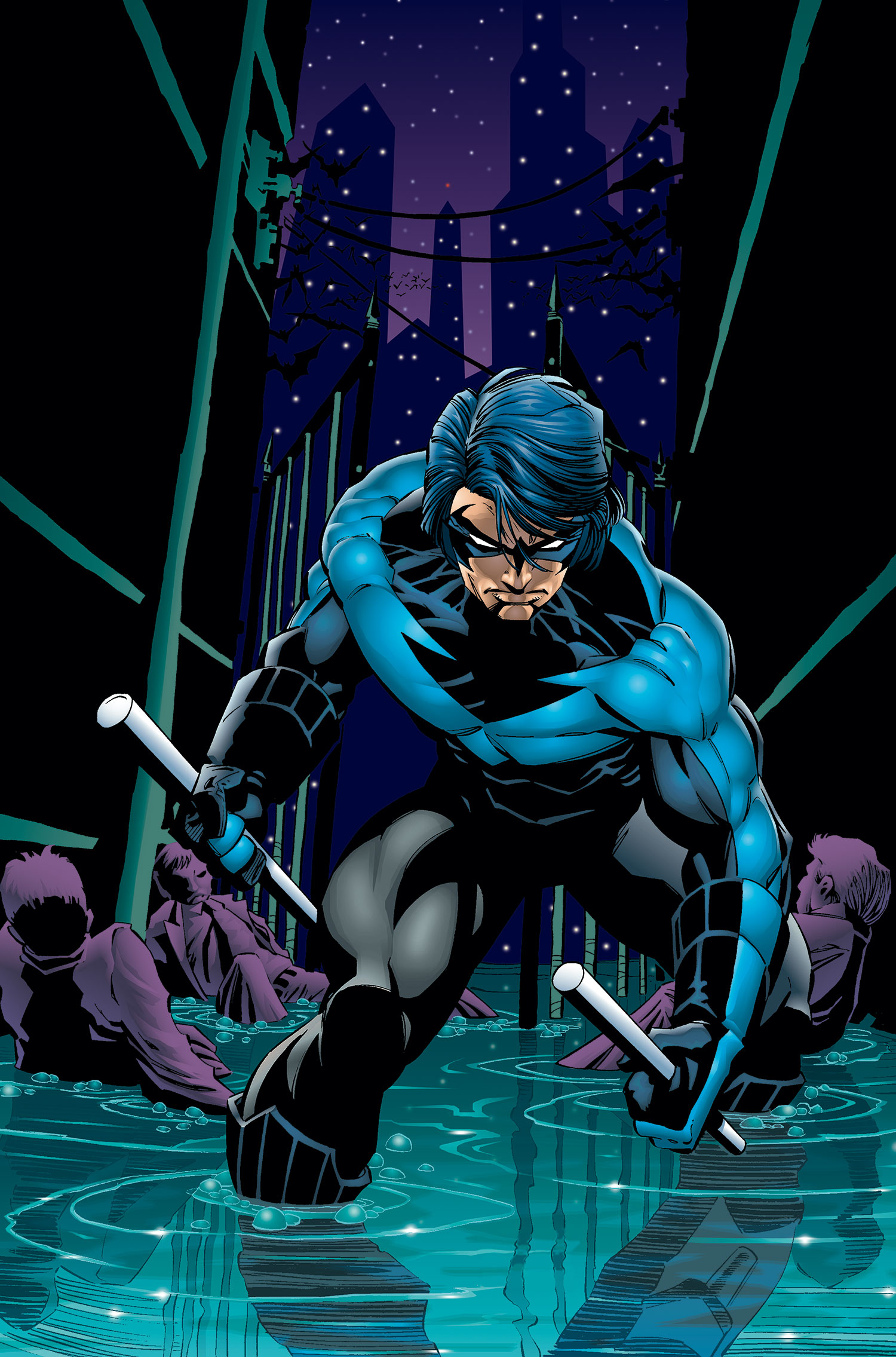 Dick Grayson, a boy part of a family of trapeze artists known as the Flying Graysons, meets tragedy as a young age as his parents meet their end. Bruce Wayne, being present for their death, adopts the young boy and grants him the mantle of Robin to his Batman. The years went past, but eventually the young boy became an 18 year old man. Branching out from the shadow of Batman, he takes on a new mantle, thanks to some inspiration for Superman. He becomes Nightwing. While he eventually makes some stops at becoming Renegade and even taking on the mantle of Batman for a time, he always returns to his most known identity. The former Boy Wonder has arrived to the world of Injustice: Gods Among Us.
Overview:
In Injustice, Nightwing is a character with an extremely balanced attack. He has multiple projectiles and various zoning moves to play a great long range game while he has various strings and specials up close to cause fits when rushing down. He's one of the two characters in the game who's Character Trait is that of Stance Switching (the other being Wonder Woman). In his case, his two stances are that of his Escrima Sticks (his default stance) and combining them to form a Staff, both being signature weapons of Dick Grayson over his tenure. Mastery of Nightwing requires proper management of both his stances and complete matchup knowledge of when to use each stance in order to mount the most effective offense and defense.
Pros and Cons:
I'll list the general pros and cons, along with separate lists for each of his stances.
General:
Pros:
Versatile moveset allowing the ability to deal with many situations.
Generally safe strings and specials.
Gadget/Acrobat type character which allows him to escape corners in certain stages.
Two stances grants extra normals
Once understood, a mixup/pressure game that will grant opponents fits once in.
Cons:
Extra dedication must be taken to learn him due to the extra stance.
Lack of threatening lows outside of Staff: Ground Blast
Has a really bad problem dealing with anyone who likes to stay in the air.
Escrima Stance:
Pros:
d12 is one of the better strings in the game, +8 on block allowing for good pressure.
One of the best Overheads in the game in b2.
Flip Kick having crossup potential grants him left/right mixups in lieu of the lack of high/low.
One of the best j3's in the game along with a potent air projectile
Extremely quick and long forward dash.
Can duck certain projectiles with Ground Spark
Cons:
Without Stance Switching mid-combo, absolutely no threatening lows, a problem considering stance switching into Ground Blast can be poked out of.
Both Flip Kick and f3 can actually whiff up close against a ducking character.
Staff Stance:
Pros:
Crazy range of normals allowing easy checks at range.
Potent full-screen game thanks to Ground Blast and Flying Grayson.
KOF hop as a jump arc allowing an annoying jump in game, especially with j1. Billy Kane fans will be at home.
Extremely long ranged overhead in 2.
Amazing d1.
Safe Staff Spin that's also a free switch to Escrima, MB Staff Spin also grants obscene pressure opportunities.
Pseudo-Block Infinite with meter.
Cons:
While KOF Hop has good offensive potential…also makes it so he cannot jump over people who aren't knocked down.
KOF hop also makes it so he can't actually use interactibles that would require characters to jump into them to activate.
Heavily meter abusive, you will be burning a ton of it with MB Ground Blast and MB Staff Spin. Stance is not as effective without meter.
Dashes are mediocre in this stance.