I was using Yang, trying him out and what not, seeing of hes the real deal. Well, I love him, always did, it didnt take me long… or no time at all to realize this. Well anyways, you know how they say love hurts? Yea, well it kills the skin off my thumbs to be doing that H. mantis slash x2 - fadc - U1 combo (if I got it wrong please correct me), especially when I fail at it at EVERY attempt. Not once have i got this combo in the bag. I tried going online with my Yang and… oh gosh, I dont wanna go back. Controllers are SF's rebel, they do not like eachother. I have almost never used an arcade stick before, but its time for a change. I read online how much better people have gotten with the arcade stick and I was like… let me give it a shot
. Which leads to this question… where do I shoot? What arcade stick do I buy? Well lets look at option 1:
Standing in this corner, weighing… maybe 5-7 pounds… nvm ill just post it
So here we are with the arcade stick, the all grand ssfIV te fightstick. Its amazing, every pro player uses it, it turns noobs legends, and its… $160… look, i really like SF, and Id do alot to get better at this game, but honestly, im 17, i got a part time job working about 9-12 hours a week but im getting a new job much closer to home so more money will be made. But anyways, theres no way in Akuma's gates of hell would I buy this fight stick with the job I have. I would need to think about this with a full time job, because it just doesnt seem worth it. Im not buying anything online, everythings stright from the store, and im guessing no store is going to sell this bad boy for $60, so no dice. But speaking of $60…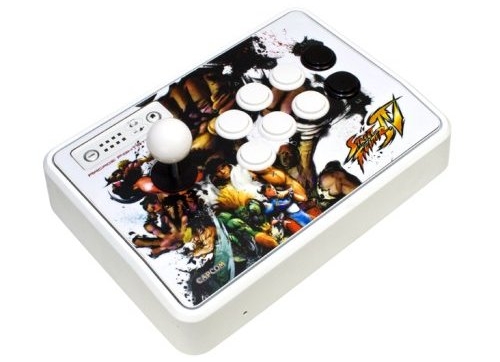 Well this is much more reasonable. About $80-$60 for this bad boy jr. But reviews say that its better buying the TE, or just modding this up. Wichever one is cheaper im buying. I just wanna upgrade my game and actually put up a fight online. So what should I do? Save up a couple more bucks for TE, or get the SE and mod, or w.e. you guys suggest budget wise, I just wanna play good SF.
If some of yall are thinking this is familiar, i posted this in the ae forums on capcom unity as well