Hello everyone,
a couple of infos about myself firstm, just as a quick intriduction to this thread…
I'm nothing more then an hobbyist who likes playing arcade games and hack/make stuff.
recently i started to have an idea to build my very own arcade stick with parts, for the fun of building it, and for, of course, using it to play some fighting games and some mame on my PC.
when it comes to software and basic electronics i'm fairly good, but when it comes to building and manufacturing things i'm not that great, especially when it comes to really complicated things, but still i wanted to try this task.
So i documented myself and read a lot about control panels layouts, buttons sizes, brands types and so on… and put down a SIMPLE project to build an arcade stick that fits the above purposes.
My idea was to use the following components for the casing parts.
0.5cm tick plexiglass for the top panel
2cm tick wood for the sides of the case
0.5 or 0.3cm tick plexiglass for the bottom.
To assemble it i'd go with angulars and wood glow for keeping the woods parts together, and self-trimming screws for fixing the plexyglass to the wooden case (both bottom and top).
for the hardware parts i was looking at sanwa buttons and joysticks
a JLF with metal mounting plate
8 0.3 clip mountable buttons
2 0.24 clip mountable buttons (for start and select/coin)
i also made a small project in CAD for the holes needed in the top panel for joystick, buttons and screws, which i uploaded here: https://drive.google.com/file/d/0ByWhW4D3nZXjc1NzUmVJQnBWZE0/view?usp=sharing
Now… the truth is that i'm posting here mostly looking forward for some advices from you, who for sure are way more advanced then me and have more experience in building these things.
can you help me out with the following?
I need some help for checking that the measures for the control panel and the holes for the screws are positioned and sized accordingly to the vendors specifications.
Especially for the joystick mounting holes and screw holes i'm not really confident and i'm worried they might be wrong…
i've used these quoted images but i'm not an expert and maybe you can point out issues that i missed.
actually the second one seems more accurate then the first
for the control panel layout i've used this image and tried to fit the measures properly, hopefully i didn't do anything wrong.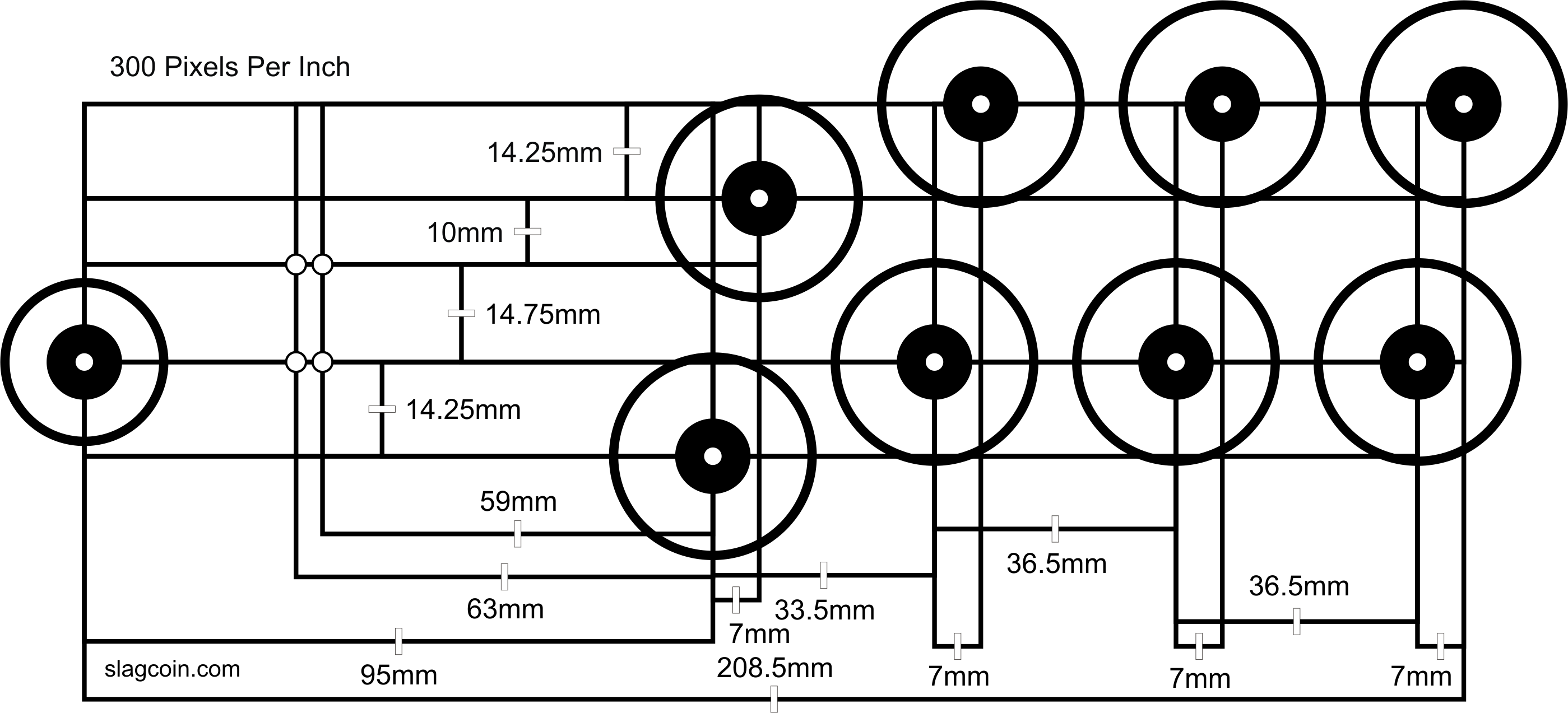 Also, do you have any suggestions about how to assemble the thing? i was planning to mount the metal plate on the bottom of the control panel and screw it in from the top, but i wonder if screws might become annoying during gameplay.
any suggestion and help from your side is really welcome and apreciated.
Sincerely thanks in advance.
Swappage