I'll take AH3 if ibeatu doesn't take it. He always does though.
lol so true…
lol we will see do you know if the disc version can play vs the psn version ?
yeah
I'm pretty sure it can. I know I've gotten into that 24/7 PSN lobby using a disc version before.
alright cool i asked him as well i also wanted to know if it was the jap or asian version
ill prob take both either way but still asked a few questions
It's his name after all. You know how many things I've lost out to him here? ibeatu, you still after that CS bundle? I may be interested in that. I just bought the European limited, but it didn't have Noel or the drama cd, I'd like to get that.
Jazz, can you give a bit more info about the SF/Darkstalkers import? Is the Darkstalkers collection this -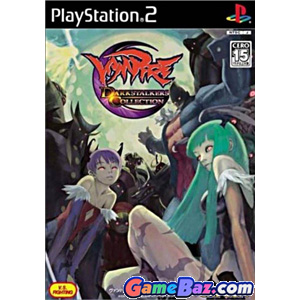 Anyone know if it will play in a 60gb PS3? If so you have a buyer, sir.
yea as long as it has the game im taking it
i didnt know u lost out on so much stuff cause of me
i lost out on so many things in general
the euo version is all english right?
Yup, all english, I have the limited edition, same thing just without a couple of the extras. If you have a BBCS save, I think you're starting over, the EU edition didn't see my US save.
ah ok i had i rented it on xbox didnt give it a shot i like bbct though so im def taking it just wanting on a reply
All games with IMPORT means Japanese version
BBCS is jap collectors ed…
that is, indeed the darkstalkers collection
unfortunately:
the PS2 darkstalkers collection/sf2 collection cannot be played on any US ps3 sadly
need a swap magic ps2 or a jap ps2 or a jap ps3
ibeatu continues his tradition of being a trading outlet MONSTER lmao
as i said in the opener I am open to offers if you see something too high tell me and i will fold…i just need to hustle some cash before evo
edit: I just realized my sales profile has been deleted…must be a result of the srk "upgrade" (if thats what you call it
)
ive been doing this every year…im too legit to quit
I'm seriously thinking about this, I have cogswap on my PS2, should do the exact same thing. Thing is, I have emulators in English that do the same thing. Decisions. I think I'm a lock for this, I can have paypal out to you tomorrow when I get home, going to bed right now.
gotta keep the tradition up
sounds good. shoot me the PM whenever you are ready
PM sent.
Just thought I'd mention since we don't have feedback anymore, I bought a bunch of stuff from Jazz last year. Black Lagoon tin sets, FMA, and I think I got Bebop and Elfin Lied from him too, can't remember. Still kicking myself over missing out on Eureka 7. I have nothing but good to say about him as a seller.
Added Its always sunny in philadelphia and Family Guy seasons…
someone buy this stuff lol
got my games in 2 days thanks