I no longer have time to play games like I used to, and would rather see all this stuff go to somebody who will use it, rather then sit in my back storage room. Shipping is not included, though I will not inflate the shipping prices, and will charge actual shipping prices. Prices are not set in stone, though this stuff will most likely go very quickly.
Sega Saturn
Kiosk Sega Saturn system with 2 controllers and carrying case. $47
System still functions perfectly, though has some numbers engraved on the unit, as well as a ripped sticker from the video store where the kiosk was at. case reads "saturn" along the edge. Not pictured are the included S-video and power cables.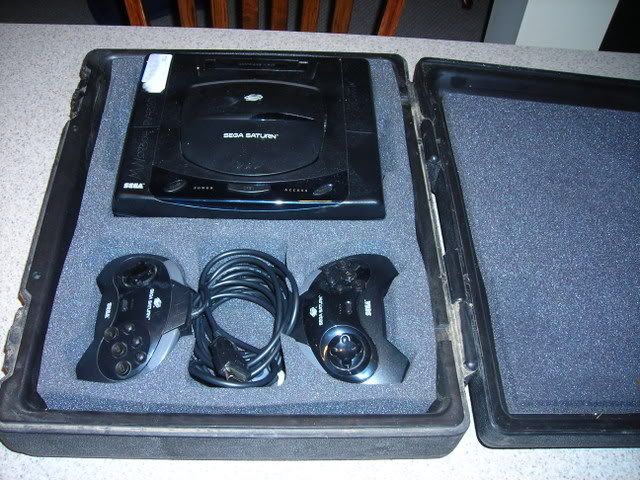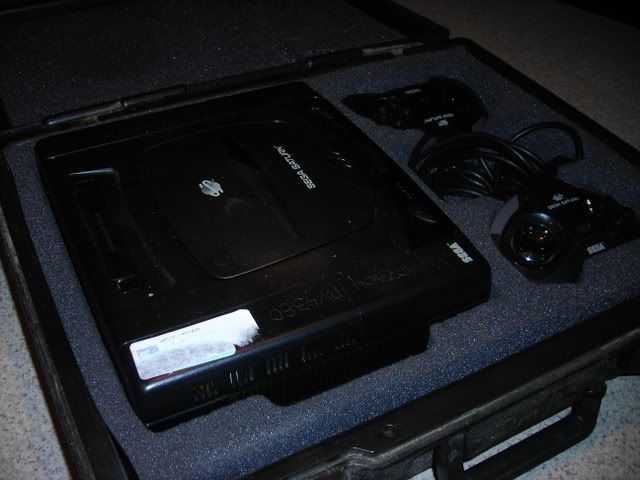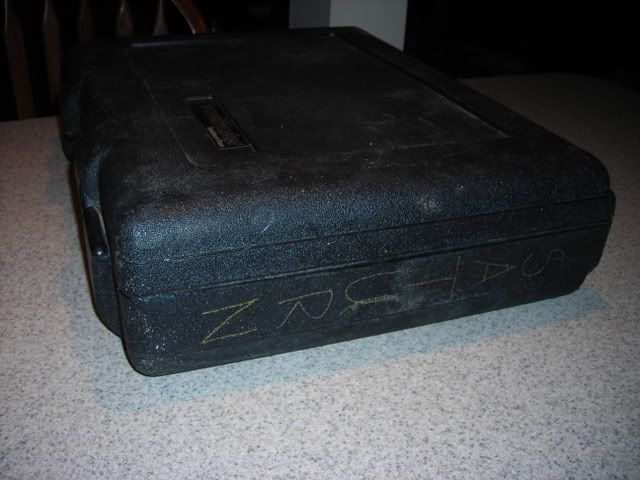 King of Fighters '95 with rom cart- $14
King of Fighters '96 with ram cart- $14
Real Bout Fatal Fury with ram cart- $14
Panzer Dragoon JP (worn manual) $5
King of Fighters 96- $9
King of Fighters 97-$10
Samurai Shodown 4 (no back insert)-$8
Virtual On Netlink Edition (phone number written on back of front insert) - $7
Virtual Casino (us)-$10
Sega Ages (us) signed- $32
Romance of the Three Kingdoms 4 (us)($10)
Panzer Dragoon Zwei (us) (disc only) - $6
Panzer Dragoon (jp)(disc only)- $3
"bootleg" demo disc- $1
Empty Sega Saturn Console Box- $9
Club Saturn Music CD- $8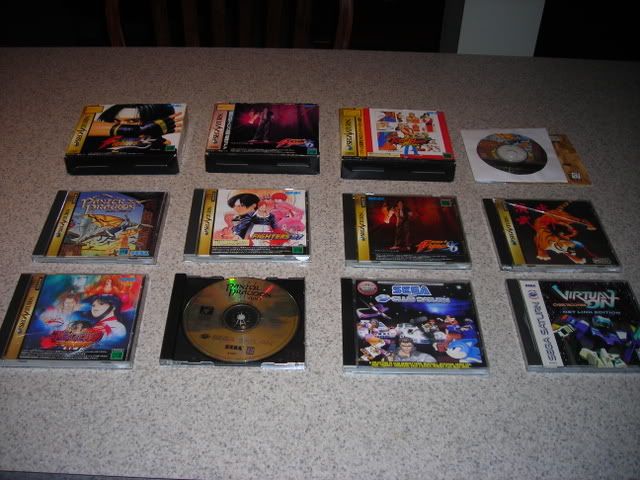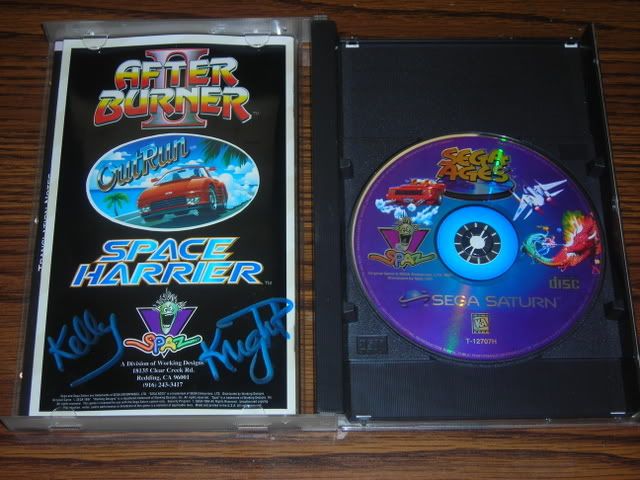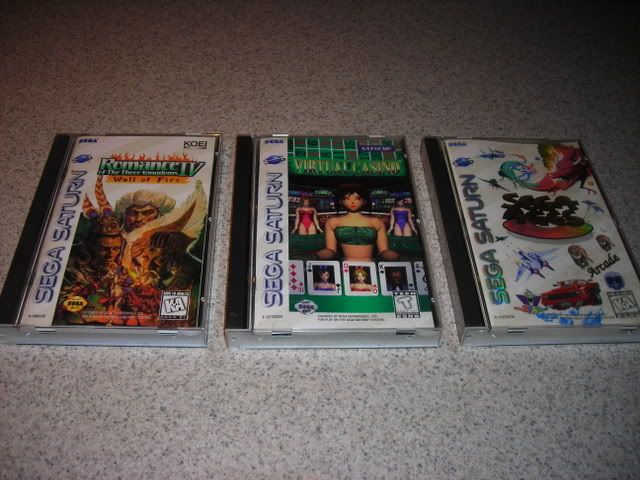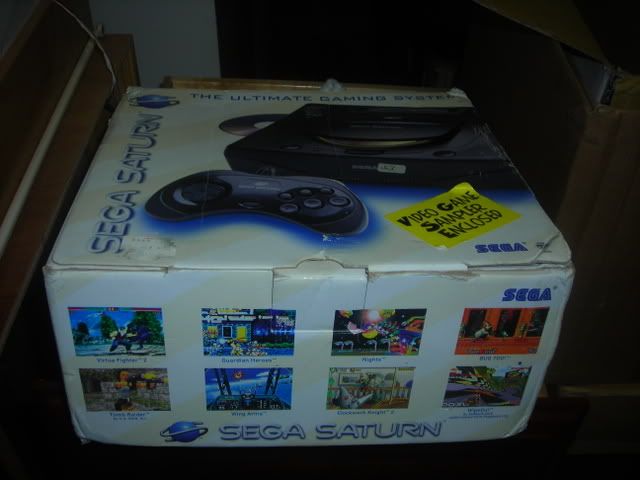 Magic Knight Rayearth Sealed and signed by Vic Ireland and Kely Knight- $115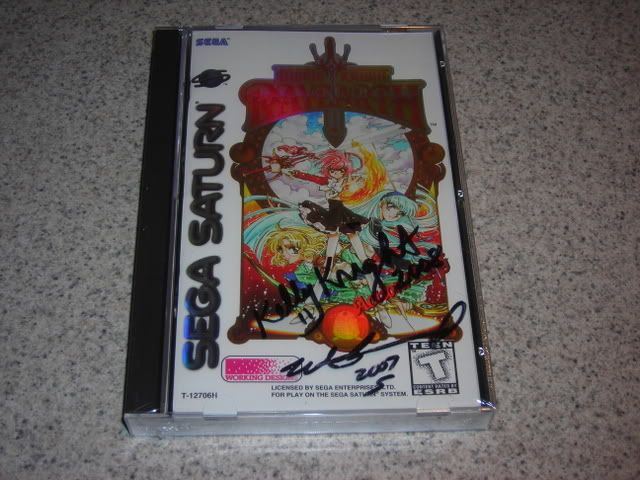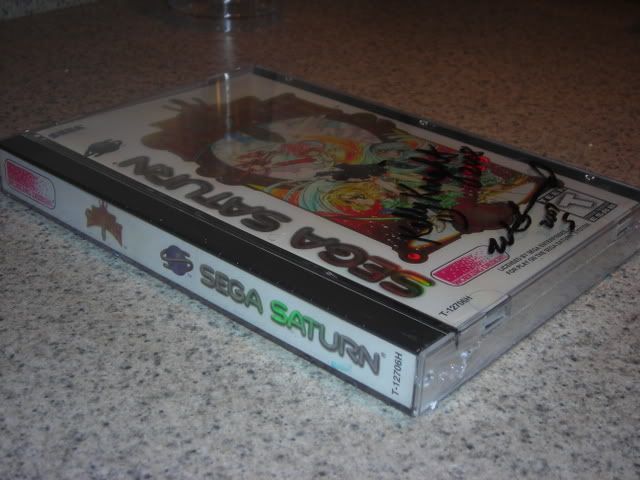 Lost & Found Volume 3- $45 each
Only 50 copies of L&F Volume 3 were made for the Sega Saturn by the now defunct company Oldergames. Oldergames recently sold off the rest of their stock, so you won't see copies of either of these games floating around any time soon. Volume one goes for $200 now…
http://img.photobucket.com/albums/v2...3/DSCN1243.jpg
http://img.photobucket.com/albums/v2...3/DSCN1244.jpg
CD Wallet filled with brand new Sega Saturn games $30
(discs are brand new, though they will probably have a tiny mark or two on them since thats what happens when they are placed in disc wallets. All discs are US games, which include: Resident Evil, Skeleton Warriors, F1 Challenge, Scud, Alone in the Dark, Command + Conquer, Tomb Raider, as well as the "Sega Rock Paintings" music CD.)
Lot of 68 brand new copies of World Series Baseball 98 and NBA Action 98- $62
(All games and whatnot are brand new. There are no jewel cases. 47 NBA Action 98 discs with 49 manuals/back inserts. 21 world series Baseball 98 discs along with 28 manuals/back inserts. Included are the promotional brochures from Sega)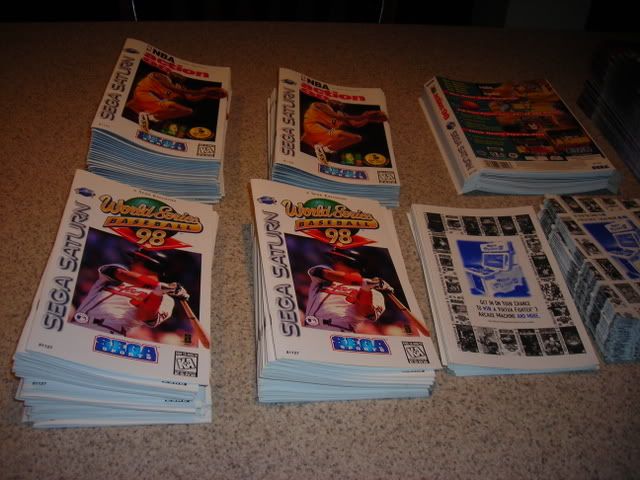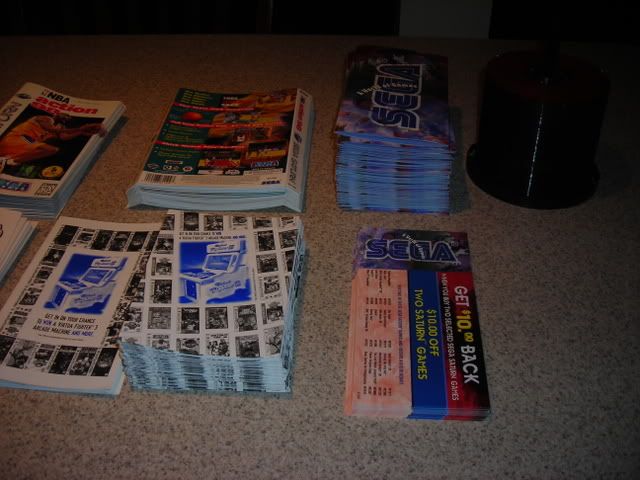 Box of 6 Brand new and sealed copies of Hexen- $24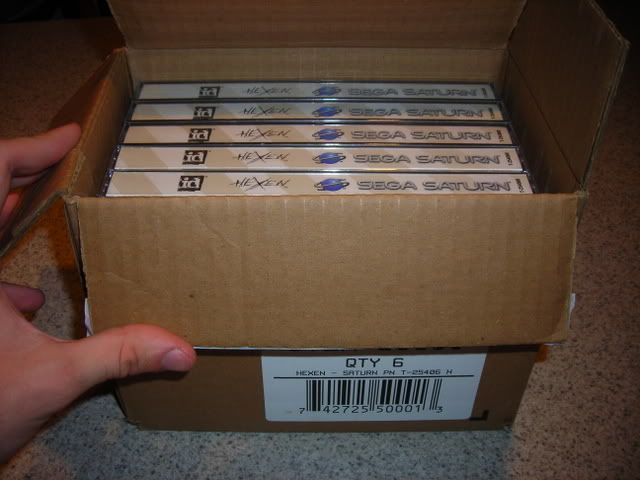 Replacement Sega Saturn Cases (brand new)- $2.50 each (these cases are mint or near mint and brand new. Only 6 left)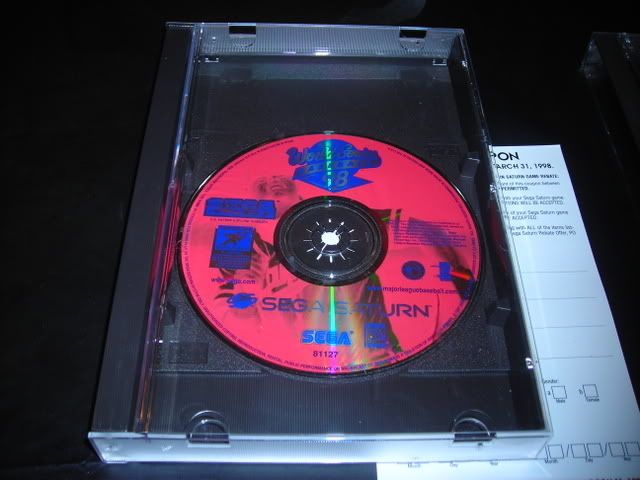 Replacement Sega Saturn Cases (near mint)- $1.50 each
These cases are brand new and unused, though they will most likely have a couple very light hairline scratches from sitting in a box. NONE will have cracks or chips of any kind. In other words, these are almost mint.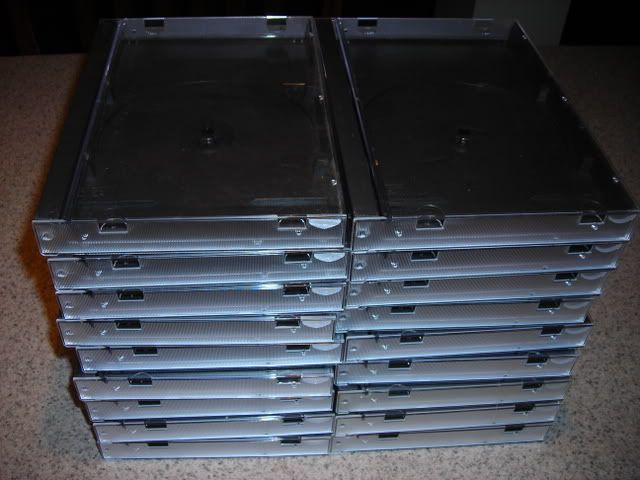 Replacement Sega Saturn Cases (fair condition)- $1 each (these cases are brand new, but may have a crack or small chip on them. They may also have a few scratches or scoffs on them.)
Dreamcast
Ready 2 Rumble Round 2 beta disc- $13
King of Fighters Dream Match 1999 (jp) -$9
Sonic Adventure- $7
Bleem Gran Turismo- $5
Quake 3 Arena- $6
King of Fighters Dream Match 1999 (disc only)- $6
Tony Hawks Pro Skater (disc only)- $3.50
Crazy Taxi 2 (disc only)- $6
Dave Mirra BMX (disc only)- $2
WWF Royal Rumble (disc only) $2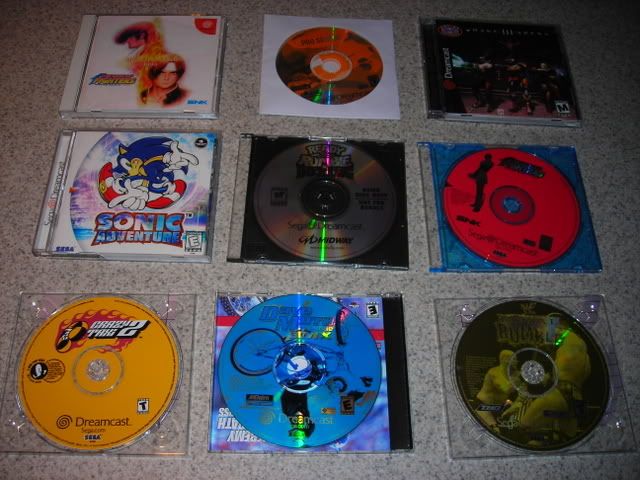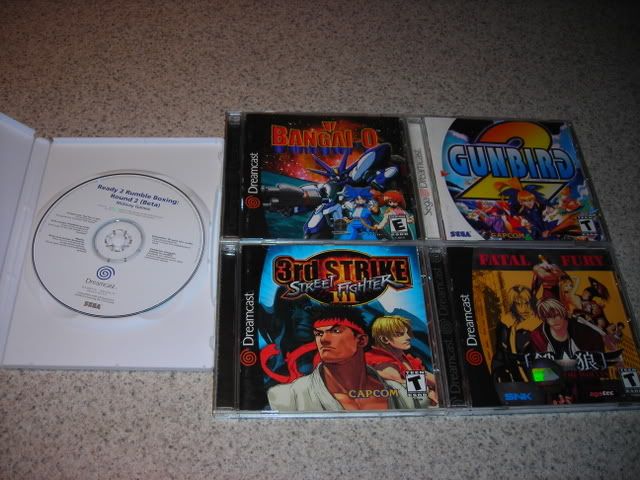 Brand New Jump Pack+ Extension Cable bundle- $7.50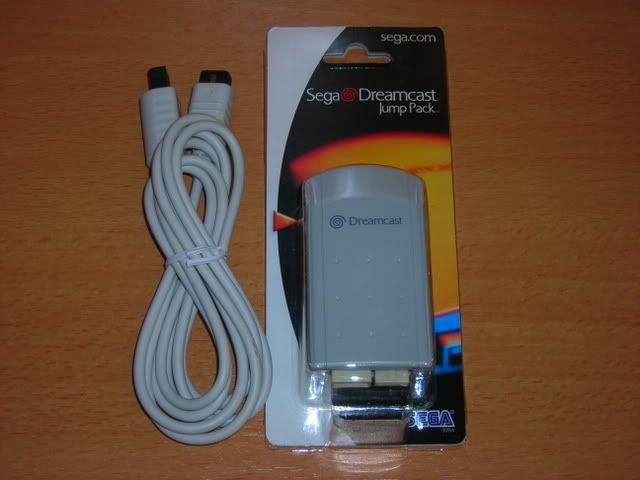 Official DC controller- $7
Rocker Pack (new) - $3
3rd party DC controller w/ built in rumble- $3.50
Green VMU- $5
Brand New VMU- $10
Gray VMU- $3
8X memory card- $7
S-Video Cable- $1.50
Hyper pak (rumble +4x memory)-$5
RFU Cable- $1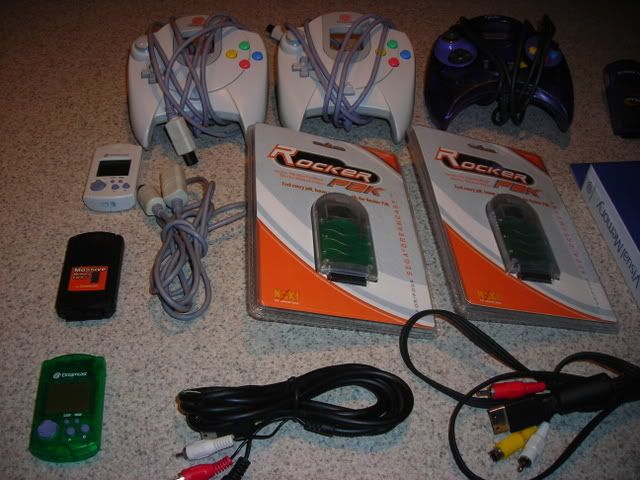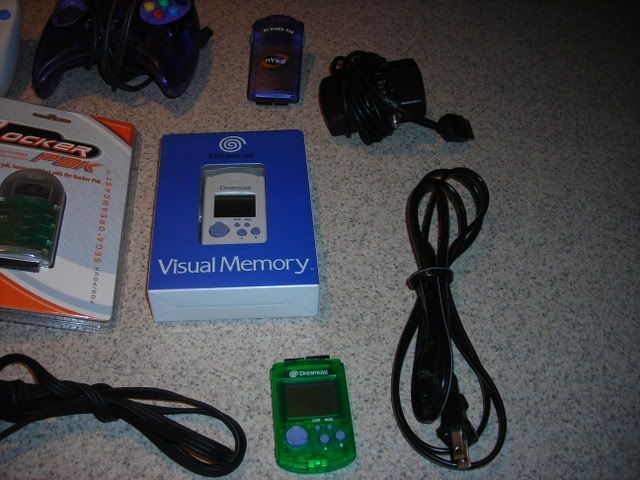 Xbox 360 Power Brick + AV cables- $22
Xbox 360 controller PCB, contacts already modified (wireless)- $9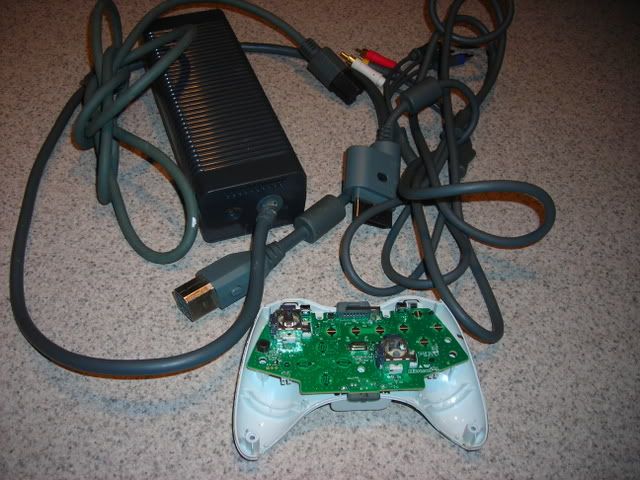 Sega Sports Jam (naomi) w/ Marque+ move lists- $15
Card Fighters Clash (JP) - $6
Bikkuriman 2000 Viva! Pocket Festival (jp)-$8
Reign of Fire Preview Assets disc -$3
Air Hockey e-reader card- $.40 each
e-reader unit- $6
Starfox Snes - $5
Metabots (gba) - $4
Rambo (SMS) - $2
Akira Plushie- $4
Candy Plushie- $4
Working Designs pins- $7 each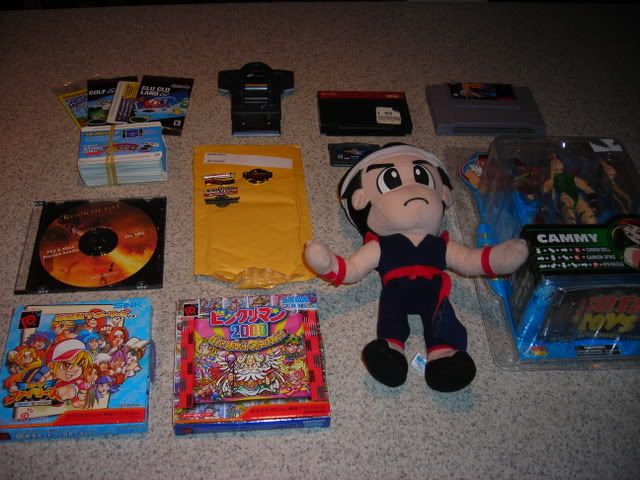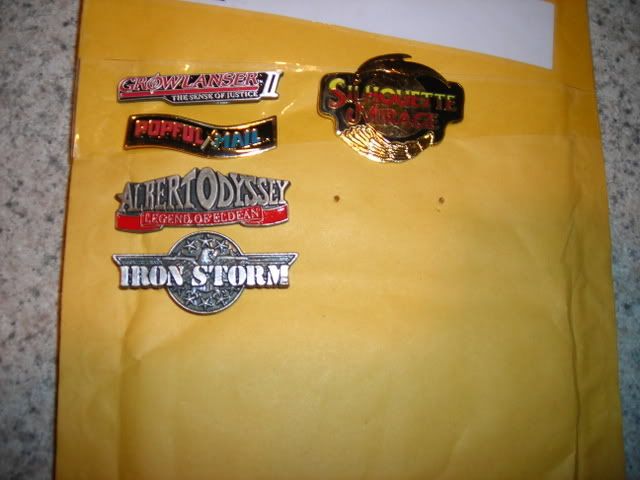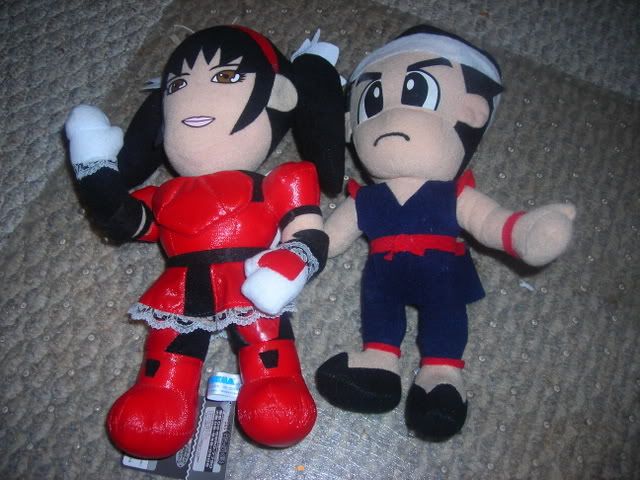 Arcade stick box- $65
Has a LS-40-01 stick mounted, no face buttons are included, though the start and select buttons are already installed.Not pictured are the start and select buttons. Lexan sheet on top has a few very light scratches. No PCB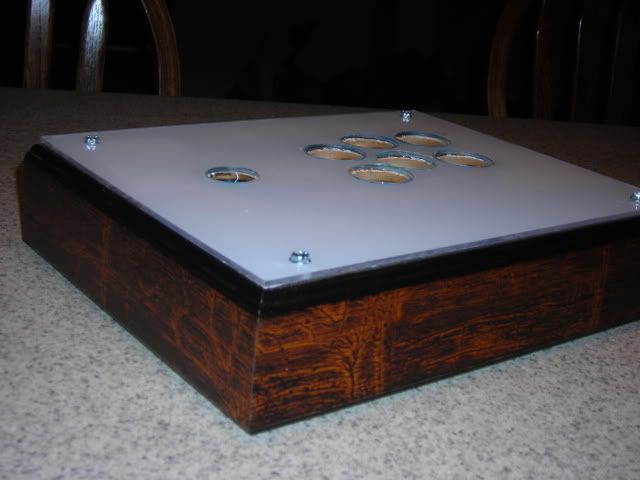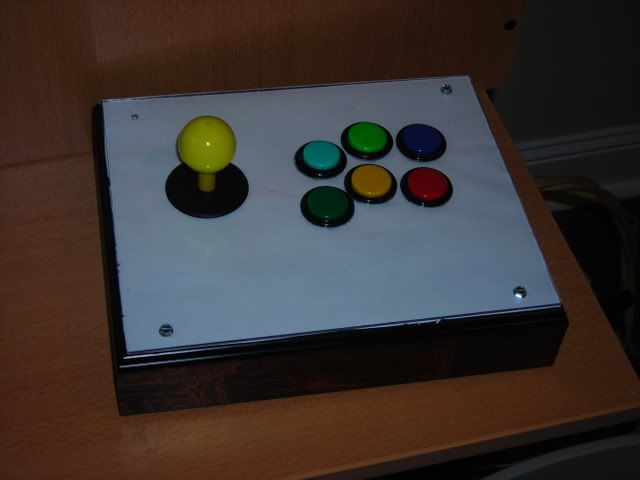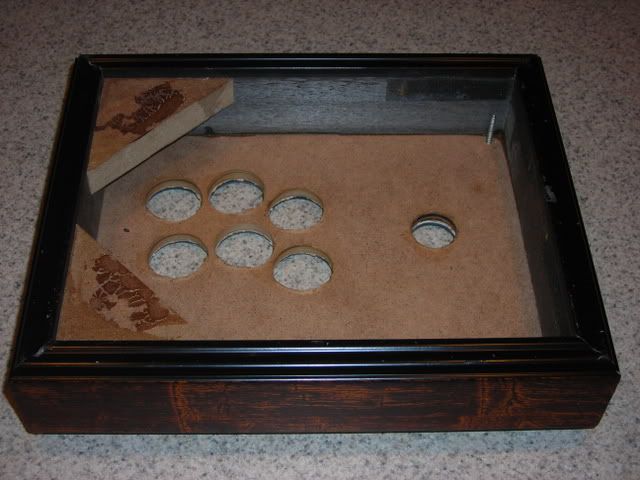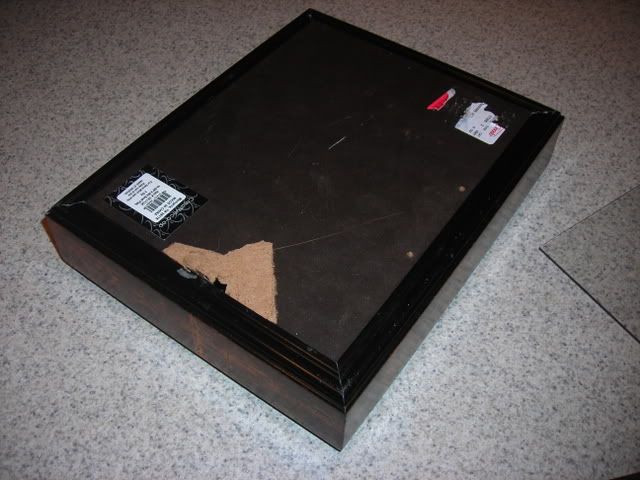 Dreamcast Modded agetec shell- yellow parts- $67
Has a Semitsu LS-32 stick installed, as well as yellow sanwa buttons. Shell and parts are brand new.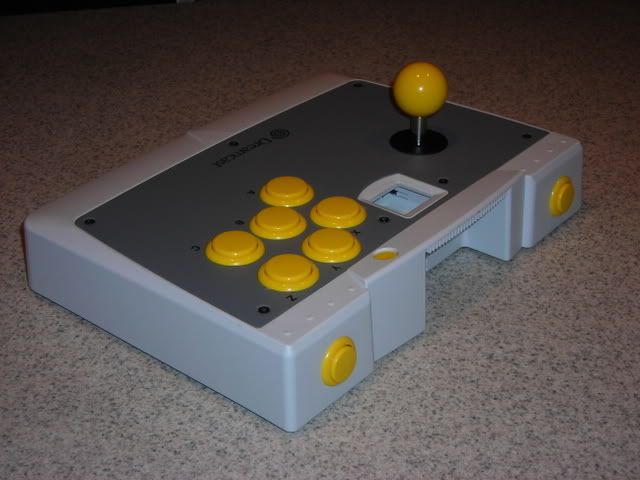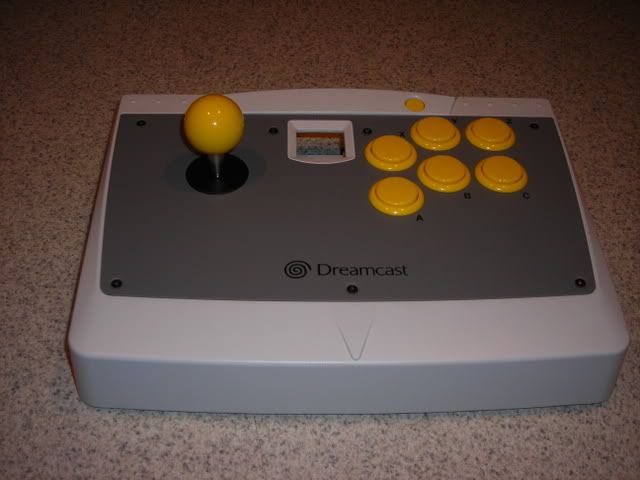 Dreamcast Modded agetec shell- Red parts- $47
Semitsu buttons installed, as well as mounting holes for a LS-32 stick. Comes with screws despite the picture. Metal plate has some scratches.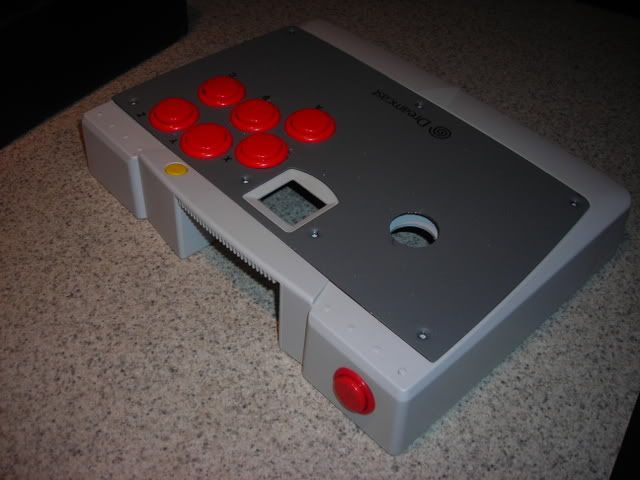 Dreamcast modded agetec shell- Pink parts - $47
Pink sanwa buttons installed. comes with screws despite the picture.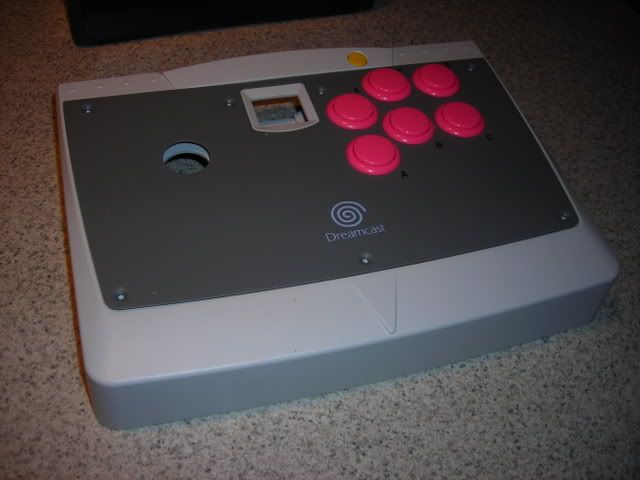 Black Arcade stick box- $50
Comes installed with buttons, though is missing a joystick. There is already the hardware to mount the joystick as well as holes drilled for the mounting.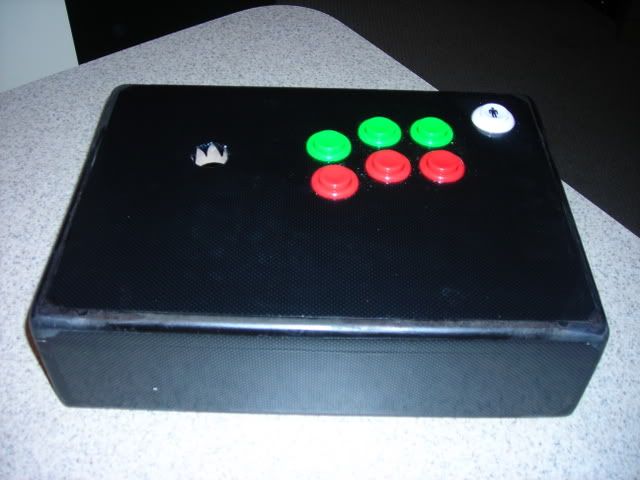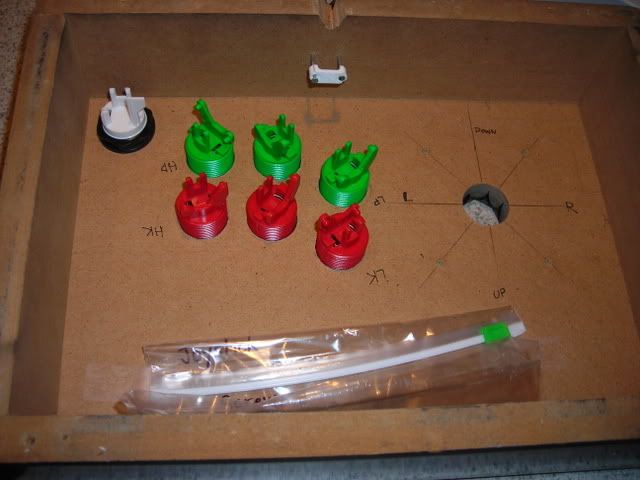 Modified Fighting stick 3 shell- $25
Drilled holes to fit sanwa and semitsu buttons, as well as filed down the mount for the joystick, allowing joysticks to be mounted. There is little clearance though, so keep that in mind. Plate has 2 or 3 minor scratches. as well as a small blot of plastic in the upper right corner of the plate.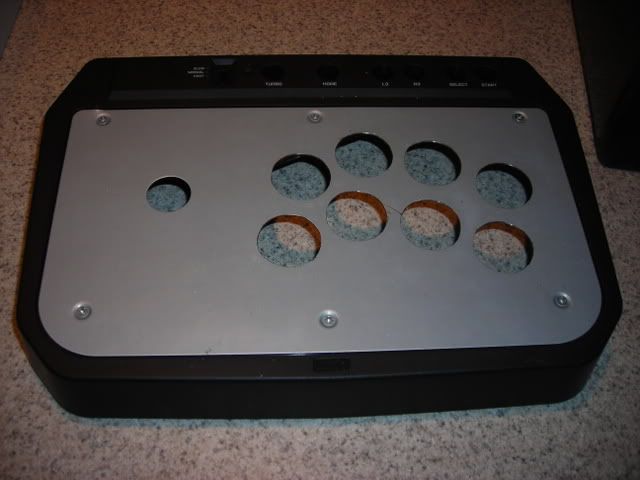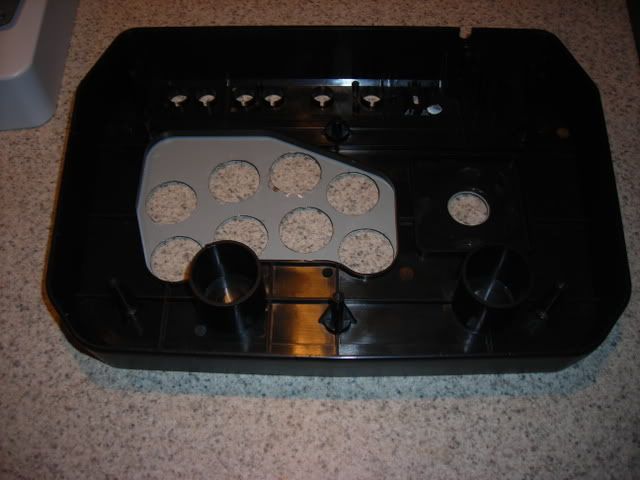 Snes Arcade Stick PCB-$7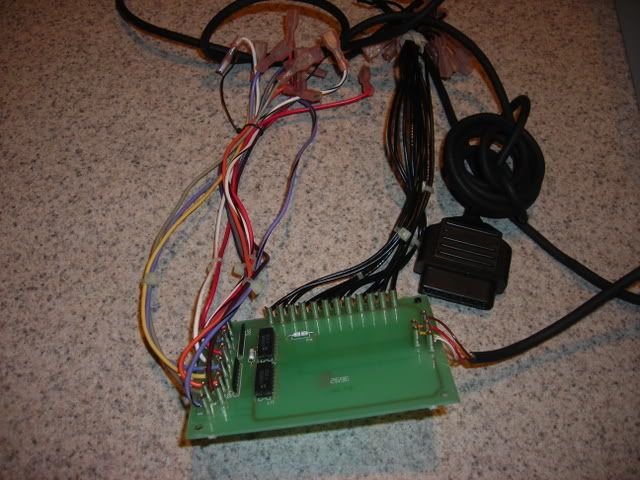 Dreamcast Championship Joystick- $60
A ton of interest in this last time I listed it. All happ parts. the wire connecting the "left" function got loose so it doesn't register that for the time being, a quick solder/glue gun job should fix it.