I know a lot of guy players hated his Alt's blue pants so I photoshop'd them to fit more appropriately. You guys can request different color schemes for this and anyone of Guy's alts and I will do it. I might even work on putting scars or blood on him, whatever you guys think. Just let me know, it can be as simple as changing his pants color, or as complex as removing the sleeves from his shirt.
Shoutuouts to WESTNiNE9, he has been a big help to the thread! Thanks man, keep up the good work!
P.S. Please keep in mind that some requests may take longer than others, and I may not get to some of you. (Getting ready for EVO next year.) So just post your requests and I will let you know if I am working on yours.
Original Fixed
http://img801.imageshack.us/img801/4354/guyaltred.jpg
Bushinryu's Requests
http://img706.imageshack.us/img706/3023/guyaltcyan.jpg
http://img801.imageshack.us/img801/1259/guyaltgray.jpg
Mista Klutch Requests
http://img441.imageshack.us/img441/8936/guyaltgreen.jpg
WESTNiNE9's (The One's I Like)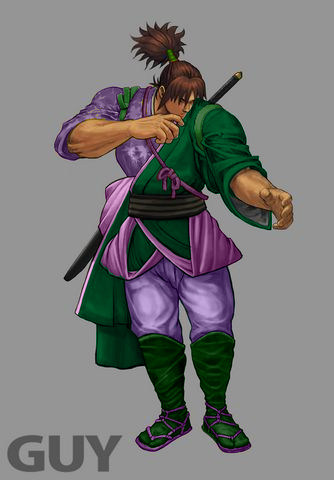 http://i203.photobucket.com/albums/aa235/WesTnine9/guyalternate12.png (Just Cuz Teh Blue Hair)
MADma3str0's Requests
http://i203.photobucket.com/albums/aa235/WesTnine9/MADma3str01.png
http://i203.photobucket.com/albums/aa235/WesTnine9/MADma3str02.png
http://i203.photobucket.com/albums/aa235/WesTnine9/MADma3str04.png
http://i203.photobucket.com/albums/aa235/WesTnine9/MADma3str05.png
Blooddrunk's Requests
http://i203.photobucket.com/albums/aa235/WesTnine9/Blooddrunk1.png
http://i203.photobucket.com/albums/aa235/WesTnine9/Blooddrunk2.png
K1's Requests
http://i203.photobucket.com/albums/aa235/WesTnine9/This_Is_K11.png
http://i203.photobucket.com/albums/aa235/WesTnine9/This_Is_K12.png
http://i203.photobucket.com/albums/aa235/WesTnine9/This_Is_K13.png
http://i203.photobucket.com/albums/aa235/WesTnine9/This_Is_K14.png
http://i203.photobucket.com/albums/aa235/WesTnine9/This_Is_K15.png
http://i203.photobucket.com/albums/aa235/WesTnine9/This_Is_K16.png
ShineErection's Requests
http://i203.photobucket.com/albums/aa235/WesTnine9/ShineErection1.png
http://i203.photobucket.com/albums/aa235/WesTnine9/ShineErection2.png
http://i203.photobucket.com/albums/aa235/WesTnine9/ShineErection3.png
x_Rock_Lee_x's Requests
http://i203.photobucket.com/albums/aa235/WesTnine9/x_Rock_Lee_x1.png
Mista Klutch's Requests
http://i203.photobucket.com/albums/aa235/WesTnine9/MistaKlutch1.png
http://i203.photobucket.com/albums/aa235/WesTnine9/MistaKlutch2.png
http://i203.photobucket.com/albums/aa235/WesTnine9/MistaKlutch3.png
So sorry guys, I have been hella busy. Shoutouts to WESTNiNE9 helping out while I was gone. Consider him my partner in making this thread. As you can see I have updated to show all the requests. Guys please nominate this for an article :]