i thought it would be a good idea to create this thread so that anyone who likes to take old low res sprites and give them a HD look, can show it here. i was obviously inspired by what capcom is doing with SSF2THD.
for starters, here's the link to some early sprite remakes for SSF2THD (by udon, i think)
http://ben.fortsigma.net/STHD/
most of them are already started for you
if you want to download the whole thing, rey jimenez of capcom released a zipped file with the psd's here: http://blog.capcom.com/archives/544
just scroll down to the bottom of the article and you'll find the link.
if you want to show remade sprites from any other game than more power to you.
here are some i did for starters.
before
http://img146.imageshack.us/img146/1808/zangiefb0201v03re6.jpg
after
http://img165.imageshack.us/img165/3489/zangiefmu3.jpg
before
http://img251.imageshack.us/img251/8053/sagatxcc2.jpg
after
http://img440.imageshack.us/img440/751/sagatnh0cx8.jpg
and of course, my shitty blanka remake
http://img72.imageshack.us/img72/2631/blanka2rq0.jpg
UPDATE 9/24/2013
here's a tip for getting the correct aspect ratio for Capcom sprites before you edit them:
UPDATE 9/17/2011 (fixed broken link)
tutorial for making HD sprites: The Hi-Def Sprite TUTORIAL thread (links updated)
to make things a lot easier, i will be uploading this page with all the current sprites from the artists that have contributed.
BlakMind
Dictator


Ryu


Sean


Guy


Necro


Q


Gill


Tia (breaker's revenge)


Gen


Geese Howard


Karin


Vulcano Rosso


Heihachi Mishima


Dee Jay


Spiderman


Venom


Fei Long


Necro


Skullomania

CHAiNwhore
Ken
http://www.ronchan.net/webstuff/Ken_C_00_01_v01_ronchanedit.jpg
Chemical Justice
Rock

Cronopio
Rosa
http://img190.imageshack.us/img190/4088/averz.png
DominoLogic
Zangief
http://img232.imageshack.us/img232/384/giefpicjh8.jpg
Akihare
http://img511.imageshack.us/img511/6442/akiharedmi4.gif
ExMachina
Makoto
http://img132.imageshack.us/img132/285/makotofirstdraft.gif
Persona characters
http://img524.imageshack.us/img524/2782/wipsprites.gif
gmbluedestiny
Chun vs Elena 1
Chun vs Elena 2
Elena
http://fc88.deviantart.com/fs35/f/2008/291/8/d/Elena_Street_Fighter_3S_HD_by_gmbluedestiny.jpg
Elena vs Chun
http://fc84.deviantart.com/fs35/f/2008/291/9/4/Chun_Li_vs_Elena_3S_HD_by_gmbluedestiny.jpg
Chun vs Cammy
http://fc81.deviantart.com/fs34/f/2008/292/6/4/Chun_Li_vs_Cammy_by_gmbluedestiny.jpg
Cammy
http://fc56.deviantart.com/fs35/f/2008/293/4/e/4e9b91cc60dfd80ec18e4db12acdba76.png
C. Viper
http://fc74.deviantart.com/fs34/f/2008/294/f/c/fcb10a172abaf32bb9b8064680e1a034.png
Aoko
Gouki
http://fc92.deviantart.com/fs35/i/2008/295/c/e/Akuma_Gone_Wild_by_gmbluedestiny.jpg
Ken/Ryu/Gouki
http://fc78.deviantart.com/fs35/i/2008/295/9/d/Ken_and_Ryu_vs_Akuma_by_gmbluedestiny.jpg
Morrigan
Athena
Morrigan/Lillith
http://fc23.deviantart.com/fs34/i/2008/298/6/6/Morrigan_X_Lillith_by_gmbluedestiny.jpg
Cammy 2


Shadaloo Morrigan

GosBroDansFan
Sentinel
http://cubeofb.org/uploads/images/sentinel copy.jpg
Jashugan
Ryu (please, please, please finish this one!)


Ryu animated! (WIP)
http://forums.shoryuken.com/showpost.php?p=5612125&postcount=490
johnnyutah001
Akuma
http://img255.imageshack.us/img255/3373/akumaxr9.gif
KO-KI
Ken/Ryu
http://forums.shoryuken.com/showpost.php?p=5706729&postcount=753
mikros
Chun Li


Chun Li (various)
http://forums.shoryuken.com/showpost.php?p=7234165&postcount=983
NeoBlood
Terry
http://img127.imageshack.us/img127/5889/comeoncomeonev6.jpg
Rolento
http://img296.imageshack.us/img296/5108/rolentohdzq1.jpg
http://img245.imageshack.us/img245/160/rolentohd2cq4.jpg
Iori
http://img380.imageshack.us/img380/5728/iori3cq3.gif
Leonardo
http://img237.imageshack.us/img237/2900/leonardofinishedsm7.jpg
Raphael
http://img156.imageshack.us/img156/4576/raphaelfinishednk6.jpg
Donatello
http://img301.imageshack.us/img301/7474/donatellofinishedwe3.jpg
Michaelangelo
http://img165.imageshack.us/img165/2586/michaelangelofinishedjs0.jpg
Shredder
http://img383.imageshack.us/img383/9844/shredderfinisheddz7.jpg
noround3
Mario
http://img254.imageshack.us/img254/4327/mario2.png
pootnannies
Sagat
http://img149.imageshack.us/img149/8550/sagathdcopytt1.jpg
Makoto
http://img102.imageshack.us/img102/9784/makoto22471la8.jpg
http://img101.imageshack.us/img101/7255/makotocomparison22471jx6.jpg
Sean
http://img266.imageshack.us/img266/2756/sean16657xm1.jpg
Necro
http://img255.imageshack.us/img255/8162/necro6861oe3.jpg
Yun
http://img178.imageshack.us/img178/4192/yun04299uj4.jpg
Akuma/Gouki
http://img174.imageshack.us/img174/4958/akuma19046tl1.jpg
Ramon
http://img104.imageshack.us/img104/2037/ramonkofxw0.jpg
Slayer
http://img441.imageshack.us/img441/7476/slayer2tk6.jpg
Hattori Hanzo
http://img521.imageshack.us/img521/4908/hanzotb2.jpg

White Len


Mai


Hanzo (SS1)


Oro


Dudley


Adon line art (animated)


Adon


Adon (animated)


Samus


Gen


Jotaro


Jotaro 2


Ukyo
http://img502.imageshack.us/img502/5884/ukyo5xfixgp7.png
Jubei
http://img15.imageshack.us/img15/4531/jubeitest2.png
Hell Knight (Doom3)
http://img10.imageshack.us/img10/3199/hkdoomcopy.png
Juni and Juli
http://img194.imageshack.us/img194/5905/comishcopy2.png
Colossus
http://img37.imageshack.us/img37/8523/colossus2copy3.png
HellKnight 2
http://forums.shoryuken.com/showpost.php?p=7037058&postcount=974
Ken (SF4)
http://img268.imageshack.us/img268/9936/kensfivstance2.png
Providenceangle
Dudley


Ken


Gouki


Elena


Chun Li


Urien 1


Urien 2


Ibuki


Super Saiyan Makoto


Hayato


Rogue


Psylock


Felicia


Stryder


Jill Valentine


Sonson


Captain America


Mai


Makoto


Twelve


Morrigan


Guile


Guy


Sakura


Rose


Vega/Claw


ServerBott


Maki


Yun


Rugal


Ryu


Ibuki


Athena


Chun Li 1


Chun Li 2


Chun Li 3


Juni

PsychoSquall
Guardian Heros
http://img3.imageshack.us/img3/6465/ghscreen.jpg
Sasmasta
Hisui 1


Hisui 2


Zangief vs Cammy

Scissorman
Shadow of the Beast


Zamzara


character from Clock Tower


various Old School sprites #1

various Old School sprites #2

D'junn
http://img375.imageshack.us/img375/8118/djunnjm3.jpg
from Shadow of the Beast


Scissorman


Necro

Stamper
Cody
http://www.cockbomb.com/candy/CODY.jpg
Dan
http://www.cockbomb.com/candy/DANNYBOY.jpg
TacticalNoir
Shining Force 2

the_dannobot
Mai
http://www.dannobot.com/gallery\mai sprite.png
Mai game
http://www.dannobot.com/downloads/Troika Tech Demo.zip
uKER
Battletoad
http://img135.imageshack.us/img135/6608/battletoadsts4.png
wilsonhall
Makoto
http://i545.photobucket.com/albums/hh386/femtogob/makotoremake_002.gif
Xenozip
I-no


Jojo's Bizarre Adventure-various


Millia 1


Millia 2


Millia 3

Yin
Bulleta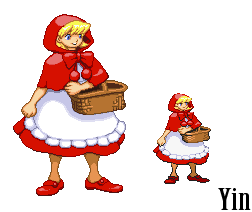 Zearu
Hitman Reborn
http://img155.imageshack.us/img155/6804/40762589xa4.png
Zinac
Faust
http://img222.imageshack.us/my.php?image=fausthidefwl0.png
Yun (unfinished)
http://img236.imageshack.us/img236/6749/yunhidefpartialop7.png
http://img45.imageshack.us/img45/1091/yunhidefyb0.png
Johnny (WIP)
http://img217.imageshack.us/img217/6046/johnnyscompsb5.png
Hatsune Miku (WIP)
http://img26.imageshack.us/img26/981/mikuspritecomfp4.png
wallpapers
Vegetto
http://smg.photobucket.com/albums/v244/MCVegetto/Artwork/th_TechSean.jpg
http://smg.photobucket.com/albums/v244/MCVegetto/Artwork/th_techbison.jpg
http://smg.photobucket.com/albums/v244/MCVegetto/Artwork/th_MeteorPlanet.jpg
http://smg.photobucket.com/albums/v244/MCVegetto/Artwork/th_VectorYun.jpg
i guess that's all of them. if i missed anyone let me know and i'll put you up here right away