Okay, no bullshit… who fell for the EGM April Fools Joke articles of Sheng Long?
What's funny is that when the 1st Sheng Long trick was posted for SF2 in EGM, I didn't know it was bullshit UNTIL… I actually completed all of the insanely difficult "requirements" to face Sheng Long and of course did NOT face Sheng Long! :annoy: It took me weeks to master the timing and patterns of Bison before I was able to do what the phony "requirements were. I was lucky enough to work at an arcade in which I could stay overnight after closing and play SF2 for free or I would've gone broke and probably could've won a lawsuit against EGM for how much money I would've lost. Anyways, back then the internet was not much of an option for confirming game hoaxes, not to mention that this was the biggest video game hoax of all time then. This hoax even fooled Japan, who believed it, and they thought they knew everything about SF2 at that time so they were hella surprised to see that!
I didn't get into SF3 very much to have ever bothered attemping the 2nd Sheng Long joke though. I DID however believe what I was reading and was very curious about it. The screen shots and the text descriptions made Sheng Long seem as though he was the new "King of Cheese" in fighting games!
Anybody else fall for either of these jokes? Who actually tried it and completed all of the trick requirements?
http://www.darktemplarz.com/tempmatt/sheng.jpg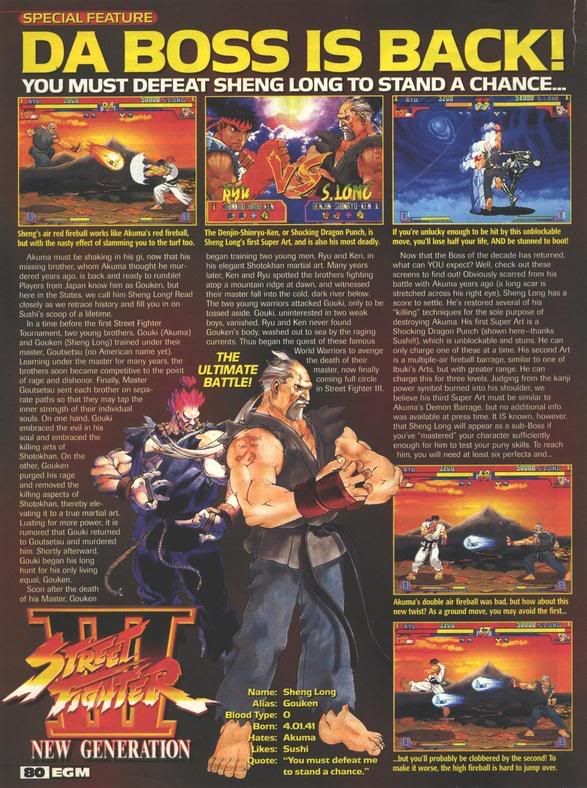 LOL, brings back memories of the good ol' days when SF WAS KING! :lovin:
---
BTW, this shit never stops making me roll! Too funny! "The Best Version of SF2:CE"… what a f*cking joke!
http://media.putfile.com/Street-Fighter-commercial
---