Right now I'm using this gem on houston240sx.com but I have 2 ideas.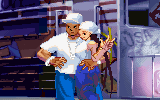 But I want something with me and my GF's name on it, I mean I'm lovin' then one I'm using now (see above) but keep Sean in White but get Ibuki in Pink like it's counterpart and lighten up Sean just a shade or 2 to a more Hispanic tone, Ibuki is JUST fine.
OR what I Really Want
Ghetto Kyo (2003/XI Kyo) and Vanessa AV where they are together (like the above AV)
Kyo in Blue Jeans and White T, Black Jacket - In a Hispanic Skintone w/ DARK Brown (almost black) Hair
Vanessa in Black Pants, Pink Shirt, White Tie, Black Hair - REALLY lightskinned blackgirl complexion.
Also our names are Mycah and Roscilla - if you find a way to put in Boricua or Creole that's cool too.
The Background = Some kind of Street Background.
As for Sprite Editing, if you got the skillz, USE THEM like I said I fuckin' LOVE the above one but it's not "For Mycah" ya know?
If anybody can pull this off I'd love them for life - prolly even go premie just so I can Rep Them.
Also a matching sig block would kickass as well.