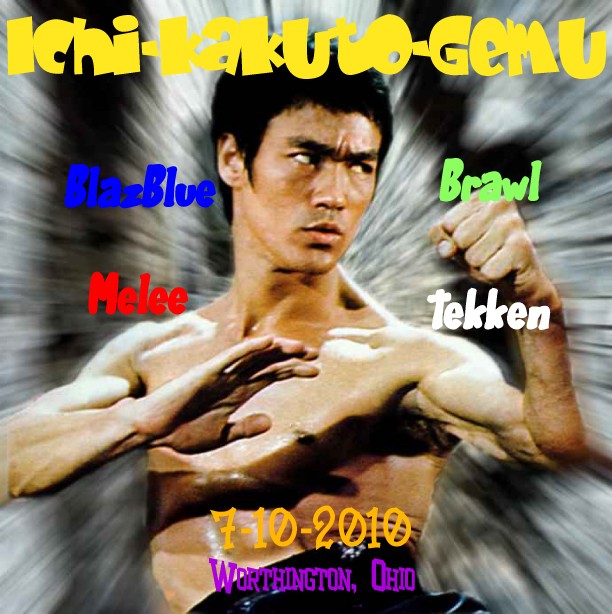 T.O. TheKiest has returned
THIS TOURNAMENT LINE UP:
Blazblue (PS3)
Super Smash Brothers Brawl (Wii)
Super Smash Brothers Melee (Wii/Cube)
Tekken 6: Bloodline Rebellion (PS3)
With Brawl now having one-two tournaments a WEEK, I've decided to expand the tournament scene to more games. This tournament as you see in the picture, will have not only Melee, but Tekken 6(BR) and Blazblue. There will NOT BE DOUBLES AT THESE EVENTS!!! Because I want many people to try many games, the entry to all of these WILL BE 5 bucks. Except for the Main Events.
I have decided to add an incentive to this series as well: the game with the highest attendance will become the MAIN EVENT for the next tournament with a $10 entry AND 3v3 TEAMS (5 bucks a person, $15 a team). I will explain the format for team at the second event's thread.
But for now, I am doing 4 "smaller" tournaments to get use to the venue. Now that the intros are done…
WHERE?
358 S Selby Blvd
Worthington, OH 43085
For those who haven't been here, its a park house.
When?
July 10th, 2010 (Yes same day as Evo… but this is more of a Local/Statewide tournament.)
Schedule as of now…
1:30 Doors Open and registration begins.
2:30 Registration for Blazblue and Brawl Ends. Brawl and Blazblue begin.
5:00 Registration for Tekken and Melee Ends. Melee and Tekken begin
7:00 "The Elite Eight"
8:15 Doors close and clean-up
8:30 Venue closes
IF WE CANNOT FINISH THE ELITE EIGHT, WE WILL RELOCATE TO MY HOUSE VIA CARPOOL TO FINISH IT THERE (About a 5 minute drive from the venue)
These are what I call the 4 grand finals. (One per game). I will save these for last for two reasons.
To promote these matches.
To record these matches.
I will also TRY to keep one setup for friendlies/MMs for each game. Space pending.
How Much?
$5 Venue (waved if you bring a FULL SETUP* AND we use it. First come first serve.)
$5 Entry PER TOURNAMENT
Food locations are about 5-10 minute drive.
A Full Setup means: TV plus system + game WITH EVERYTHING UNLOCKED!!! (Except for Blazblue's Astrals.)
Details!!!
As I said before, the game with the most attendance WILL BECOME THE MAIN EVENT of the next tournament. In the case of a tie, well I haven't figured that out yet…
However, the tournament with the LEAST attendance will be replaced with a different game.
The game that will be added is the one on the top of this list:
Super Street Fighter 4 (PS3)
Soul Caliber 4 (PS3)
Tatsunoko v Capcom (Wii)
Street Fighter II Turbo HD Remix (PS3)
The game that got replaced from this event
*Other games might be thrown in here such as Smash 64, SF: 3S, and others.
Also…
THE EVENT HAS A 32 MAN CAP FOR EACH EVENT!!!
This is because of the size of the venue, and the amount of time i have it for. I am working on getting a larger, cheaper venue. BUT until then, there is a cap. Yes this means there can be more than 32 people at the tournament, just 32 per tournament.
Also there will be no pools for any $5 tournaments. (Sorry Brawlers.)
PREREGISTRATION
Sign up by typing the following in this thread or in another thread for the other games:
Name/Handle:
Crew(If it applies)
Location
Games you want to enter
Setups you can bring
For example:
(The '/' means I have one TV and system with two copies of the games.)
Attendance List
*NOTE: The TOs (Me and Magnum) are willing to drop out of two events to allow others to play instead. Those two will be Melee and Blazblue for me. And Brawl and Melee for Magnum.
** Players with a ? at the end either aren't sure or didn't prereg the way I asked them to… heh.
Blazblue(PS3)
6 People
TheKiest (69th: Worthington) - will drop if a spot is needed
Magnum (69th: Worthington)
Solecalibur (OUGA)
sDog?
Solecaliber
RachelAlucard (Columbus)
Brawl (Wii)
12 People
TheKiest (69th: Worthington)
Magnum (69th: Worthington) - will drop if a spot is needed
SoulPech (Columbus, Ohio)
Moose (Columbus, Ohio)
FlyingFrenchman (Columbus, Ohio)
Solecalibur (OUGA)
Clowsui (Cincinnati)
Steel Samurai (Cincinnati)
Dark 3nergy (Hillard)
Crow?
Shura?
MityMouse?
Melee (Wii/Cube)
7 People
TheKiest (69th: Worthington) - will drop if a spot is needed
Magnum (69th: Worthington) - will drop if a spot is needed
Moose (Columbus, Ohio)
Megachuk?
BigD?
e_
MityMouse?
Tekken (PS3)
5 People
TheKiest (69th: Worthington)
Magnum (69th: Worthington)
Killsteal117?
sDog?
RachelAlucard
RULES AND FORMATS ON 2nd POST