Quick video of my little project. Hope you enjoy.
Not a bad mod, your video (for the most part) is very straight forwards.
The Dreamcast Agetec PCB is the best PCB for building/modifying a stick to work on the dreamcast.
Instead of electric taping the wire splices, you could also used wire terminal blocks. Not that wire splicing is bad, but its good to have options.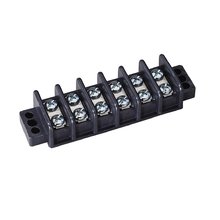 American style wire terminal block
European style wire terminal block
The European style terminal blocks can be trimmed down to size.
That terminal is exactly what I used for a while when I was testing my first Agetec mod (LS-32-01, Sanwa buttons). I also used it for the directional signal wiring on all my T5 mods when I had T5 PCB's.
I only used the terminal for the joystick stick directional wiring all my PS2 mods… I was stingy enough with the existing button wiring on the Agetec that I just put 0.110 QD's on those wires; I was able to keep the existing daisy chain wiring for the common ground signal, too.
The Agetec PCB is a beautiful thing and so well-documented that an intelligent house cat could just about do the mod.
After Toodles added Dreamcast compatibility to the MC Cthulu, the point of keeping an Agetec PCB became moot for me… (Agetec PCB's are still one of the easier PCB's to sell off, too.) The PS360+ does have a Dreamcast VMU slot (which the MC Cthulu doesn't) but existing adapters with DC VMU slots are out there that can be used with the MC Cthulu in PS2-mode or Sega Saturn-mode (ie, you have to use those system cords with the MC Cthulu).