Yo dat new fight pad tho… I might pick one up for myself
Seven button sticks are going to be the next big thing. I'm calling it now.
"It is one of Plato's significant contributions to epistemology to have seen that we do not possess bits of knowledge in isolated, fragmented segments. One never knows a single entity, in isolation from its ties to other things; all knowledge involves systematic interconnecting. If the circle of our beliefs is sufficiently large, and the interconnections suitably comprehensive, the links in the circle are transformed from true beliefs into pieces of knowledge. Eight buttons is dick."
That's the Sega Astro player 2 layout. The layout more commonly used by retail sticks is the player 1 layout.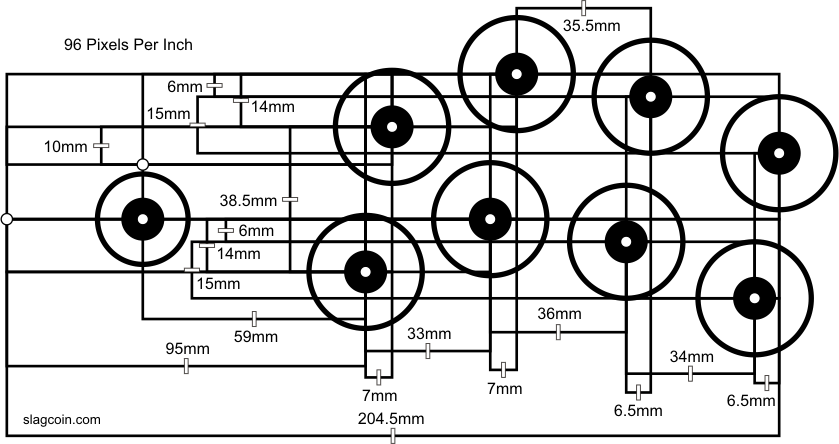 The only retail stick that ever had the Astro P2 layout was the Sega Dreamcast Agetec "Green Goblin." That and that Dragoncast stick that was talked about recently here.
I WISH the Astro P2 layout was more out there.
I always wondered, what was the purpose of the seventh button? Was it to replicate the NEO-GEO layout on the top row?
I just pulled the info real quick and probably should have paid more attention on which player I posted. Good looking out.
i kinda like it. if it's inexpensive like the SE was, I might pick one up, have it as a spare.
If those are 30mm (Sanwa) buttons and a Sanwa joystick, then this could be a pretty nice budget entry stick and even a nice "to go" stick for enthusiasts. IF it indeed is 30mm, yes it's a rather small case. However, I would love to see someone like Art/Tek-Innovations and/or other case makers come up with something where you can simply drop the whole thing into a slightly larger "shell". No need to strip out the parts, just simply "extend" the current housing a bit. Heck, Madcatz could possibly make an official variant. So long as it sits secure inside the extension (doesn't shift, won't break, etc.), I could see people "upgrading" to more surface area. Kind of wish someone had done the same for the SE line.
seeing as it's probably going to be a budget stick, I wouldn't expect it to have Sanwa parts.
I wanted something like that too, but for Hori's non-HRAP sticks. I have a Command Stick PS from the PS1 days and the shell looks exactly like their more recent Wii stick.
The big issue here is clearance for your more popular levers. A JLF would scrape bottom metal plate. A larger drop-in shell would get rid of that problem too, I'd say.
Hopefully modifying this to accept a quality lever isn't as much work as it is on a Namco.
Looks great for people with dexterity problems…
Look super-compact, and yet it looks like it takes 30mm buttons (at least), and probably some odd lever or other.
As someone who's spent probably WAY too much time to mod the crap out of mini-sticks (Exar Exaprize and Intec Combat stick), I'd probably get this (and mod it) just to follow that personal trend.
ive modded 666 EX2's. i think this one will be a piece of cake parts swap,
Yea, you would have to position your hand in such a way that your wrist must fall on that slant. I tried out a TE like a month ago, and that thing is an absolute wrist haven compared to my old Arcade in a Box stick and clones (but I don't use those on my lap, so it doesn't bother me). Carried the same TE by my wood guy to make an exact replica out of heavy Teak wood, but he hasn't made any progress yet. I can't wait for that to be done.
Sharp corner on the front looks super uncomfortable for people that don't play with wide out elbows