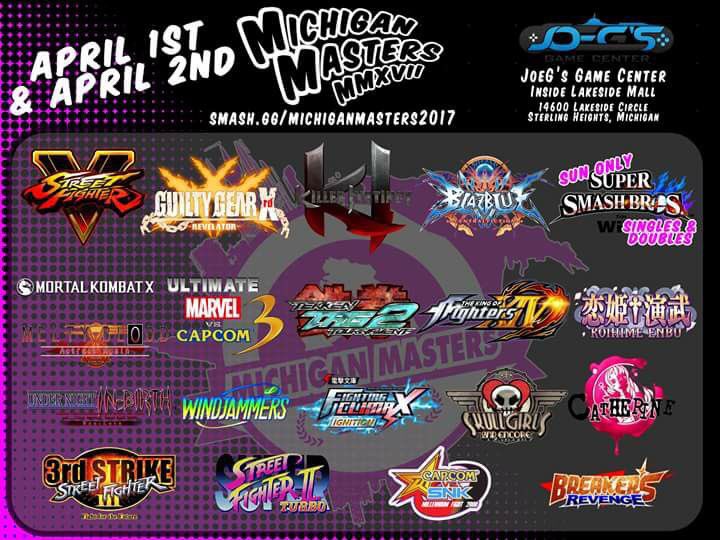 Michigan's longest running tournament series returns with Michigan Masters 2017! Join Metro Detroit, Lansing, Traverse City and other Michigan regions as we put our skills to the test in a 2-day, 20+ game tournament. Hosted out of JoeG's Game Center in Lakeside Mall, Sterling Heights, Michigan Masters 2017 will carry out all the action the Mitten has to offer. If you cannot make it in person, we will have two streams of the tournament to cover the event.
Pre-reg here - https://smash.gg/tournament/michigan-masters-2017/details
Venue:
JoeG's Game Center
14000 Lakeside Cir, Sterling Heights, MI 48313, USA
Directions to the venue can be found here - https://goo.gl/maps/SNoXXCAQbUk
there is a hotel near the mall if your coming from out of state :
Marriott - http://www.marriott.com/hotels/travel/dtwtu-towneplace-suites-detroit-sterling-heights/?scid=bb1a189a-fec3-4d19-a255-54ba596febe2
Games:
Guilty Gear Xd Relevator (ps4)
Breakers Revenge (Supergun) [16 Entry Cap]
Street Fighter 3: Third Strike (Supergun) [32 Entry Cap]
Smash Wii U Singles [SUNDAY ONY]
Smash Wii U Doubles [SUNDAY ONLY]
Melty Blood Actress Again Current Code (PC)
Koihime Enbu (PC)
Street Fighter V (Ps4)
Windjammers (Ps4, release depending)
Under Night:In Birth Exe Late (Ps3)
Ultimate Marvel vs Capcom (Ps4)
Catherine (Ps3)
Mortal Kombat XL (Ps4)
Blazblue: Central Fiction (Ps4)
Super Street Fighter 2 Turbo (Supergun) [16 Entry Cap]
Killer Instinct (XBO)
Capcom vs SNK 2 (Supergun) [16 Entry Cap]
The King of Fighters 14 (Ps4)
Tekken Tag Tournament 2 (Ps3)
Skullgirls 2nd Encore (Ps4)
Dengeki Fighting Climax Ignition (Ps4)
Rules:
We can make this simple with the following rules:
Don't be a jerk
Treat all JoeG's/TO equipment with respect
Bathe for the love of God.
But for some more advance rules, please observe the following:
Banter and trash talking are allowed, and to a certain point encouraged, but malicious or threatening language is not okay. Keep your cursing and obscenities under check, JoeG's is a public place inside a public mall and you will be in earshot of families and children. Keep it civil.
Disqualifications are made at the judgement of the Tournament Organizers and Bracket Runners. If you are in multiple games, need to eat food, go to the bathroom, or smoke let the appropriate event staff know. This does not absolve you of responsibility, our staff will not hunt you down for your match. All decisions made by event staff are final.
Collusion is not allowed. Don't be that guy, my guy
Coaching is allowed, you can have (1) coach at your side to advise you in between sets. Coaching during the game is not allowed. Your coach is gonna have to be really damn loud because this is Michigan and the crowd will not give you the silence needed for a low-volume insightful conversation.
Outside food and drink is allowed, but is NOT to be put on any tables or areas where event equipment are.
If you have any other questions regarding rules at Michigan Masters 2017, please speak to any of our event staff.
Prizes
For games with 1-63 entrants the payout is as follows:
1st place: 70% of total prize pot 2nd place: 20% of total prize pot 3rd place: 10% of total prize pot
For games with 64+ entrants the payout is as follows: 1st place: 60% of total prize pot 2nd place: 20% of total prize pot 3rd place: 10% of total prize pot 4th place: 4% of total prize pot 5th place: 2% of total prize pot 6th place: 2% of total prize pot 7th place: 1% of total prize pot 8th place: 1% of total prize pot