Hey guys. In this thread i will log the build of my very first arcade stick as it progress. I hope i can get you guys ideas, opinions and suggestions as i progress. I especially ask for experienced users to check my thread and help me out
I did scan the forum, slagcoin and internet. Also I have been making the question thread busy lately eheh. But i tend to get stuck in details and lost. I will highlight the writing of the subjects that i get stuck or need advice like this.
I have been trying to get a arcade stick for like 10 years, they were too expensive for me then(as a middle school student eheh). I am building my own because i like to do diy stuff and it will be cheaper, like cheaper than its half. A madcatz te2 is 200$. If my calculations are right, mine will cost me in total 75$
That is of course, because i have all the tools needed at hand.
The progress so far:
-Get general info, slagcoin, woodworkers thread, checkout my arcadestick thread and other - Done
-Decide which parts to buy - Done
-Order the joystick and buttons from akishop - Done
-Get a sacrificial gamepad for its PCB - Done
-Design the box - In Progress 85%
-Buy the wood, sand paper etc - Pending
-Buy the plexi - Pending
-Make the box - Pending
-Design the artwork, get it printed and cut it - Pending
THE PARTS
I researched and it seemed that seimitsu ls-58 would suit me better. I asked for which buttons to buy in question thread and i have been told to buy seimitsu again. I bought them from akijp, they are on their way from Japan
Here are my parts:
THE CASE
Yeah… This step makes me busy. Because i just can not decide on some things. Your suggestions are highly appreciated here.
**
Layout**
Here is the layout i decided to use: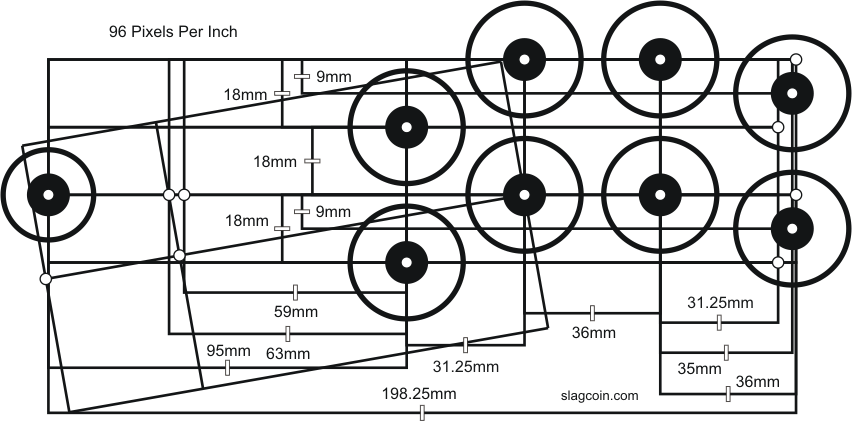 "This layout uses the standard Japanese arcade design, but the proportions are set so the buttons fit together more evenly and closely. The buttons form equilateral triangles and a square."
I printed it and it suited my fingers better compared to vewlix. This layout basicly have 36mm spacing between buttons.
Here is a question: I have small-medium sized hands. I seem to stretch my fingers wide trying to press each button(on printed layout). Should i get those buttons closer? Like 35mm instead of 36mm. Seimitsu screw buttons allow for 35mm clearance as i see on their drawings. This is the same layout with 35mm spacing:
http://i1106.photobucket.com/albums/h373/mzhd93/L35.jpg
Dimensions
I still haven't concluded on this but my current design is roughly 45cm x 22.5cm. I keep it wide to make it comfortable on lap. Trying to give it enough width to have a good amount of palm space in front o buttons. I also try to make it as slim as possible with keeping 24mm space between the control panel and bottom of joystick ball. Which gives me exactly 5cm of height.
Here is how the initial design looks like:
http://i1106.photobucket.com/albums/h373/mzhd93/1.jpg
http://i1106.photobucket.com/albums/h373/mzhd93/2.jpg
What do you think the space above the buttons and joystick? Isn't this space meaningless? I mean if you have panel like on te sticks or buttons on that side you have to leave that space. But my buttons will on side. So can i get away with shaving this space? Trying to get the width as minimum as possible with having the same palm space.
This is measured 45cm x 20cm. Which one do you think is better?
http://i1106.photobucket.com/albums/h373/mzhd93/3.jpg
*
*
I also want to know if too much palm space would be bad. How much space is the ideal?
Layering
2mm pleksi+sheet metal. I will cut pleksi with spade on a drill press. Because i doubt i will find a 24mm bore anywere so i have to buy one. Spade bit is cheapest ehe. People use it on plexi with success. Sheet metal will be cut in plasma cnc
My friend have access to it on his work and they have all kind of scrap metal sheets. So i do not pay a penny eheheh.
I will mount the mounting plate directly to metal sheet, using spacers to get proper height(since i dont know the thickness of the scrap sheet metal) and counter sink screws. I think it will be enough so i won't have deal with routing a tick mdf. I hate mdf.
Here is the basic scheme:
http://i1106.photobucket.com/albums/h373/mzhd93/4.jpg
White lines are plexi and yellow lines are metal. I assumed 5mm thick metal, but it can be 4, 3, 2 wouldn't matter since it would still be stong and i can add as many spacers as i like. I have a stone grinding conic bit that can be used as a countersink bit, i hope.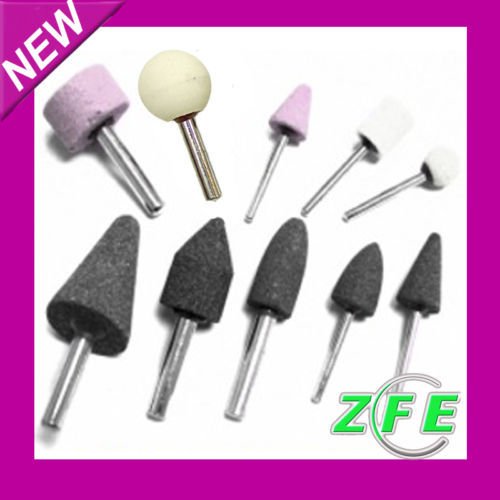 This is it so far. I have some more things to add but i have to go. And I will continue to update as i progress.