Let me start off by saying that I am no carpenter. I think the most woodwork I have ever done in my life is the sharpening of a pencil. I currently have a pelican that I modded with Happ parts and I like it just fine but I want a new stick that has all sanwa parts. Seeing as how on this forum everyone and their mom can build a stick I thought I would give it a try. But I am not holding myself to the rigours of high quality as many of you do. In fact my goal is to make a stick using the least amount of money possible. This means no power tools since I don't have any and don't want to buy them just for this. With that I present to you my daily account of the birth of my stick.
Purchasing Materials
Saturday I went to home depot and bought a piece of pine that was 60 inches long, 12 inches wide and 3/4 in thick. I had the nice gentlemen at the store cut it for me into 3 14 in sections and 2 9 inch sections and to give me the reamain piece. This all cost me $9.53 and the wood was more than enough to build to sticks.
Fabrication.
Last night I decided to get to work and make this stick. I had previously made a mock up of my stick using thick Foam Board I got at Walmart for $1.50. I used the pieces as reference and trace their outline on the the wood. Then I cut it out with a handsaw. Thats right a handsaw. Needless to say it wasnt flush but i tried sanding it down to get it flush. Afterwards I put 2 hinges on because I wanted to be able to open the top so I could replace faulty parts quickly when needed. To keep the top from opening up while playing I attached magnets to keep it shut. The magnets and Hinges cost me $2.50. Since I used a handsaw I couldn cut the proper angles on the front or back of the stick to allow the top to rest flush so i decided to place the Hinges and magents in a way that would allow the top to seem as if it was floating 1/8 in above the rest of the stick. Here are some pics of the work so far.
Top View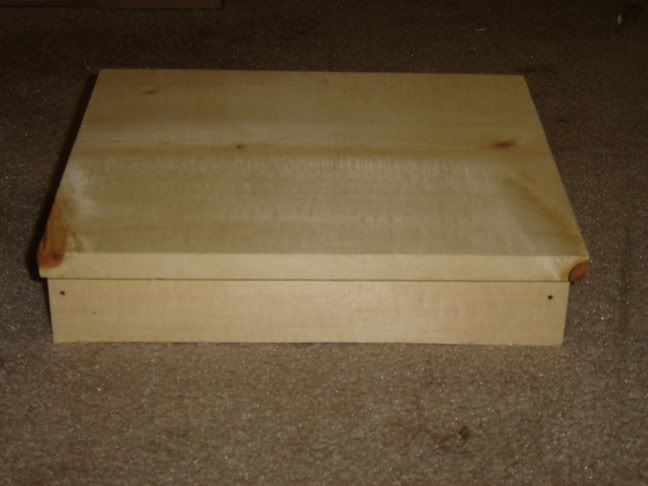 Side View

Inside View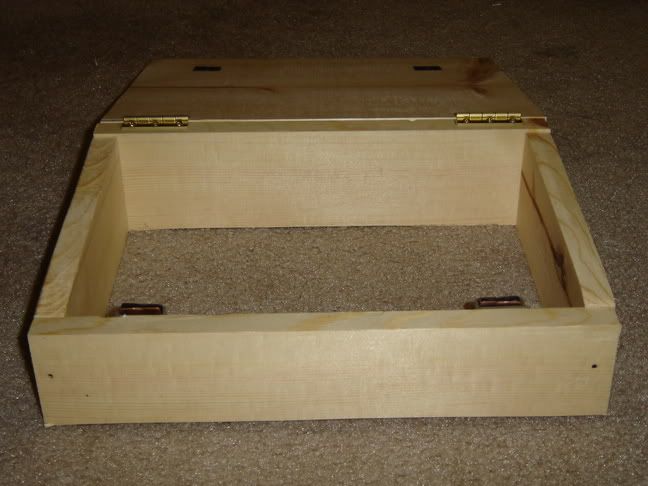 As you can see there is no bottom. I dont know yet if I want to put a wood bottom or just cover up the bottom with a piece of plexiglass. I'll figure that out tonight.