ok dudes,
so been working with some builders in the gta and here is the latest proto done.
note revisions to the design are being done. and the posssibility or 2 more designs are being done. we are not taking pre orders at the time. estimated price tag will be under 100.00CAD/80.00USD for sure. i will have a better number once we finalize the design. enjoy all!
http://www.vendor21.com/metalprototype1_top.jpg
Top view with control panel on
http://www.vendor21.com/metalprototype2_top2.jpg
Top view with control panel off
http://www.vendor21.com/metalprototype3_top3.jpg
Top view without control panel
http://www.vendor21.com/metalprototype4_bottom.jpg
Bottom view
http://www.vendor21.com/metalprototype5_side.jpg
Side view, left one is 3" all around for Happ/IL components and right one has a mild slant and a bit thinner for Sanwa/Seimitsu parts. These dimensions are not final and just used for the time being since we are in prototype and test fitting stage.
http://www.vendor21.com/metalprototype6_side2.jpg
Side view showing seam weld

Capcom USA Street Fighter layout in 6 button or 8 button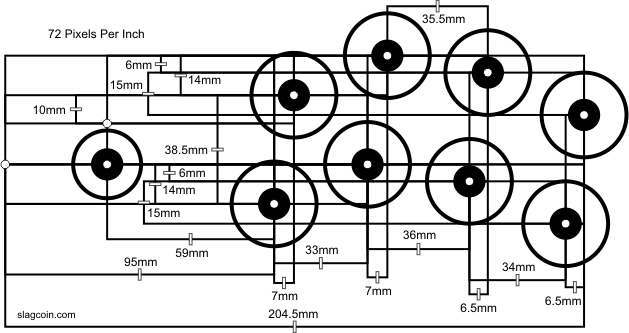 Standard Japanese arcade layout in 6 button or 8 button
Please ignore the holes that are cut in the top panel, the metal CNC worker just wanted to give you guys an idea of what the final product will be like. In case you are wondering, the top panel will be offered in various layouts such as:
The top panel currently is tack welded but will be all welded just like the last picture showing the seam weld in the side view. I know things look rough for now but the finished product will be much more polished and there will be options for paint, powder coating and possibly even a mirror polish finish. It will all boil down to the costs. These two prototypes were made tonight in about 3 hours from the time I sat down with my friend at his metal shop to draw it out and finish off a mini keg of Heineken :razz: In case you are wondering there will be space allocated for artwork and plexi to go on top which will sit flush with the 3/4" border around the top. Holes will be pre-drilled and threaded for countersunk screws to hold it down.
Right now I am in the process of testing fitting Happ/IL, Sanwa, and Seimitsu parts. Hopefully by this time next week I will have all the parts from this group buy test fitted. This design will accomodate screw in or snap in buttons, LS-32-01/02 and maybe a Happ perfect 360 if I can get my hands on one too. I'm waiting just like everyone else to get my parts.
Just in case anyone is wondering, the approximate weight of the case right now is ~ 6.5lbs. This is not the final weight and these two boxes were just made with scrap cut offs in the shop. Other materials can be used such as aluminum if some people prefer a lighter stick but the cost will be more. For now we will be using metal which is much more solid than wood. Once test fitting is complete, I will review areas I can help reduce costs, such as going with a thinner gauge of metal, to keep the final price as low as possible. Right now from the looks of things, the price will be very competitive with wood solutions being offered.
Stay tuned and I will post up more pictures of progress.
feel free to critique guys but please be civil and keep this thread clean.