"Nice to Meet You" - The Alisa Bosconovitch Thread
Welcome to the Alisa Bosconovitch thread. This thread will host various strategies, matchup info, combos, partners, etc. for Alisa. If you have any information that you'd like to share please do so, and I'll do my best to update. (Will add moves ect. tonight currently at work)
(CHAINSAWS)
[details=Spoiler]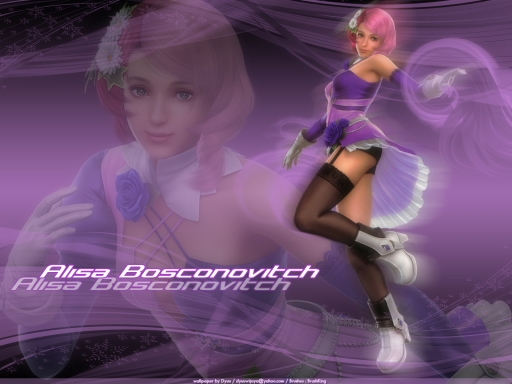 Very little is known about Alisa, except from her name and creator. Alisa is created by Doctor Boskonovitch, according to her T6 prolouge, nothing else is known about her past history. Aside from her creator, only a few people know about her being a robot: Ling Xiaoyu ,Jin Kazama ,Nina Williams ,Anna Williams, Kazuya Mishima and her partner Lars Alexanderson.
Personality and character traits
Unlike most robots, Alisa possesses emotions and acts more like a human than a robot. She is a very kind-hearted individual. She speaks in a polite manner and is sensitive to others' feelings. In Tekken: Blood Vengeance, it is shown that she is also very capable of deception, as well being quick to make friends with anyone, even Panda. And in the CGI movie, Alisa cheers Xiaoyu up telling her that she can stop the fighting between the father and sons of the Mishima house, as well as insisting that she owed Xiaoyu her life as she saved her once. She does not like to fight and hurt anyone, but when push comes to shove, she is a formidable fighter. As a robot, she is very intelligent and often speaking in technical terms. In some situations, when people call Alisa a robot, she denies that fact and insists that she is a human being, though it was never knew if she insists as such in Blood Vengeance as only a handful amount of people knew her to be a robot. When she was commanded by Jin, she doesn't recognize Lars, she performs his commands at full efficiency. In Blood Vengeance, while she still recognises Xiaoyu when she was ordered to take Xiaoyu out, she puts her mission her top priority. So much so she does not hesitate in her attempt to kill Xiaoyu. It is shown both in the game as well as the CGI movie that Jin has full control of her, obeying his every command without any resistance. [/details]
(Tekken Tag Tournament Ending)
Spoiler

Alisa is with Xiaoyu, Miharu and Panda at an amusement park. Suddenly, the girls spot a photo booth and excitedly rush over to it. Alisa, not understanding what it does, goes along with Xiaoyu and Miharu and has her photo taken, though keeps closing her eyes. Alisa decides to remove her head in order to stop her sensors reacting to the flash. It works. Panda then joins in with the photo-taking.