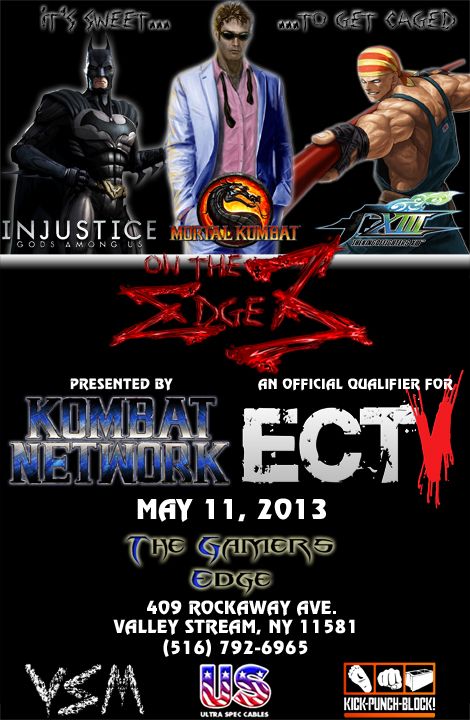 KombatNetwork with The Gamers Edge and Ultraspec Cables, VSM and Kick Punch Block are proud to announce
ON THE EDGE 3!
Facebook Event Page: https://www.facebook.com/events/523682277691404/
Doors open at noon for casual and signups. Tournaments to start between 2pm and 3pm SHARP!
2 Definite, possibly 3 streams all day!
http://twitch.tv/kombatnetwork - Injustice, MK9 WF/LF/GF
TBD - either kombatnetwork2 or crossthestreamstv- MK9 Pools, Top 16 to Top 3
http://twitch.tv/kpbfgc - KOF 13
Venue Fee: $15
Tournament Entry Fees: $10/game
$3 to enter Justice League Task Force on SNES
@SweetJohnnyCage and LI Joe have once again teamed up with KombatNetwork to bring you this awesome ECTV Qualifier! Time to get Caged!
If you place 1st in MK9, Injustice or KOF13 at On The Edge 3:
Free Venue Fee to ECTV

Free entry fee at ECTV to the game you won

Additionally 1st Place in Justice League Task Force (SNES) will receive free ECTV venue fee
-You can only win entry to one game. If you play more than one tournament and win more than one, you will be given free Venue fee to ECTV and your CHOICE of which game will be paid for. 2nd Place for the other games will receive the other Venue/entry fees.
MK9 will be held on PS3.
Injustice will be held on 360.
KOF will be held on 360.
Justice League Task Force will be held on SNES.
Tournament Schedule - Registrations will end at 2pm, pools generated and tournaments to start by 3pm. Doors will be open for casuals by noon.
Main Tournament Games And Rules:
Mortal Kombat 9
Kratos banned
Kratos stage, hell, street stage, and wastelands banned
The only kode allowed is No Blood
Winner keeps character AND costume
Double elimination
2/3 matches
2/3 rounds
3/5 rounds for winners/losers/grand finals
Injustice: Gods Among Us
2/3 "Rounds"
2/3 Matches, 3/5 Grand Finals
Double Elimination
All available in-game button macros are legal (PPP, KKK, etc)
Prizes are 70/20/10 of entry fees
King of Fighters XIII
2/3 Games
2/3 Matches, 3/5 Grand Finals
Double Elimination
Justice League Task Force - SNES
If you win this game you get free venue fee to ECTV!!!
(Same rules apply: you are only eligible to win one venue fee)
2/3 Games
2/3 Matches, 3/5 Grand Finals
Double Elimination