UPDATE :Finally after 3 months of fantasizing about playing with my own stick, the wait is over. Along the way I killed one of my own wired 360 controllers (Sniff :'( it's in arcade heaven now) and I accidentally cut open one of my fingers with a box cutter and went to the emergency room (it's healed now).
Here it is, the light in the darkness :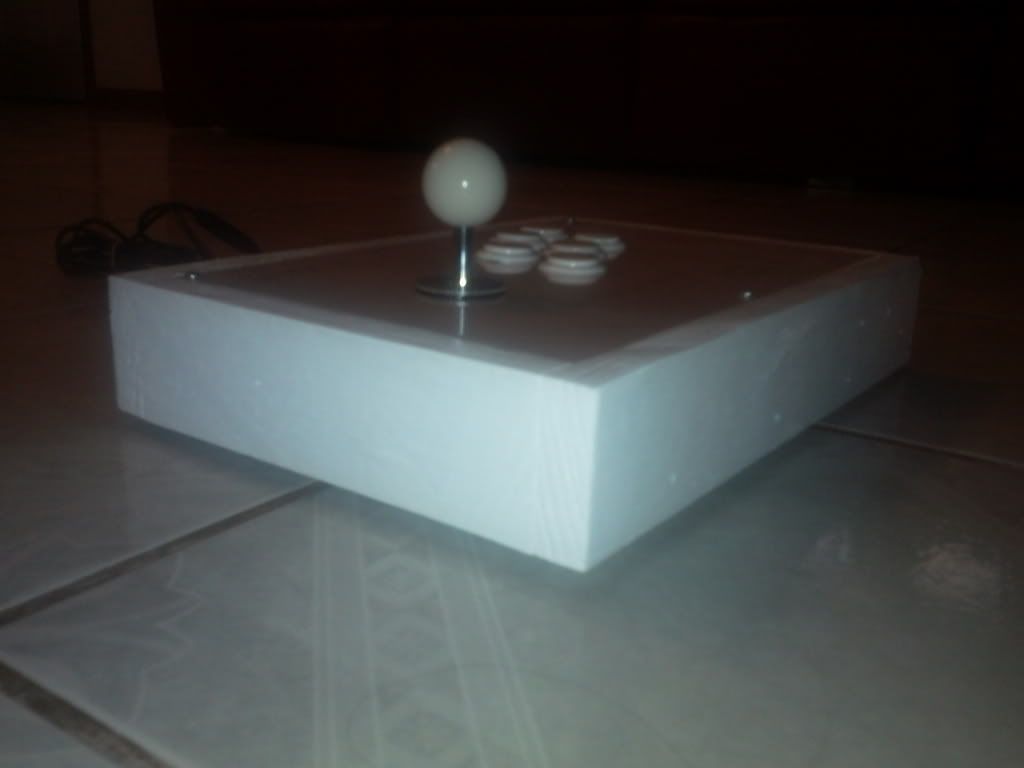 It's the simple poplar design from slagcoin.com. The pcb is a Madcatz fight pad. Case is made of sum wood. Painted with white latex. Plexi glass on top and bottom.
Didn't have the design I wanted for the layout, so I settled on a Quote from Sun Tzu. Penned by me :).
The layout I wanted was one of Bridget from guilty gear, I posted a quick drawing of what I wanted right here. Anyone interested in doing an HD rendition for me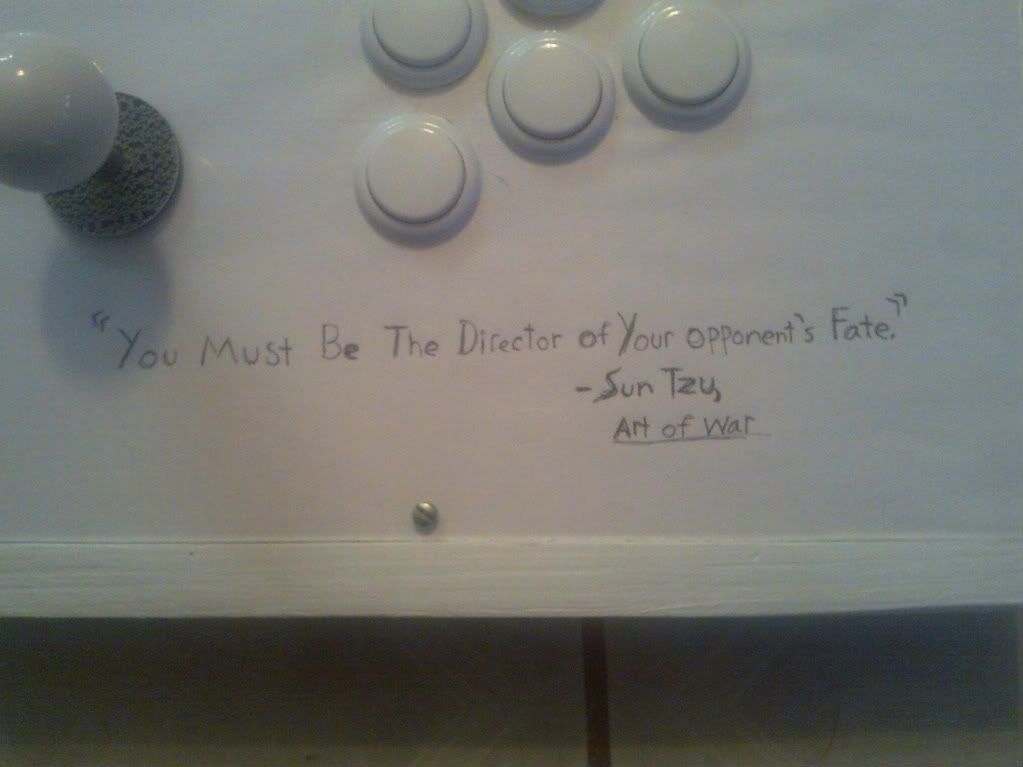 Not the exact quote from Tzu, but close enough.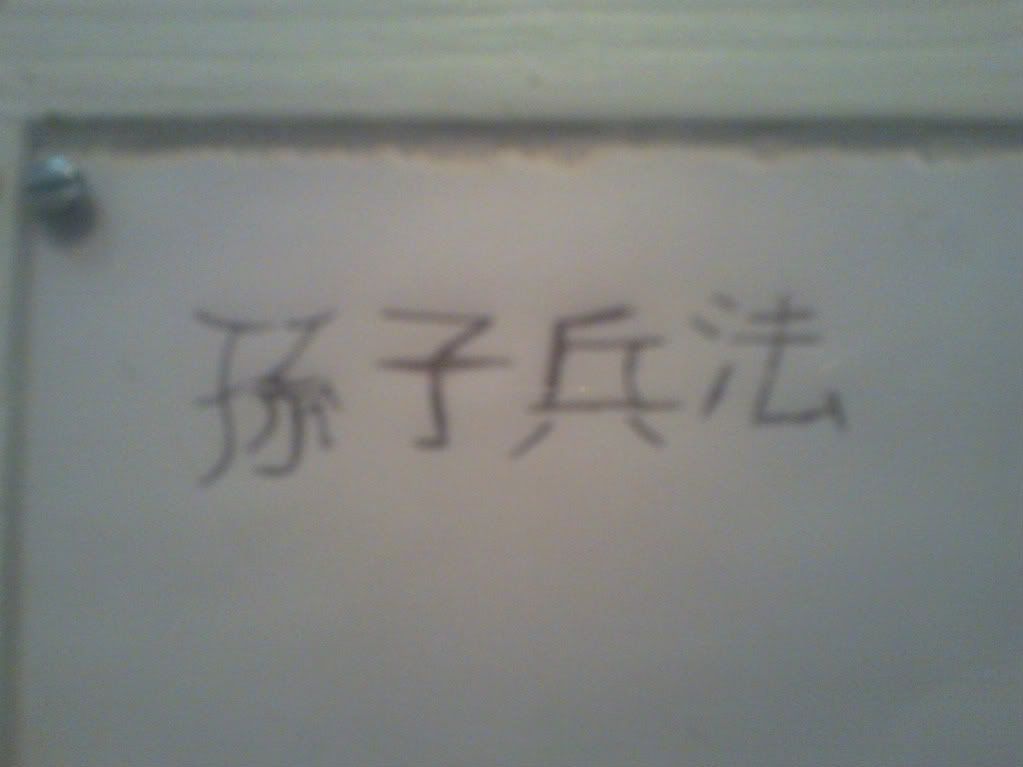 Traditional chinese title of The Art of War, or I hope that's what it means, taken from Wikipedia. Good book by the way. About war strategies and also the psychological mind games between opponents. Definitely will boost your game.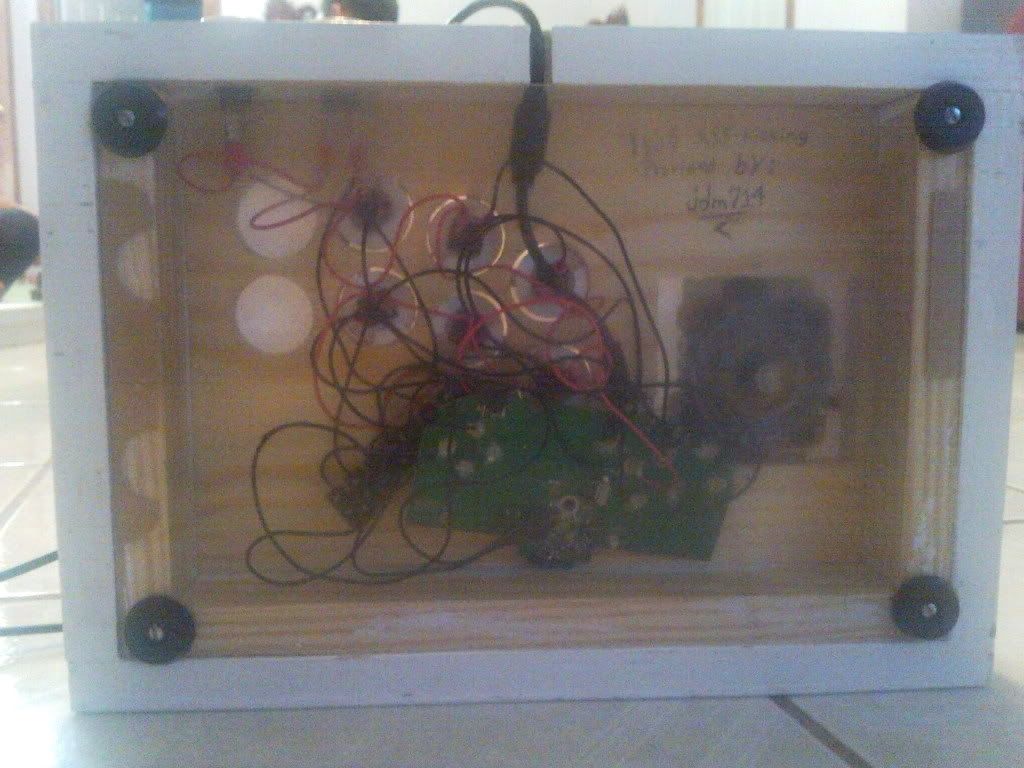 The guts of the beast. Very Messy. I didn't even glue down the terminal strip and pcb due to laziness. It's pretty snug and doesn't budge.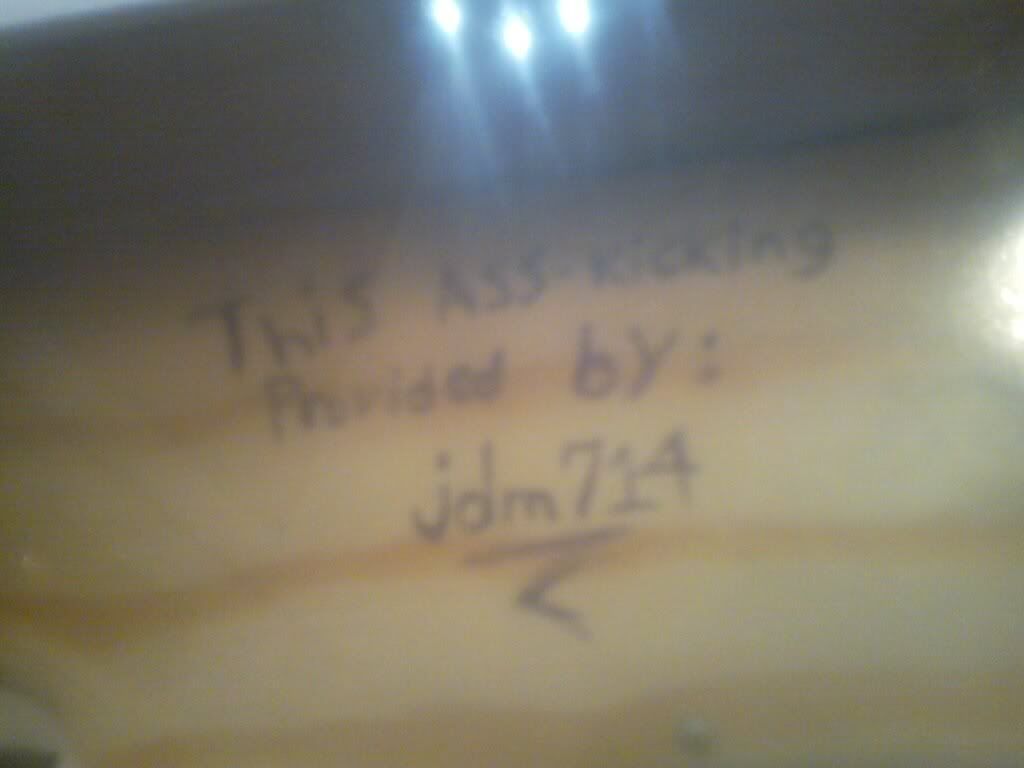 And carved (actually penned) here for eternity, the one who assisted in birthing the demon of arcade sticks, the one and only jdm714! Thousands of years from now, this will be an ancient weapon of war, unearthed from the lucky next generation, then they shall start a religion and worship jdm714 to provide their ass-kickings.
If you can't see beyond the glass, it reads :
"This ass-kicking provided by jdm714"
All in all :It's a really sloppily made stick. It was rushed and came out uneven in some places. It needs a new coat of paint and the plexi glass is a little scratched. The buttons are space out a little and I wish the joystick was raised up more. But it's usable and I'm adapting to it. Thanks to everyone on shoryuken's tech talk forum.
Next Projects :
*Install chimp or chuthulu dual mod
*Finish Bridget layout
*Creat Lego arcade case
*Install hand lotion and tissue dispenser
See you later space cowboy
[S]It is the last day of my senior year of high school tomorrow. For the past few weeks I have been[/S]
[S]working on making my own Arcade stick by spending the least amount of money possible. I had my wood shop teacher do the case and my science teacher do the soldering (So i didn't have to buy wood or a soldering iron, free labor, yeah!). The last thing I need to do is the wiring of the pcb and parts.[/S]
[S]I have all the parts (I think) except the pcb which was suppose to be a Datel/ Mayflash arcade stick from the UK, but the package never arrived. Having no options left I have resorted to sacrificing my wired 360 controller. Hers' the list of parts I have to make the stick, please help to see if i'm missing anything:[/S]
[S]*Case[/S]
[S]*Xbox 360 wired (late) Pcb[/S]
[S]*8x sanwa snap in buttons (missing one for the home button, can go without)[/S]
[S]*Sanwa JLF TP stick (No wiring harness)[/S]
[S]*2x different colored LL 22 AWG Stranded Wire (long enough)[/S]
[S]*30x LL Quick Connect, .110" Insulated[/S]
[S]*3x 10 ohm 1/4 resistors (for triggers and analogs)[/S]
[S]*Soldering iron and solder[/S]
[S]Time is running short, so quick responses would be very helpful to stop a paradox (of me becoming an infamous underground street fighter champion) and devastate the space time continuum altering reality as we know it.[/S]
[S]Tomorrow the anti-christ of arcade sticks could be born, or I'll be stuck playing super turbo 2 on my keyboard (Computers opponents are really aggravating me): [/S]
The Eternal clock is ALWAYS ticking.