LOL, I know, hilarious stick name. You haven't even seen the box art yet.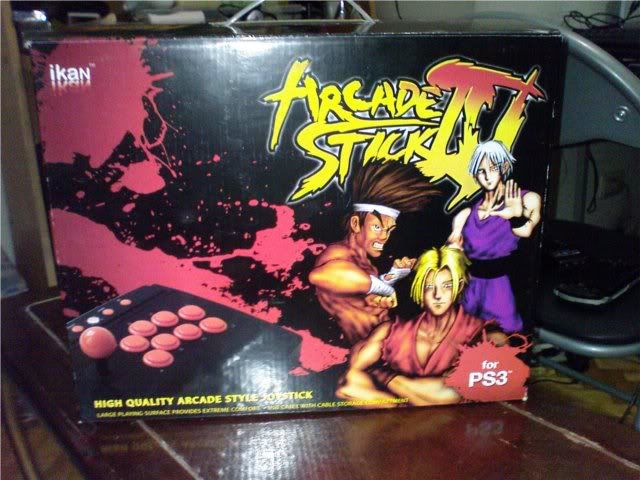 Don't judge the stick by its box, though, cause it actually looks pretty damn decent for a random low quality and low cost stick. (I bought it for $30. These sticks should start showing up on ebay for less pretty soon, if they haven't already.)
I never even had to touch it to know it wasn't Sanwa. The dust cover looks bad even from up top. The buttons look like cheap Hori knockoffs. HORI KNOCKOFFS. That should set off the lame alarm if it hasn't yet.
It works perfectly on the PS3, though. It feels like a very neanderthal JLF (ie not very good). What sucks, I mean, in addition to everything else that sucks, is that it doesn't work on my PC. It shows up as a Playstation Controller, but does not respond at all. I even tried the drivers that kraal made, but they still didn't work.
Since we've pretty much established the lameness from the outside, let's take a peek at the inside.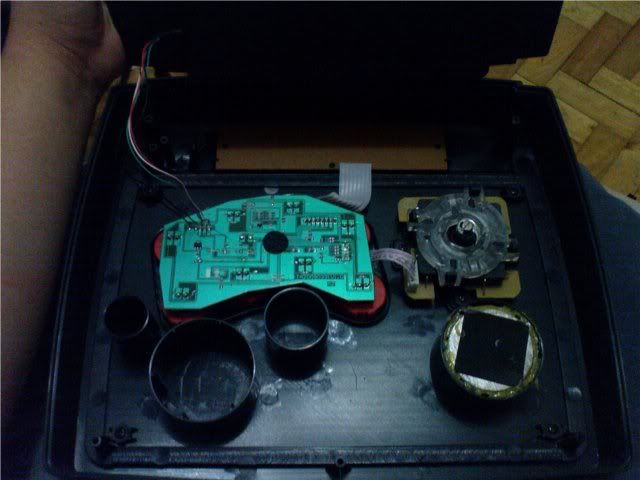 Three things to note:
Soldered buttons on what seems to be a common ground PCB. Shouldn't be a problem for anyone who knows how to solder.

Look at that stick, lol. It's a mildly deformed JLF clone with a mildly deformed Octagonal gate. Does anyone else think these guys got the idea from the MadCatz SE? It comes with a shaft cover and matching dust cover though, which is very thoughful IMO. At least I won't have to get me a shaft cover when I mod it with a JLF.

I knew it was way too heavy for a plastic box of this size. See that round thing at the lower right? That's a steel weight for ham-fisted players.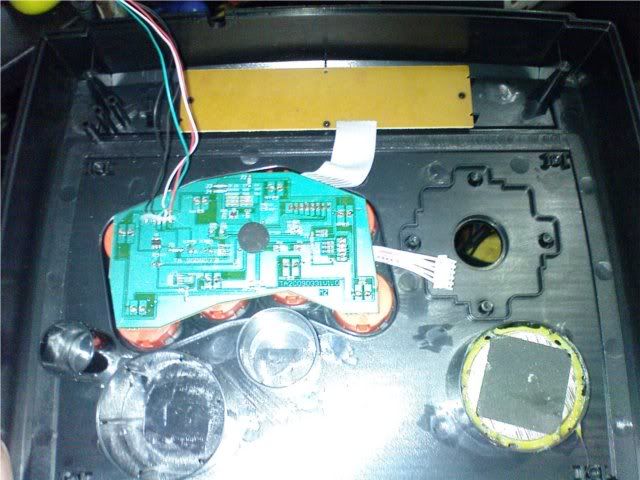 Would you look at that. The stick is connected through a harness. It's very probable that it uses the same pinout as the JLF. It even has a groove for a JLF to fit right in.
This was the most surprising part for me. The plastic top plate is detachable. Lexan! Also, removing it made me realize it's actually thick enough to mount a JLF at an acceptable height.
I've yet to mod this thing, but I'm absolutely sure it will work without much trouble. A little soldering and some plastic removal and it should be good to go. I'll update once I finish a mod. It should be done tomorrow.
EDIT:
So I've finally managed to fit all the parts on the case. Haven't wired it yet (I'm pretty tired…) but here's how it looks:
http://img30.imageshack.us/img30/465/dsc00093resized.jpg
A fair amount of work was required to complete the mod. I had to file the holes, remove a plastic square from the case, and drill mounting holes through the top plate, and I haven't even wired it yet. I used a Seimitsu LS32, by the way. This would be so much easier if I used a JLF.
Pros:
Good size and weight
EXTREMELY LONG cable (12 feet)
Cable compartment
Price
With some work, moddable with Japanese parts.
Cons:
Just a little worse than Hori out of the box, which means it's pretty bad.
The bottom side has really sharp edges for some reason. I have several cuts because of it, wtf.
Doesn't work on the PC for now! I hope there's a way to do this.
Bottom Line:
If you need a stick to mod, pick this one up! It's cheaper than a blank case + PS3 PCB, that's for sure. This is a pretty hardcore mod, though, so people who only do straight-swap mods probably won't enjoy this too much.
If you need a stick to play out of the box, you'd probably think these are decent if you like Horis. Good price, especially for a stick with great upgrade options.