Hi !
After searching for a long time for a hardware that can connect my original JAMMA arcade cabinet to my PC and game consoles, i decided to build it on my own.
All commercially available things (J-PAC …) need a lot of additional hardware or wiring and none of them can handle a trackball for my favorite game marble madness.
The Project is in the final stage and i would like to hear your opinion if there is a market for it or not.
What does this hardware in principal:
Connects PC or gameconsole to JAMMA Connector of the acade cabinet
Makes a full ATX power supply from a arcade supply
Works with MAME and other PC based emulators
Emulates the joypads of SNES, Playstation (more to come)
On board video Amplifier and 8W stereo sound
Can be configured via USB
Firmware update via USB
I made some Fotos, that you can see how it looks like.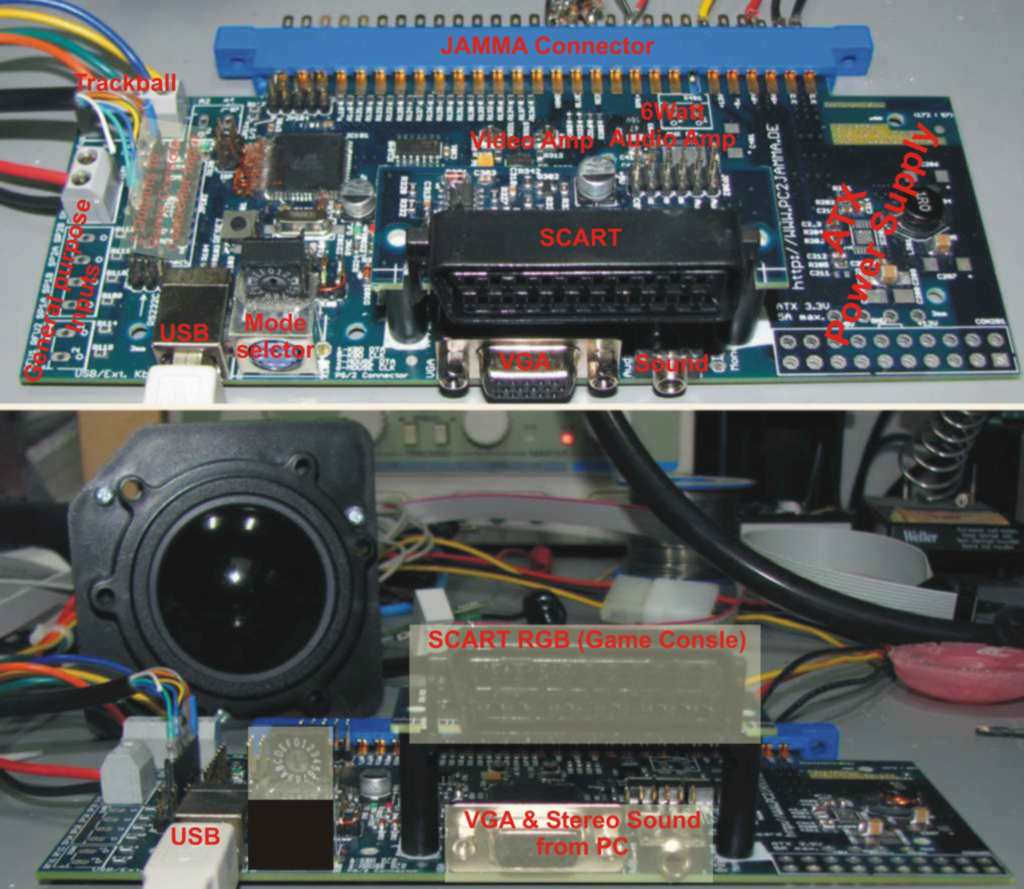 All features in detail:
PC2JAMMA 1.4 Features
On board 5Amps 3.3V switching power supply
Original arcade power supply (+12V +5V -5V) is enough to connect the PC mainboard. Arcade cabinet can stay original
ATX power connector for PC mainboard
4pin. ATX 12V Aux connector
Harddisk + floppy power (+5V / GND / GND / +12V)
15 programmable keysets
5 x USB for MAME or other PC based Emulators etc.
3 x PSX (digitalcontroller, analog "red" und "green")
1 x Super Nintendo "SNES"
1 x Nintendo 64 (planned)
1 x GameCube (planned)
4 x reserved for future use
Keyboard and mouse emulation via USB
Keyset configuration from PC via USB
Defaults for all Keysets in ROM
Stereo 8W/6W audio amplifier
2 video inputs VGA & SCART (selects automatically the correct source)
Controllabele video amp (0.7 … 4Vpp)
Arcade monitor protection from wrong line frequency
Built in SYNC signal divider (configurable)
Extented JAMMA connector with 4 buttons
Additional 12 general purpose inputs for buttons, Spinner, Trackball
Gold plated JAMMA connector
3 status LEDs
Firmware updates via USB
What do you think?
If there are enough interested gamers i'll make a few to sell them.
Regards,
Dirk