CvS2 theme C-Guile/Eagle/Sagat
thx
.[not so ninja edit].
What's Eagle doing!? :amazed:
i threw it together so quickly that i didn't notice the awkward positioning.
i really liked this win pose too: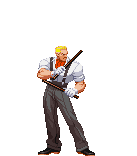 oh well, time to go find a less awkward eagle picture/frame.
eagle be gay.
freddy mercury ass mother fucka wantin that thai boi pen04 and shit. gross.