Staff

Main Character Design: Tite Kubo
Music: Kouhei Tanaka
Story Composition: Jiro Ishii
Original Work: Oji Hiroi
Theme Song: "Geki! Teikoku Hana Geki Dan " (lyrics by Oji Hiroi, music by Kouhei Tanaka)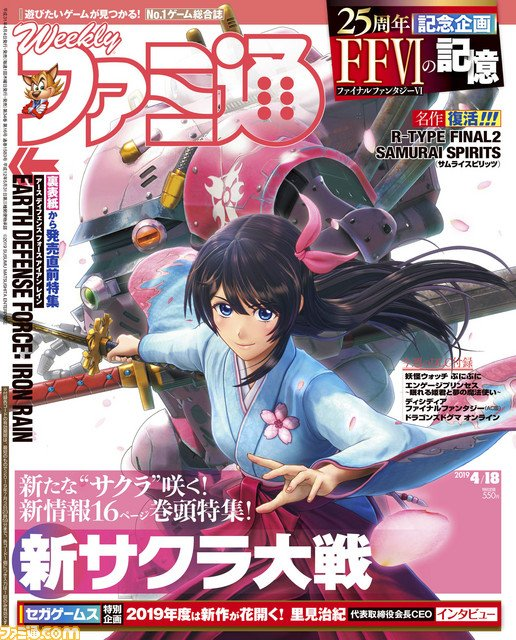 excerpt highlights:
System

The story progresses by moving to specific areas and speaking to specific characters to trigger events. Locations and characters that trigger special conversations and events are indicated by icons.

Developer Interview Tidbits

Sakura Wars winning first place in the Sega Fan Fes 2016 fan poll was the starting point of Project Sakura Wars .
Since it has been more than 10 years since the previous game, the sense of Project Sakura Wars being a reboot is stronger than that of it being a sequel. Additionally, the staff has significantly changed and the platform is PlayStation 4. With all of that lumped together, it could be summarized in the word "New," thus the title. (The Japanese title of Project Sakura Wars is New Sakura Wars .)
Speaking of the main heroines of Sakura Wars , they wear kimono and wield swords. That was the combination that first came to the mind of character designer Tite Kubo. He is not only the character designer, but also the designer of each character's sword. He has also proposed other ideas.
While 10 years have passed since the previous title, the "steam civilization" and "Taisho era romance" settings have not changed. The biggest change from the past is that the Combat Revues, which once existed behind the scenes, are now widely known.
The story is a Sakura Wars -esque fantasy.
Script writer Takaaki Suzuki, who is known for Girls and Panzer , has offered historical accuracy suggestions.
The Great Combat Revue World War is like a global sports festival. In Project Sakura Wars , it is the third one to be held. It is where the Combat Revues from all over the world gather in the Imperial capital and compete in tournament format. However, the tournament that should have been peaceful takes a serious turn…
A "Trust Level" exists between you and the members of the Imperial Combat Revue: Floral Division. The fluctuation in Trust Level affects your battle parameters, as well as enables the use of cooperative skills. There are also individual endings with each member. The basic framework, such as "Next" notices, has not changed.
The graphics are full 3D. The entire map was made anew, starting from the Imperial Theater. You can even walk around freely inside buildings.
Movement, events, and conversations that occur during adventure parts all happen on the same 3D map.
LIPS and Click Mode, the latter of which is also known as "Touch Mode," return and incorporate elements unique to 3D graphics while also changing form. By linking the analog LIPS with camera control, you can do things like get a good look at something from top to bottom. Click Mode also has new mechanics. We're doing our best to the point that CERO's inspection does not have any effects.
Each country's Combat Revue and the Imperial Theater staff also appear. The casting will surprise everyone.
Anime movies produced by Sanzigen that total about 40-plus minutes are being prepared. All other scenes are 3D.
Project Sakura Wars is an adjacent work to the previous entries in the series.
Mech design is again being handled by Mika Akitaka.
There are 70 to 80 songs. We're aiming for the most songs in the series. We're preparing a number of songs from those where everyone sings to solos. Whether the Combat Revues of each country have songs is a secret.
Development is 40 to 50 percent complete. Basic parts such as character and background modeling, scenario, and music are complete. Voice recording is also nearing the final stages, and after that is the stage where we put it all together as a game.
The plan is to keep our winter release (in Japan). We want to share more news as quickly as possible.
Nice to see this getting a release outside of Japan.
27:51 to 28:28 – LIPS Gameplay
45:58 to 47:22 – New Characters Introduction
55:50 to 58:16 – Adventure Part Introduction
1:00:11 to 1:03:30 – LIPS Gameplay
1:04:18 to 1:05:09 – Event Gameplay
1:06:17 to 1:19:25 – Adventure Part Gameplay (Great Imperial Theater)
1:21:04 to 1:24:06 – Adventure Part Gameplay (Great Imperial Theater)
1:25:30 to 1:26:38 – Adventure Part Gameplay (Large Bath House Locker Room)
1:27:58 to 1:30:22 – Adventure Part Gameplay (Hangar)
10:01 to 13:06 – Anastasia Palma and Azami Mochizuki Cutscenes
22:18 to 23:15 – Yang Xiaolong and Huang Yui Cutscene
33:04 to 33:46 – Cutscene
34:34 to 35:52 – Bathhouse Cutscene
39:36 to 40:45 – Battle Gameplay
49:57 to 54:50 – Battle Gameplay
13:40 to 14:37 – Shanghai Combat Revue Scene
15:07 to 16:16 – Combat Gameplay
23:15 to 23:53 – Hatsuo Shinonome Combat Gameplay
25:04 to 25:34 – Claris Combat Gameplay
28:29 to 33:30 – City Battle Gameplay
59:59 to 1:01:48 – Gekizou-kun Video

#1

1:06:11 to 1:08:25 – Gekizou-kun Video

#2

1:11:17 to 1:13:07 – Arthur and Lancelot Introduction Trailer
■ Box Art Visual

■ New London Combat Revue Characters
Arthur (voiced by Nobunaga Shimazaki)

Lancelot (voiced by Manami Numakura)

■ Berlin Combat Revue
Elise (voiced by Nana Mizuki)

Margarete (voiced by Rie Kugimiya)

Yasha (voiced by Chisa Yokoyama)