Hey y'all, I don't really post here(or in general) but I always come here to look at many of y'alls talented artwork here and there. Been bored so I decided to post some of my stuff…which is mostly sprites nowadays. I'm actually still kinda new at sprites(3 years I guess?) so they're not really as good as Capcom's(and never will be lol) but I always try to get that Capcom style every time I make one. Started spriting when I was working with ppl on a Mugen project but we broke up a while back and it kinda left me doing custom sprites for fun and what not. I also animate sprites and other things but not so much nowadays…too many frames and it takes alot of time lol.
No More Heroes - Travis Touchdown and Bad Girl


Ace Attorney - Ema Skye and Franziska von Karma


Afro Samurai (friends request at dA)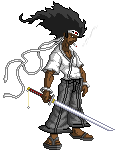 Naruto - Kimimaro

Mortal Kombat - Scorpion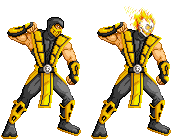 And sorry if the colors/shades/tones aren't really good here and there. I, in general, suck at coloring and coloring sprites are a pain…seriously. I also still have a hard time with human anatomy so you'll spot a few errors in some muscles. They're all 100% custom made btw, lineart and all…none are frankenspriting or stolen. Those stuff aren't not my kinda thing.
That's all I have for now but I'm still working on lots of sprites here and there. Currently working on Tifa from FFVII and Grimmjaw from Bleach…I'll probably finish them by the end of the week I guess. If ya wanna see some other original sprites/stuff from me, just visit my dA profile. I have a few SF things in there and soon I'll be making some SFIV sprites after my current load is done hopefully.

Hope y'all like them!