When asked by me and a few others, about Tekken strats and such, Bronson could only come up with "Hold Back"…
So in honor of the man who beasted with the fatty in T5, I have made the Bronson advice head. It's not supposed to be amazing and fancy. It's made to honor the man. The legend. The Psyduck lover. Bronson.
PS: That is Bronsons real head.
PREM: http://img.photobucket.com/albums/v646/ParryPerson/BronsonheadPremNEW.gif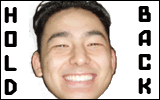 REGULAR: http://img.photobucket.com/albums/v646/ParryPerson/bronsonadvicehead23whitebg.gif