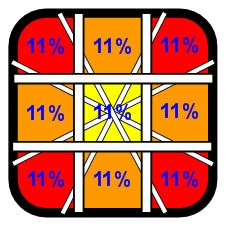 Main question; it works exactly like that on JLF?
The reason i'm asking is because the diagram suggests that every diagonal has exactly the same proportion of cardinal directions, so i invite you guys to make a test. PS: [I gonna use de "right" direction as example but it's the same for anyone of course].
Just press "right" from neutral and pay attention in the click and you'll notice a little extra room till you reach the restrictor (i know, it's the throw).
Now you gonna do the same thing but not from neutral in order to feel the difference, just press down, keep it and press the same switch that orresponds to the right and you'll notice that is no extra room anymore, once you get the click you are on the restrictor already. (at least my not modded JLF is like this).
I believe this happends cause the actuator hit the switch sooner by coming from the middle and it gets the edge of the switch by doing the other way. As we know the switch along with actuator is rounded shape so if the actuator gets its edges means the switch is pressed later in comparison when it's pressed in the middle.
My understanding about the diagram is that the switches should have the same throw after the click, no matter if the actuator hits them from neutral or not.
So Levered switches (Seimitsu) does match the diagram better, right?