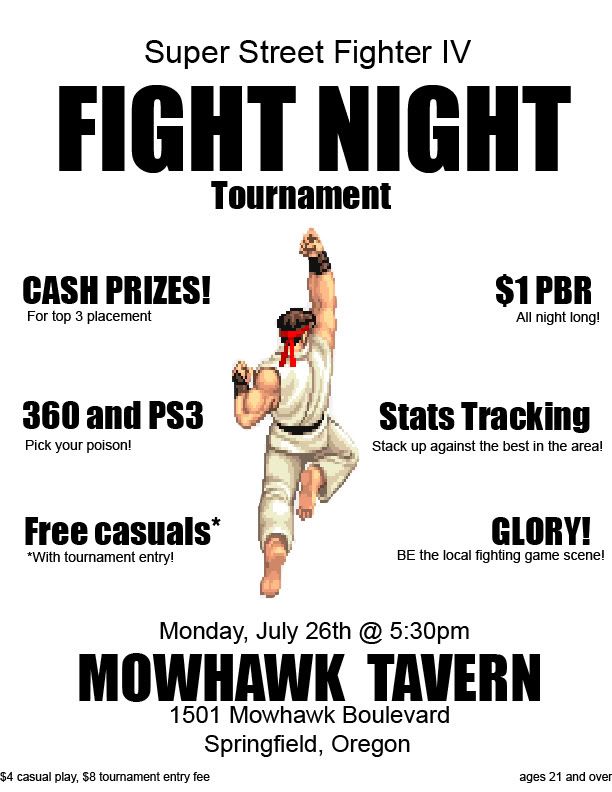 <- Awesome Fight Night Flyer! Check it out! Let us know if we can put one where you work!
Thats Right! The First Weekly, Bar-venue SSF4 FIGHT NIGHT in the Eugene/Springfield Area starts Next Monday at the Mowhawk Tavern in Springfield!
Cash Prizes for top 3!
Tournament and Casual Play!
$1 Pints of PBR all night, as well as Ninkasi and other great beers on tap!
Stats Tracking for Tournament/League Play! Check your local stats online anytime!
Meet new Fighters!
Help us create a thriving Fighting Community for Eugene/Springfield!
GET HYPE! Registration Starts at 5:00, Pre register here, via PM, via email (shoryukenleague at gmail) or via facebook (shoryukenleague on fb)! Follow us on Twitter (shoryukenleague there as well!) or Facebook or all of the above for more tournament/SSF4 League (you heard me, league play coming soon!) info!
Rep this to all of your friends! We've gotta make a big splash so that we can continue hosting these and future events and tournaments, so lets do it!