Time for another 'my first custom' thread. This projects will take upwards of a few weeks because I'm soldering the PCB myself, so I'm posting here in order to (1) make myself publicly accountable and (2) glean advice from more experienced custom builders.
My Parts (Parts I am in possession of are in bold)
[LIST]
[]Case by sillypuddy
[]**Seimitsu LS-32-01 (Includes S-Mounting Plate and Harness) **
[]3 White Seimitsu PS-14-DN 24mm Pushbuttons
[]8 White Sanwa OBSN-30 Pushbuttons
[]Early Xbox 360 Wireless Controller PCB
[]Custom Art by Deviant Artists ~btnkdrms and kandoken
[/LIST]
My Tools
[LIST]
[]Helping Hands by Radio Shack
[]Soldering Iron and Vaccuum Desoldering Tool
[]Precision Knife Set
[]Powerdrill with boring bits
[]Torx T8 Screwdriver
[]RadioShack Digital Multimeter
[/LIST]
I'll edit this section as more of parts arrive next week.
Progress so far:
I spent most of the day breaking into the Xbox Controller itself. The security posts in the T* screws made things troublesome, so I bent/broke them to allow for a normal T8 screwdriver. Afterwards, I removed the triggers per these instructions:
[media=youtube]Dr55psOlL-I&feature=related[/media]
Studying the layouts at slagcoin.com, it looks like I have an Early Xbox Wireless Controller, which I understand does not have a common ground. Someone please correct me if I'm wrong: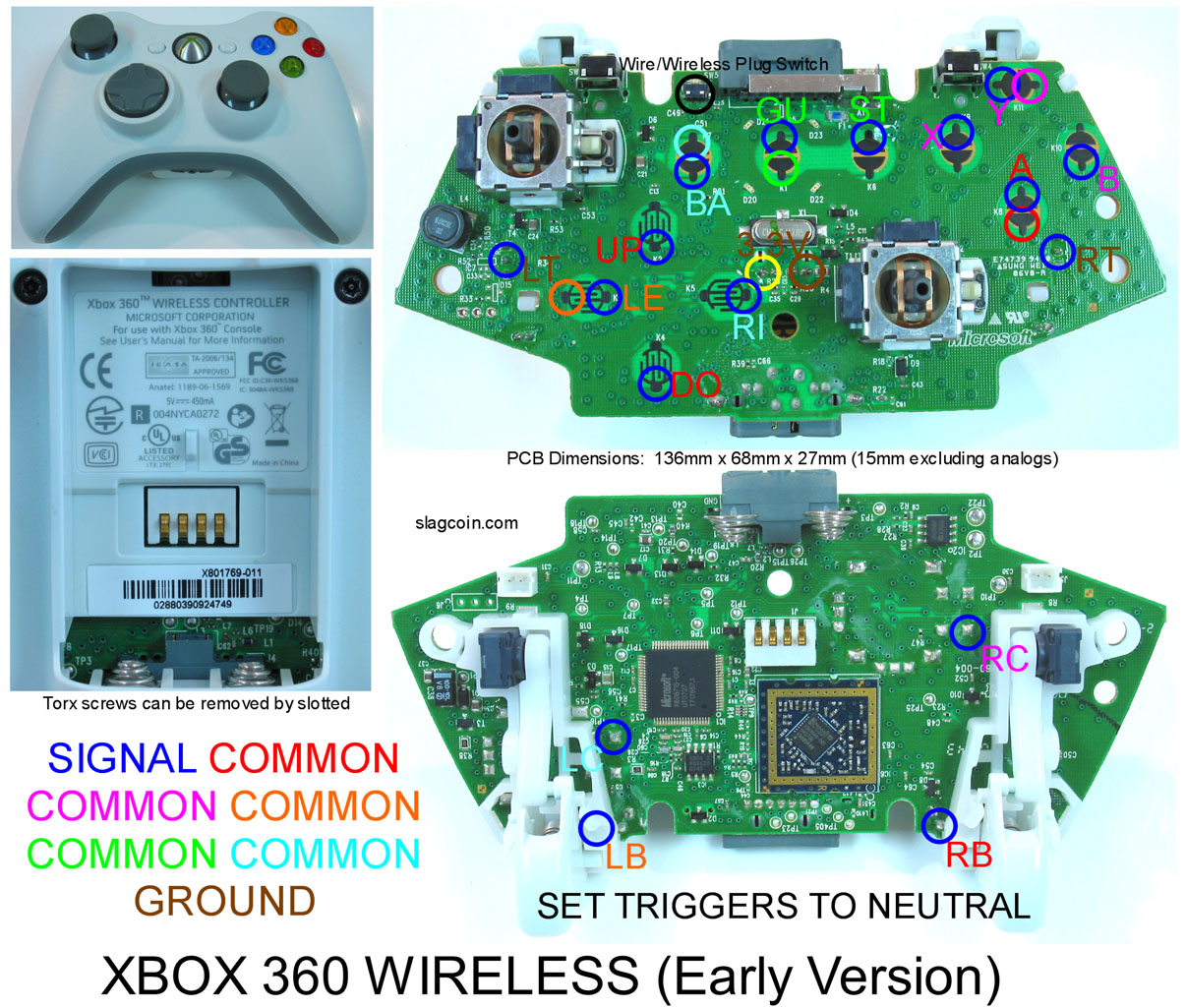 I haven't been able to find a complete tutorial on how to deal with this particular controller, so before I start scraping any contacts I'll be searching around some more and asking for more advice. Secondly, I need to start removing the analog sticks from the PCB, so I see lots of desoldering ahead.
Finally, one last question: is there anyway I'll be able to make this controller wired, or am I stuck now making a wireless controller?
Progress pics:
http://fc09.deviantart.com/fs45/f/2009/102/0/d/I_Got_PAID___Crazy_Buffalo_by_btnkdrms.jpg