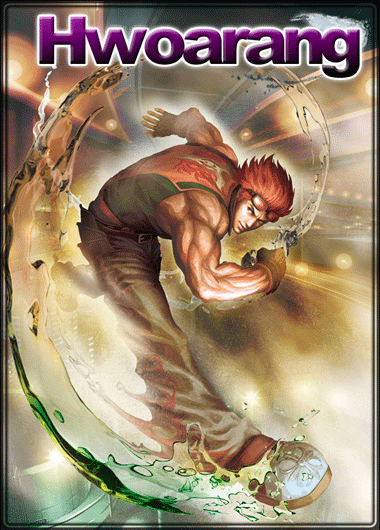 Important Message: (Special Thanks to Karsticles)
I want to make this a one-stop spot for all inquiries regarding Hwoarang. Please do not hesitate to suggest changes/additions or alert me to errors in the main thread or via private message. A brief overview of what is contained in each section:
•The Basics: General character information, such as Frame Data and Health values, along with the legend for notation that will be used throughout the guide. Each move is listed, along with the frame data for that move as well as how to make effective use of that move in a various situations.
•Strategy: First, a general overview of what it means to play Hwoarang. Then, a breakdown of general methods of approach, zoning, creating resets, and meter usage, etc. is provided. This section is purely with regard to Hwoarang, and does not involve considerations of team functionality.
•Gameplay and Combos: Here contains an archive of videos showing excellent Hwoarang gameplay or concepts, and also a listing of combos possible with Hwoarang. This section does not deal with team-based combos and does NOT include values with Gems active.
Please do not hesitate to contribute! All assistance in making this guide as comprehensive as humanly possible is welcome; please do not hesitate to suggest changes as well.
---
The Basics:
Legend:
:lp: - Light Punch
:mp: - Medium Punch
:hp: - Heavy Punch
:lk: - Light Kick
:mk: - Medium Kick
:hk: - Heavy Kick
(Launch) - Launcher ( :hp:+:hk:)
:qcf:- Quarter Circle Forward Motion
:qcb:- Quarter Circle Back Motion
:dp: - Dragon Punch Motion
:hcb:- Half Circle Back Motion
c. - Crouching
s. - Standing
j. - Airborne
sj. - Airborne Via Superjump (Character Specific)
SS- Special Step ( :dp:+:p:)
> - link into the next move
~ - Chain into the next move
xx - Cancel into the next move
W! - Wallbounce
B! - Groundbounce
[TC] - Tag Cancel
[CC] - Charge Cancel
(C.A) - Cross Art ( :qcf::mp::mk:)
(CH) - Counter Hit
(Air) - Performable While Airborne
(Low) - This Move Must Be Blocked Low
(High) - This Move Must be Blocked High
SM, EX, SA, CA: Special Move, EX Move, Super Art, Cross Art