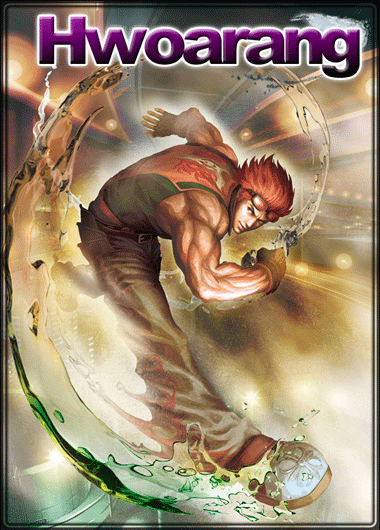 My main since T3 has unsurprisingly joined the cast of Street Fighter X Tekken.
Series: Tekken
Debut Game: Tekken 3
Country of Origin: South Korea
Fighting Style: Tae Kwon Do
Hwoarang started off as a street fighting hustler. He and his clique used to con people out of money buy picking fights with people and placing bets. Their trick was that they played like they were weak when they really had skills. One day Jin was in town and he tried to hustle him but only managed to draw. As the only blemish in his perfect career he dedicated himself to becoming better and enters the first tournament in hopes of beating Jin. He never got the chance to fight him. In T4 he was drafted to the military and he left for the tournament as soon as he heard of its annoucement. Again, he never got the chance to fight Jin, but after the tournament he met him in the parking lot and the two fought there. Their match was interrupted when the military officers arrived to take Hwoarang back into military custody.
In T5 after completing his military duty he enters the next tournament. He finally gets the chance to fight him uninterrupted in the tournament and wins, but Jin's unconscious body rose and transformed into Devil Jin. Hwoarang got his ass whooped so bad that before he knew it he was in a hospital bed without a clue of how he got there. Just like anyone else would be, he was pissed and trained harder than ever to return the favor to Devil Jin.
Move List
:lp::lk: Throw (Falcon Dice Kick)
:hp::hk: Launcher (Plasma Blade)
:3k: Flamingo Stance (Unsure what it does in this game, but it probably acts like it does in Tekken and gives him different normals.)
Unique Moves: Credit goes to ZeroX03
-Spinning Trip Kick
:db:+:lk:
-Tsunami Kick:
:f:+:mk:
-Iron Heel
:f:+:hk:
-Fade-Away Kick

+:mk:
-Reverse Kick
:mp: --> :mp:
-Chainsaw Kick
:mp: --> :lp:
-Flashing Trident
(in air) :lp: --> :mp:
-Middle Kick Combo
:mk: --> :mk: --> :mk:
-High Kick Combo
:mk: --> :mk: --> :hk:
-Low Kick Combo
:mk: --> :mk: --> :d:+:lk:
-Low & High Kick Combo
:mk: --> :mk: --> :d:+:lk: --> :hk:
-Low & High Smash Kick Combo
:lk: --> :mk:
-Quick Kick Combo
(during Flamingo Stance) :mp: --> :mp:
-Flamingo Kick Combo
(during Flamingo Stance) :lk: --> :mk:
-Fire Storm
(during Flamingo Stance) :mk: --> :lk:
Special Moves
:dp::p: Special Step
:dp: :k: Sky Rocket
:qcb::k: Hunting Hawk :lk: 1 Kick :mk: 2 Kicks :hk: 2 kicks and overhead :2k: 4 Kicks. Last kick creates a wall bounce.
:hcb: :p: Dynamite Heel
:qcf::k: Dive Kick (Can be done on ground or IA)
Super
:hcb: :3p: Iron Heel
Gameplay vids
[media=youtube]NfnqG8SR12E[/media]
[media=youtube]3ZKl7m-tN7E[/media]
[media=youtube]CAeBWOoaGH4[/media]
[media=youtube]CAeBWOoaGH4[/media]
[media=youtube]UJ2aW3OvvYM[/media]
[media=youtube]b29930SgV1c[/media]
[media=youtube]4l9bgr07Yio[/media]