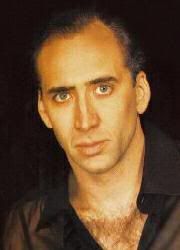 Biography
[details=Spoiler]Real name: Nicolas Kim Coppola
Born: January 7, 1964 (age 48)
Height: 6' 0"
Spouse: Alice Kim (m. 2004), Lisa Marie Presley (m. 2002–2004), Patricia Arquette (m. 1995–2001)
Net worth: US$ 25 million (2011)
Details (from Askmen.com):
Originally famous as Francis Ford Coppola's nephew, Nicolas Cage sought out his own fame by literally creating a name for himself and a complimentary set of screen personas – action hero (Face/Off, Ghost Rider), romantic lead (Moonstruck, City of Angels), man of science (National Treasure, Knowing), and fractured soul (Leaving Las Vegas, Adaptation).
Amid famous accusations of selling out on his Oscar-caliber talent in exchange for big money and movie idol status, Nicolas Cage still stands as one of Hollywood's biggest and most eccentric movie stars. In a town where celebrity oddities are only as far away as the next issue of The National Enquirer, that's really saying something, but we are talking about a guy who owns a 28-bedroom German castle, who adopted the last name of a Marvel Comics superhero and who named his son after Superman.
Notable quote (from Askmen.com):
[/details]
Noteworthy Reviews
[details=Spoiler]Gone In 60 Seconds (Variety)
Adaptation. (Chicago Sun-Times)
National Treasure: Book of Secrets (Christian Science Monitor)[/details]
Interviews
[details=Spoiler]Playboy Interview: 20 Questions With Nicolas Cage
We talk with the star of World Trade Center. (IGN Movies) 2006
Exclusive Nicolas Cage Webchat
[media=youtube]gdKXQ_UpCJg[/media]
[media=youtube]WHdl6Wcz1os[/media]
[media=youtube]EvYK-HmIuUE[/media][/details]