As some of you may know, Razer has announced they will accept 200 handpicked people from the FG community to help their development team with their new arcade stick. Not only are they accepting tournament players, but also modders. TT is home of some of the best modders to be found. However, there is a high chance our modders can be lost in the flood of beta applications. This is a opportunity for Tech Talk to insert a panel of our choosing to help design this stick and maybe help make a difference. How? By nomination. Not only can you apply for a spot, but you can recommend someone at Razer's website. This thread is dedicated to nominating modders from TT and helping vote them to the top so they don't get lost in the flood of applications.
To nominate a TT member just follow the link and recommend them!
http://www.razerzone.com/bredtofight
And the nominees are: (in no specific order at this time)
**Markman - **markman:360:sdtekken.com
Gummowned aka Matthew Gummo - gummowned:360:gmail.com
jdm714 aka James La - aznlilbluepoopie:360:hotmail.com
Toodles aka Marcus Post - marcus:360:marcuspost.com
Phreakazoid187 aka Clayton Knight = clayton:360:phreakmods.com
networkingyuppy aka Ben Fong - networkingyuppy:360:gmail.com
DaRabidDuckie aka John Wade - rabidduckie:360:gmail.com.
mr.mortified aka Michael Hernandez - mortifiedmods:360:gmail.com
d3v aka Franz Co - unityd3v:360:gmail.com
BlindWithOneArm - idovc1:360:aol.com
**VOLTECH - **voltecharcadesticks:360:gmail.com
jamesepoop aka James Nguyen - jamesEpoop:360:yahoo.com
Darsakul aka Lukas Peruzovic - Darksakul:360:gmail.com
RoboKrikit - ken:360:deviation.org
rtdzign - rich_tongol:360:yahoo.com
Majinhurricane - Andreas.Samaris:360:gmail.com
butteroj aka Jonathan Buttero - jonathan.buttero:360:gmail.com
purplearms aka Mike - purplearms:360:gmail.com
FreezerB aka John Koh - johnnykoh.is:360:gmail.com
RosserRooster aka Dave Rosser - designateddave:360:hotmail.com
blklightning21 aka Tim Randolph - LLC:360:TheGameSurgeons.com
souji5 aka Aaron - soujistiks:360:yahoo.com
**Nobus3r1 ver.2.0 -_- - **isaacdorfman:360:mail.com
**TRiXWon - **Csimpson01:360:gmail.com
Missing Person aka Corey Lanier - refer to image for email
**Nerrage - **lucas_r_cooper:360:georgiasouthern.edu
**gahrling - **gahrling:360:gmail.com
Jinxz aka Chris Blok - CBL :360: Shadaloo.eu
godspu - godspu:360:godspu.com
b15sdm
arthong
Project Giantsword (Montoia & Valbjorn)
strogg
becao74
Laugh
**gahrling - **gahrling:360:gmail.com
Arxinal - refer to image for email
hakdizzle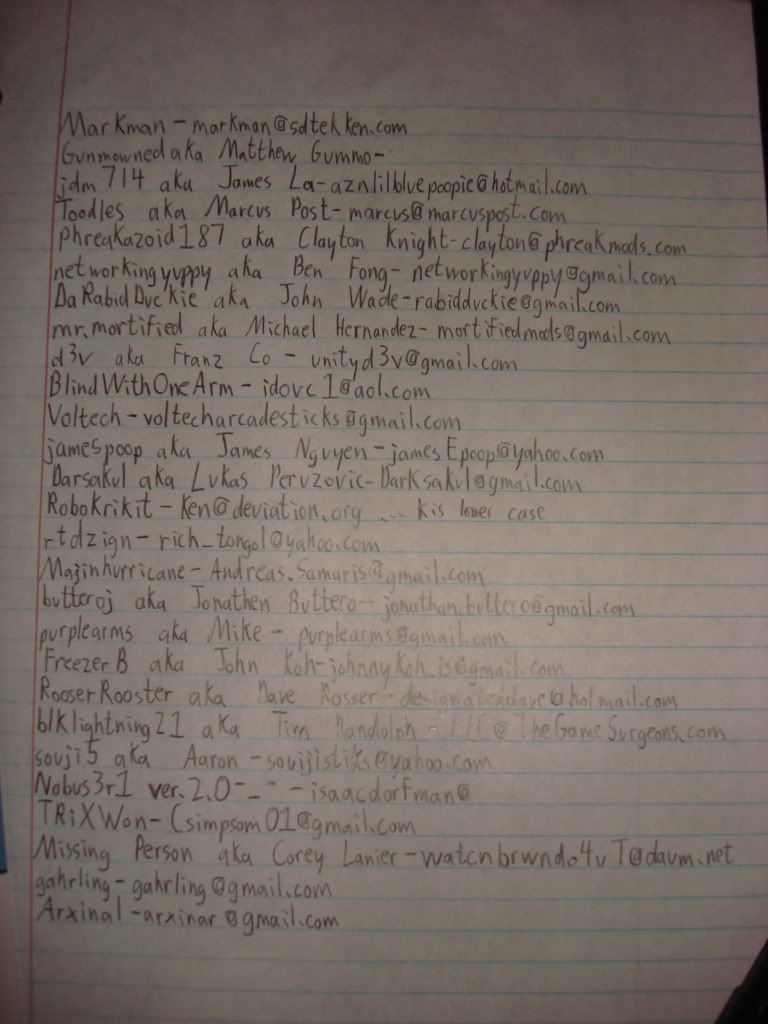 Trying not to forget anyone, list will be updated. Email and names will be updated shortly so people can help nominate. Please pm me with inquiries, info, or if you would like someone to be added to the nomination list, or if you personally would like to be removed from the list.