I create custom figurines for sale using blank Munny figures from Kid Robot. Here are some of them.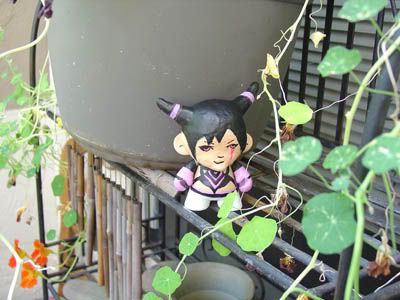 More gallery shots can be found here.
Since there were some coloring flaws, Necro can go to a good home for 75 dollars plus 5 S&H. Juri is a mock-up I'm using a show piece, but if someone were to want her, I could probably ship her out for a little less.
Also, I'm currently accepting commissions for pieces. If you're interested in commissioning your own custom figurine, feel free to send me a message or email with your query, and we'll talk orders. Once I have enough orders in, I'll shut off commissions until such a time as I've caught up. Each piece is hand made using mixed media - blank vinyl figures, Sculpey, Acrylics, felt tip markers/paint markers. No two pieces are the same. My base asking price for these pieces is 100, with a 25 dollar deposit on all commission requests. I collect full payment only after completion of your order; once we've laid out the details of what you'd like, you are only required to pay the 25 dollar deposit. This deposit covers materials and is refundable within 7 days of placing your order with me. All payment is accepted via PayPal.
I accept requests from all areas of pop culture - comics, manga, anime, video games, etc. Obviously, my personal favorites are the Street Fighter figurines, but I'm open to any and all requests. Keep in mind that some characters or ideas may not translate well into the format or with my style; if I honestly don't believe I can do your idea justice, I'll let you know.
If interested, feel free to message me here or email me at darryh@gmail.com.
Thanks!