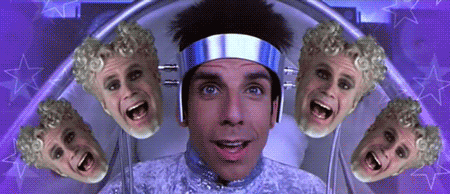 What a shame that one of funniest dumb films or dumbest smart films ever had the bad luck of being released 17 days after 9/11, so although it made 60 million on a 28 million budget it still flopped. Still with a cult following after DVD release, a sequel was planned for years, but scheduling conflicts, Ben Stiller not being happy with the scripts they had, writer/director Justin Theroux's own show The Leftovers getting picked up for a second season, the sequel's been on the back burner, but now it's back burning! hot on the heels of commercially successful comedy revivals like Dumb and Dumber too and Anchorman 2. Some say Stiller and Wilson are too old to play models, but only those predjudiced against the really really really ridiculously good looking would think that.
Dat surprise announcement doe:
http://media2.giphy.com/media/V2AkNZZi9ygbm/200.gif
Penelope Cruz and Christine Taylor are confirmed, but it's unknown whether Will Ferrel and Jonah Hill who were previously confirmed in an earlier draft of the script are still in, but hey I'm just so happy after so many stops and starts, it's actually happening. One draft of the script had it starting 10 years after the first film where Hansel and Derek were irrelevant in the fashion world and trying to get their name recognized again with Jonah Hill as the main villain, but Stiller was trying to rework it into something he was happy with to do the franchise justice, and I guess now it's taking place right where the first one ended.